Graphics Guidelines and Templates
Marilyn Davies College of Business has moved into the new UHD full-width web template. This update has new standards for images and photography for updated slideshows and web parts. This page is to assist faculty in understanding the UHD web policies for graphics, images, photographs, and the Americans with Disabilities Act compliance guidelines.

Photographs of People

IMPORTANT

If you are taking photos of a person to be displayed on a UHD webpage, please obtain their permission with a UHD Media Release form. If you are taking a group photo, each person in the photo will need to sign a media release form. Under 18 years of age need a media release form signed by a parent or legal guardian. Read UHD's guidelines for image release.
Photos for UHD Page Slideshows


Landscape Orientation

If you intend to take a photo that will be used in one of the large slideshows (example) at the top of a UHD web page and you are using a cell phone or tablet, please take the photo in landscape orientation. Turn your phone or tablet device lengthwise. All slide shows on the updated UHD template are longer than they are tall.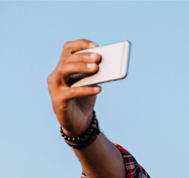 Landscape oriented phone

Tips for Taking Photos with Mobile Devices

right facing arrow Avoid using the digital zoom (this results in a loss of photo quality, it is suggested moving closer to the subject if possible).
right facing arrow If it is available on your mobile device, use HD, HDR, or Camera Raw modes (these modes more closely mimic what the human eye sees and can handle balances of light and dark). Also, these modes provide higher resolution photos. High resolution photos are also larger in file size. This is acceptable as the college web tech will be able to resize the image and reduce the file size for the web.
UHD Web Style Guide for Images

IMPORTANT
UHD web guidelines state that photos and graphics that are to be place on UHD web pages should not contain text. What this means is, do not rely on an image, a photograph or a logo to convey your content. This is to comply with the Americans with Disabilities Act (ADA) requirement for images for the web. Relying on a graphic image (jpg, png, pdf) to convey the content means people using screen readers cannot access the content.
ALT tags in the HTML code does help to describe an image. However, there is a limit to the characters that can be used inside the 'alt' tag. If it takes too many characters in the 'alt tag' to fully describe the image, Google search begins to ignore the page, which is detrimental to search results. This is another reason why using images to convey content is discouraged.

It is acceptable if your photograph has text that was captured as part of the image, do not just create a graphic of text to serve as the content to be placed on a webpage (or social media or in an email). Additional information about photography and images can be found in UHD Web Style Guide. This guide contains 'Do's and 'Don'ts' for lighting, cropping, color, image quality, icons, QR codes and image size and resolution. Additional guidelines for images are listed on UHD's Web Image Guideline page.

Posting Graphic Flyers to MDCOB Website and Sharing Flyers Digitally

Posting Flyers - PDFs to MDCOB Web Pages
You may submit a PDF of your event flyer to the college web tech to promote the event. Due to UHD web policies, an image of the full flyer cannot be placed directly on a web page, but it can be linked with text. If you are unable to save your image as a PDF, the MDCOB web tech will convert it.
The MDCOB web tech will describe the event on a web page with a link to a PDF of the event's flyer to meet ADA compliance.
Example:
Title of Event
Date and Time
Location or virtual meeting information
Description of event, and list of contacts and sponsors

Event Flyer(pdf)

If you are sharing this flyer as PDF in email
In the email, type out the full event name, date, start and end time. Include a description of the event. If including photos, please add "alt" tags or captions in the message as well. Include instructions for attending virtually if this is an online meeting, include registration information and link if it is applicable. Include a contact person for this event and any sponsors. Attach a PDF of the flyer (not a graphic - GIF, JPG, PNG) as an attachment.
To share on social media:
Type out the basic information for event title, time, date, location: (information for virtual attendance), and provide a link to where the event is posted online (UHD calendar or a MDCOB page) The MDCOB web tech can post your event to the UHD calendar and send the link to you to share on your social media post.

For more information or questions about this topic, contact the MDCOB Web Tech, hernandezb@uhd.edu.

MDCOB PowerPoint Templates

Places to Post Events Digitally

The MDCOB web tech can post college event and announcements to:

Send all event details to
MDCOB Web Tech Request Form
so your event will receive the maximum coverage (this includes Zoom meeting details or registration information).
We now have
MDCOB Digital Communications Request Form
. Fill out the form for these items:
Brochure/Flyer


Check out the Photo Backdrop


Graphic Designs


News & Announcements


Photography

Promotional Items


Signage


Social Media