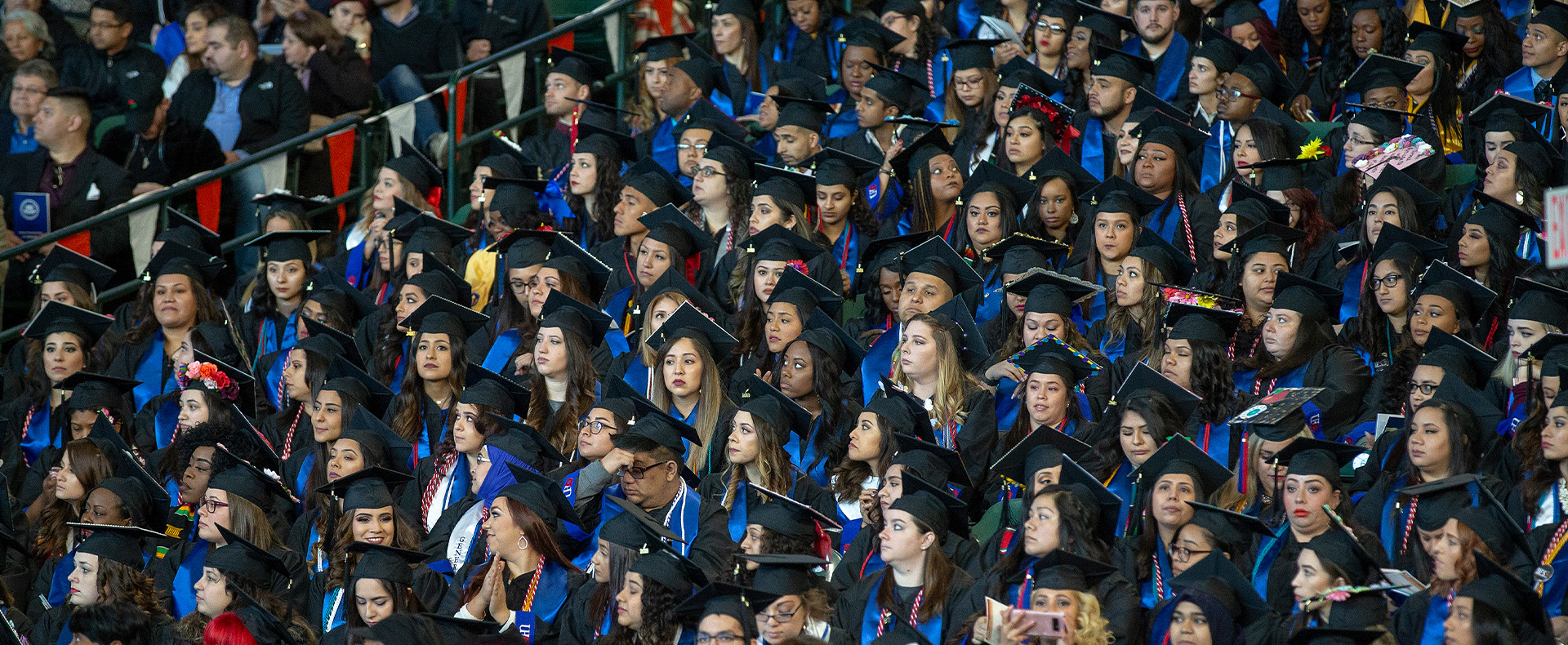 Student Achievement at UHD
An integral part of the University of Houston-Downtown's (UHD) mission is to enhance student retention and graduation and the University closely monitors student progress. UHD is accredited by the Southern Association of Colleges and Schools Commission on Colleges (SACSCOC). One condition of SACSCOC accreditation requires that UHD provide students, constituents, and the public with information about "its goals for student achievement and the success of students in achieving those goals." (SACSCOC Interpretation of Core Requirement 8.1-Student Achievement).


As a regional public institution with University of Houston System (UHS), state, and federal accountability responsibilities, UHD's expectations of student success are formulated within the context of UHS, state reporting, and the Texas Legislative Budget Board state budgeting process and peer benchmarks drawn from the Texas Higher Education Coordinating Board (THECB) and the Integrated Postsecondary Education Data System (IPEDS). UHD uses these reports and processes to identify goals and outcomes and related thresholds and targets for the institution's student success metrics. The assessment of student achievement plays a critical role in the University's ongoing improvement efforts, system and state reporting, and the institution's planning and budgeting processes.
---
Student Success Objective 1: Increase one-year, fall-to-fall retention of First-Time-in-College (FTIC) and Transfer students

Assessment
Methodology
Threshold
Most Current Student Achievement Data
Expected Level of Achievement
AY2020 Improvement Strategies
FTIC First-year Retention
Internal reports from the Office of Data Analytics and Institutional Research
AY2007 Retained: 56%

2021-2022 F2020 Entering Cohort % Retained: 64.10%

73%

UHD has reconstituted the Student Success and Equity Committee and charged this committee with:


Review UHD's strategic goals on student success and align retention and graduation programs to support such strategic goals
Assess, review, and recommend changes to existing retention and graduation programs
Identify key data for regular collection to inform decision-making.
Play an advisory role to external workgroups/councils/committees
Develop a communication plan to disseminate information and collect input from the UHD community

In Spring 2022, UHD will hos a Student Success and Equity Summit to engage the UHD community in a discussion of how we might better support our students.

Dr. Timothy Renick, Executive Directors, National Institute for Student Success, Georgia State University will lead the discussion.

The Office of Data Analytics and Institutional Research will develop a series of dashboards to allow the institution to better track student success metrics.

These strategies are designed to support both FTIC and Transfer students.

Transfer First-year Retention
Internal reports from the Office of Data Analytics and Institutional Research

AY2007

Retained: 75.56%

2021-2022 F2020 Entering Cohort Retained: 77.68%

85%

Retention data, disaggregated by gender and race/ethnicity
---
Student Success Objective 2: Increase graduation rates for First-Time-in-College (FTIC) and Transfer students

Assessment
Methodology
Threshold
Most Current Student Achievement Data
Expected Level of Achievement
AY2020 Improvement Strategies

FTIC 6-year graduation rate




Internal reports from the Office of Data Analytics and Institutional Research




F2001 Entering Cohort: 15.42%

2020-2021 F2014 Entering Cohort % Graduated: 30.25%

30%

UHD has reconstituted the Student Success and Equity Committee and charged this committee with:

Review UHD's strategic goals on student success and align retention and graduation programs to support such strategic goals
Assess, review, and recommend changes to existing retention and graduation programs
Identify key data for regular collection to inform decision-making.
Play an advisory role to external workgroups/councils/committees
Develop a communication plan to disseminate information and collect input from the UHD community

In Spring 2022, UHD will hos a Student Success and Equity Summit to engage the UHD community in a discussion of how we might better support our students.

Dr. Timothy Renick, Executive Directors, National Institute for Student Success, Georgia State University will lead the discussion.

The Office of Data Analytics and Institutional Research will develop a series of dashboards to allow the institution to better track student success metrics.

These strategies are designed to support both FTIC and Transfer students.

Transfer 4-year graduation rate

Internal reports from the Office of Data Analytics and Institutional Research

AY2027 % Retained: 75.56%

F2015 Entering Cohort Graduated 64.98%

70%.

Retention data, disaggregated by gender and race/ethnicity