UHD MPAC Graduate Student Featured in TXCPA Houston Forum Magazine

The Texas Society of Certified Public Accountants (TXCPA), the largest, most influential association of accounting and finance professionals in Texas, recently featured a UHD alumnus and a current graduate student at the Marilyn Davies College of Business, Master of Professional Accountancy program, in their TXCPA Houston FORUM Magazine.
Serving as a leading source of information for the everyday CPA, TXCPA strives to publish articles from industry thought leaders, industry professionals, and more. The February/March 2022 edition of FORUM Magazine, titled Diversity and Inclusion: Leadership Speaks Louder Than Words, contained articles about leading with an inclusive approach, balancing authority with collaboration, and dedicated a section titled Member Spotlight where Huandong 'Mary' Faris, CPA, and Jonathan Gibson, TXCPA Houston Student Auxiliary President, received honorary mentions.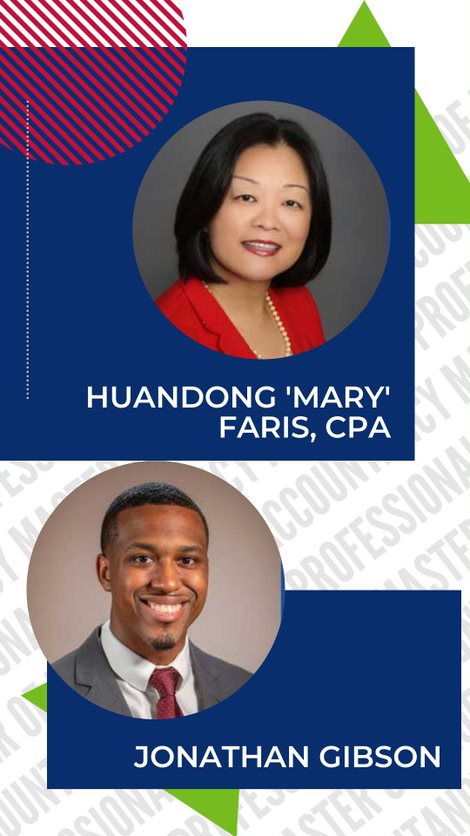 The publication displayed its members' passion for education and commitment to the CPA profession. They also highlighted their journey to progress professionally and inspired others to take the next step with TXCPA Houston.
Huandong 'Mary' Faris, CPA, MBA, and UH-Downtown alumni, has many years of experience working in the accounting field and has experience in a variety of industries. Mary is very active in volunteering and involved with organizations that support women in the accounting and finance fields. Mary considers obtaining her CPA license as a turning point in her career.
Jonathan Gibson currently serves as President of TXCPA Houston Student Auxiliary and a second-year graduate student of the Master of Professional Accountancy program at the Marilyn Davies College of Business at UH-Downtown.
"Do not run from the challenge of juggling school, work, and commitment to the Society or your professional 3 of 3 development. Give an honest assessment of what is important to you and your career, and do not overcommit yourself. Communicate with your team about the time you have to offer." Jonathan shared with FORUM Magazine.
Jonathan attributed balancing work and graduate school life to his time management and communication skills. He encouraged other graduate students, especially those seeking a CPA certification, to make the most out of networking opportunities through TXCPA and the TXCPA Houston chapter.
Learn more about our Master of Professional Accountancy program and discover how it prepares you to be a CPA and corporate leader.