2022 Hispanic Chamber of Commerce Luncheon and Expo
The Houst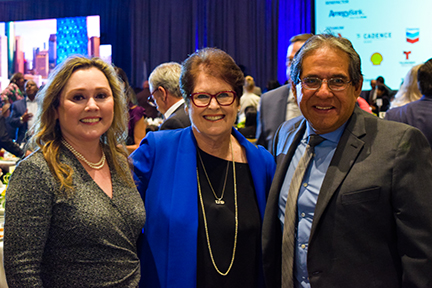 on Hispanic Chamber of Commerce held their 2022 annual luncheon & business expo on October 7, 2022. The annual luncheon and business expo is one of the most significant in the region with entrepreneurs, executives, elected & appointed government officials, young professionals and job seekers attending annually. At the heart of business, opportunity and downtown is UHD and the Marilyn Davies College of Business who were proud sponsors of the event.
As a Hispanic-Serving Institution, the Marilyn Davies College of Business seeks to empower our students to make new connections and have access to opportunities to help break barriers. This is true of our namesake Marilyn Davies who made a special appearance at the UHD MBA booth and luncheon.
This year the event broke records with over 1,600 attendees setting a record for the largest attendance since the pandemic. In addition, UHD students and student organizations participate as volunteers and attendees at the annual luncheon and business expo. This allows our students to meet and talk with business professionals which creates opportunities for scholarships, internships, entrepreneurship, and professional employment.