mdcob announces excellence in teaching award reinforces faculty distinction
​​

MDCOB Announces Excellence in Teaching Award; Reinforces Faculty Distinction
The Marily​n Davies College of Business is proud to introduce the "MDCOB Excellence in Teaching Award" to recognize, reward, and support the outstanding efforts of our faculty in providing excellence in teaching to our students.
All full-time MDCOB faculty are eligible to apply and potentially receive a $3,000 stipend and $2,000 for teaching and research-related expenses.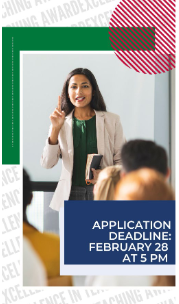 Interested faculty should plan to submit the following application materials.
A recent curriculum vitae
A statement of teaching activities
​The statement should include curriculum development and updates, teaching methods and modes, and teaching-related involvement with students beyond the classroom.
Submit two supplemental items
​Such items may include but are not limited to:
Course syllabi, graded student work, lecture notes, instructor-created class handouts, classroom activities, or others.
​​​​​Candidates are encouraged to select two materials they believe will substantiate their merits for the award.
​Student evaluations since Fall 2019
​They should include student-written comments and statistical ratings for each course taught in those semesters.
Please combine evaluations from all courses into a single document per year.
The deadline for applications is Monday, February 28 at 5 pm. The Selection Committee will announce the award recipient on Friday, March 18.
Click this link to access the MDCOB Excellence in Teaching Award submission form and log in with your UHD credentials.
Note to faculty: If you choose to run a Vita from the Faculty Success database (formerly Activity Insight), please select the date range carefully to include all activities you wish to incorporate in that date range. ​​