UHD Marilyn Davies College of Business hosted the 13th Annual Australia US Innovation and Investment Conference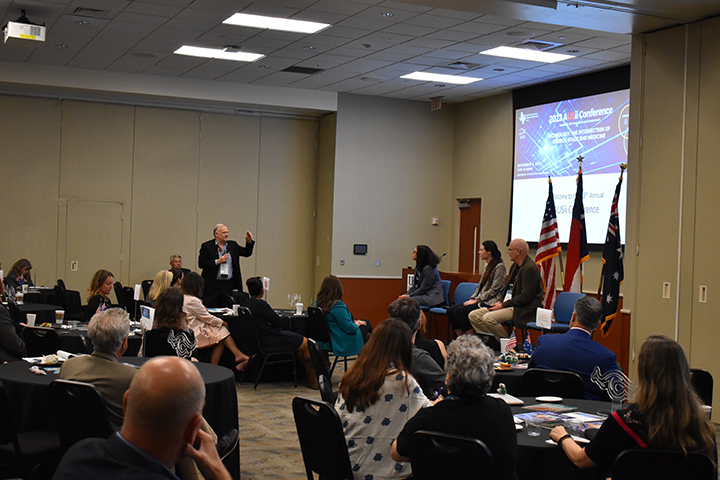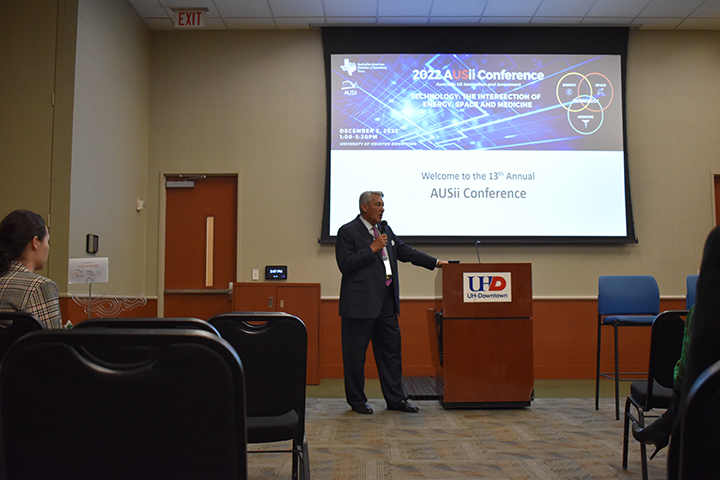 Houston, Texas – As part of our strong partnership with the business community, the UHD Marilyn Davies College of Business hosted the 13th Annual Australia US Innovation and Investment (AUSii) conference on December 5th, 2022.
The 2022 AUSii conference was presented by the Australian American Chamber of Commerce Texas, a non-profit corporation whose mission is to foster closer economic and social ties between Australia, Texas and the United States in the fields of oil & gas, renewable energy, healthcare, government, real estate, supply chain and logistics, along with many other industries.
The theme for this year's AUSii conference was "Technology – the Intersection of Energy, Space and Medicine" with speakers and panels touching on innovations in space exploration and research, renewable energy and the coming energy transition, breakthrough technologies, sustainability, and AI. "The value of higher education in emerging fields is shown by offering the ability to upskill and reskill consistently because the technological and industry connections will be rapid. UHD students are at the forefront of this change" said UHD Professor and AACC – Texas Board Member Dr. Dietrich von Bielefeld.
Sponsors included Woodside Energy, United Airlines, The Government of Australia, Chevron, UHD Marilyn Davis College of Business, and Worley.
Speakers included:
Christina Staib – AACC Board President
Benson Saulo – Australia Consul-General, Houston
Dr. Dorit Donoviel – Executive Director, Translational Research Institute for Space Health
Dr. David Alexander, Director, Rice Space Institute
Nicholas Gole, Global Head of Energy Transition, Infrastructure and Energy Capital, Macquarie Capital
Shelley Kalms, Vice President, Strategy and Commercial, New Energy, Woodside Energy
Omar Samji, Partner and Global Co-Lead, Energy Innovation, Shearman & Sterling LLP
William McKeon, CEO, Texas Medical Center
Dr. Richard Gibbs, Founder, Human Genome Sequencing Center, Baylor College of Medicine
Dr. Joe Petrosino, Chief Scientific Innovation Officer, Baylor College of Medicine
Andre Pontin, Entrepreneur & CEO, Melax Tech
Anil Shetty, Chief Medical Officer & President, Ferronova
With a closing super panel on "Learning Across Industries" featuring:
Ellen Nielsen, Chief Data Officer, Chevron • Scott Gale, Executive Director-External Engagement, Halliburton Labs
Stephen Gold, Chief Marketing Officer, SparkCognition
James Rees, Chief Impact Officer, Botanical Water Technologies
Vishal Mehta, Senior Group Leader for Digital Platforms, Data Science, and AI, Worley
The formal event was held at UHD's Girard Street Building with an wine and networking reception on the south deck featuring award-winning Australian wines.