TSBPA-Director-of-Qualifications-Visits-MDCOB
Texas State Board of Public Accountancy Director of Qualifications Visits Marilyn Davies College of Business; Shares CPA and Scholarship Insights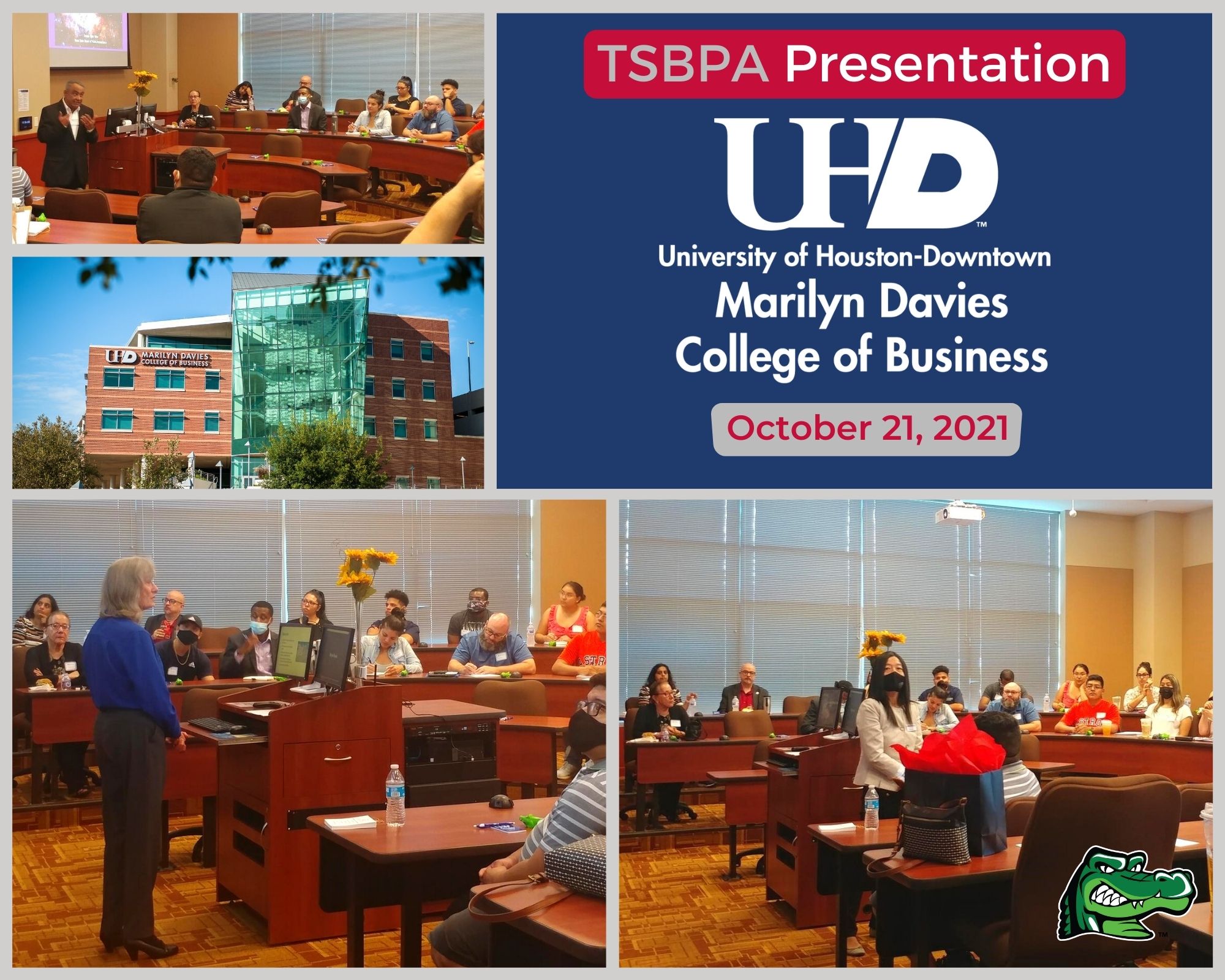 The Texas State Board of Public Accountancy (TSBPA) presented to the Accounting and International Business (ACCI) Department's accounting students and faculty on Thursday, October 21st. Texas Certified Public Accountant (CPA) licensing requirements, highlighting CPA Exam course prerequisites, were clarified by Ms. Donna Hiller, Director of Qualifications and 46-year veteran of the TSBPA. Ms. Hiller explained the impending year-2024 changes to the CPA exam structure after outlining the current arrangement of the exam. The $7,500 "Fifth Year Accounting Student Scholarship" program, sponsored by TSBPA, was also explained.
Dr. Zishang (Cathy) Liu, ACCI Department Chair, opened the presentation to a room full of currently enrolled UHD-MDCOB undergraduate and graduate accounting students. Associate Professor of Accounting, Dr. Raghunathan Venugopalan, welcomed Donna Hiller to the Marilyn Davies College of Business. Dr. Venugopalan expounded on a promising future for accounting students due to the profound current and future demand for accountants in the workforce. UHD-MDCOB student turnout, evidencing such a high level of interest in pursuing a CPA career, caught Ms. Hiller by surprise.
Mr. Thomas Jackson, ACCI Lecturer, said, "The event certainly exceeded expectations. The level of interest demonstrated by our students was gratifying and inspiring. They once again made me proud to be a part of supporting their success."
For more information visit our UHD Master of Professional Accountancy program.