NABA wins Western Region Student Chapter of the Year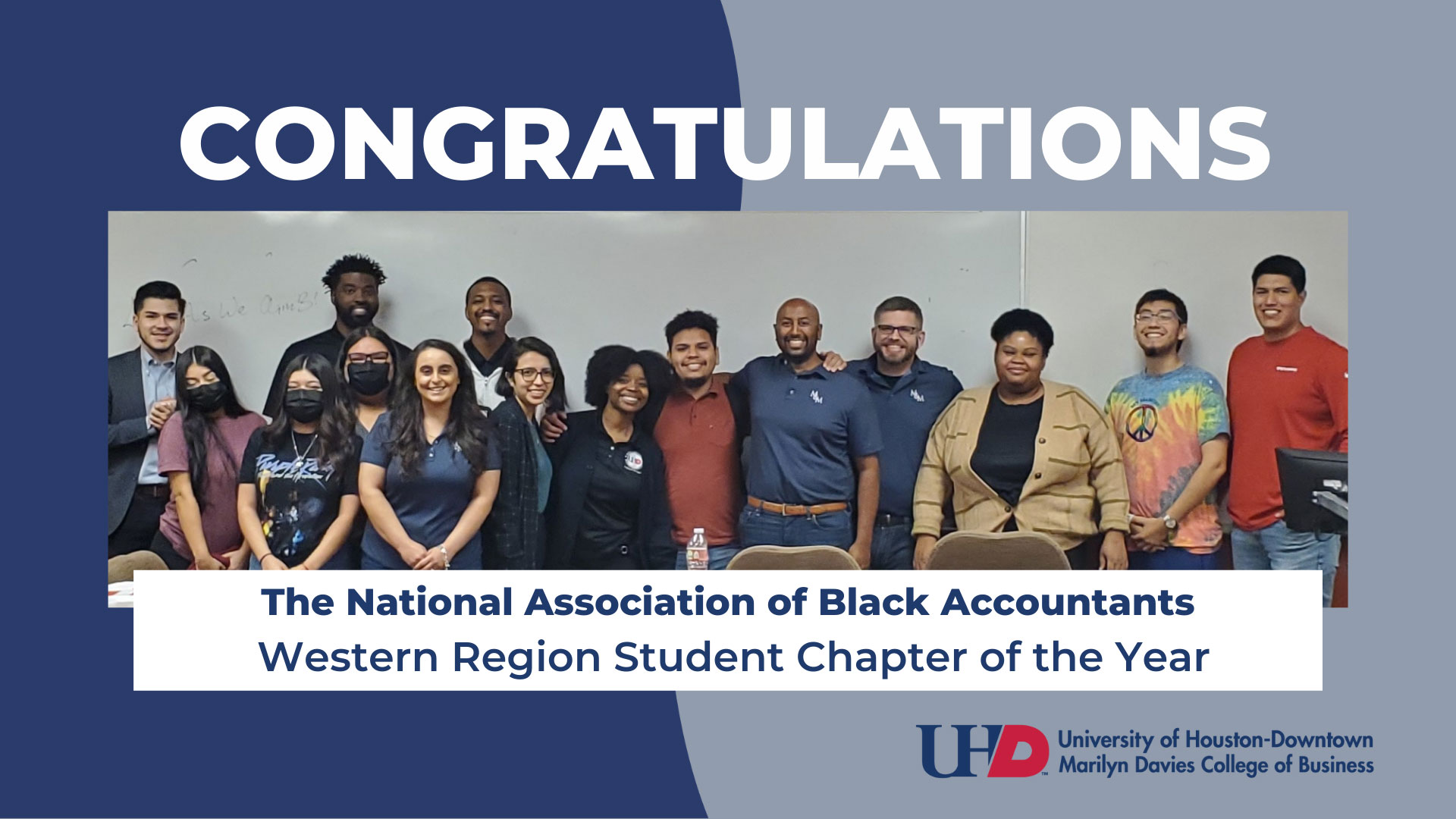 The National Association of Black Accountants (NABA), a nonprofit association devoted to "bridging the opportunity gap for black professionals in the accounting, finance and related business professions," recognized UHD's NABA Chapter at their 2021 convention.
Insight 2021 – NABA National Convention and Expo, held virtually June 22 - June 24, gives NABA members first-hand access to the latest trends and best practices to increase member knowledge, transform careers and maximize contributions at work. This year NABAs national organization celebrated its 50th anniversary. During which Marilyn Davies College of Business NABA chapter was proudly awarded the Western Region Student Chapter of the Year. Earning this award thanks to NABA's dedication to remaining active on campus and engaging with their members, despite the pandemic. They routinely host events, keep members informed on the rapid changes in the accounting world, and present their members with job opportunities, seminars, and training to achieve their career and scholastic goals.
UHD's NABA chapter was chartered in July 2020, led by their President, Shamika Jefferson. "Lifting as we Climb" is our motto. When I succeed at one goal, I will make sure I reach out to help someone else so they can do the same," - said Ms. Jefferson. Shamika is starting as a part-time Asset Management Associate at PwC in January 2022. In May, following her graduation, she will transition to a full-time Associate in Houston, TX, within the Industry Tax Practice department.
Shamika Jefferson – President
Mattelyn Chambers – President-Elect, Spring 2022
Patrick Wallace – Vice President
Dominic Spencer – Vice President II
Sandra Roaro – Secretary
Franchelle McCloud – Treasurer
Paulina Rocha, CFE – PR/Marketing Chair
Steve Ekofo – SCREP Chair, Fall 2021
Martha Edwards – SCREP Chair, Spring 2022
Jonathan Gibson – External Relations Chair
Kristine Akanu – Internal Relations Chair, Spring 2022
"We value one another's hard work, appreciate each other's support and partnership, and celebrate everyone's success as we turn our academic and professional aspirations into a reality," vice president Dominic Spencer shared. NABA hosted various events in the Fall 2021 semester, including;
- "The Art of Networking" a collaboration between PAS, ALPHA, and NABA.

- "Forensics & Litigation" a look into forensic accounting and litigation.

- "Hidden Pathways for Minority CPAs" an opportunity to discuss various career trajectories and increased opportunities for Black CPAs within public and industry practices with Mr. Odysseus Lanier, CPA, a founding partner of McConnell Jones.
"It is about getting to the top by tagging along with your fellow members." Steve Efoko, SCREEP Chair highlights. Steve graduated Magna Cum Laude on December 18, 2021, with a Bachelor of Business Administration in Accounting. In January 2022, he will be starting as a full-time Audit Associate at PwC in Houston, TX.
Additionally, NABA would like to highlight;
Patrick Wallace – Accepted a full-time offer as an Associate with PwC in their Data Assurance & Transparency department in Houston, TX starting in the Summer/Fall of 2022.

Paulina Rocha – Became a licensed Certified Fraud Examiner (CFE) this past November and was recognized by ALPFA as a Latina Rising Latinas.

Jonathan Gibson – Jonathan is the current President of the TXCPA Student Auxiliary.
Currently, NABA is accepting applications for available cabinet positions for the 2022-2023 school year. Encouraging student leaders in the Marilyn Davies College of Business to get involved, open positions include Vice President, Secretary, Public Relations, and Marketing Chair, and both External and Internal Relations Chairs, respectively. Events will resume in Spring 2022, hosted at 7 pm on Thursday nights. NABA is open to anyone who is registered as an MDCOB student.
Updates/news about UHD's NABA chapter can be found on Instagram, LinkedIn, Facebook, Twitter using the handle @UHDNABA. Students can join NABA through campus groups.
For more information on student involvement, check out Student Activities.