MDCOB Career Center Connects Students to Industry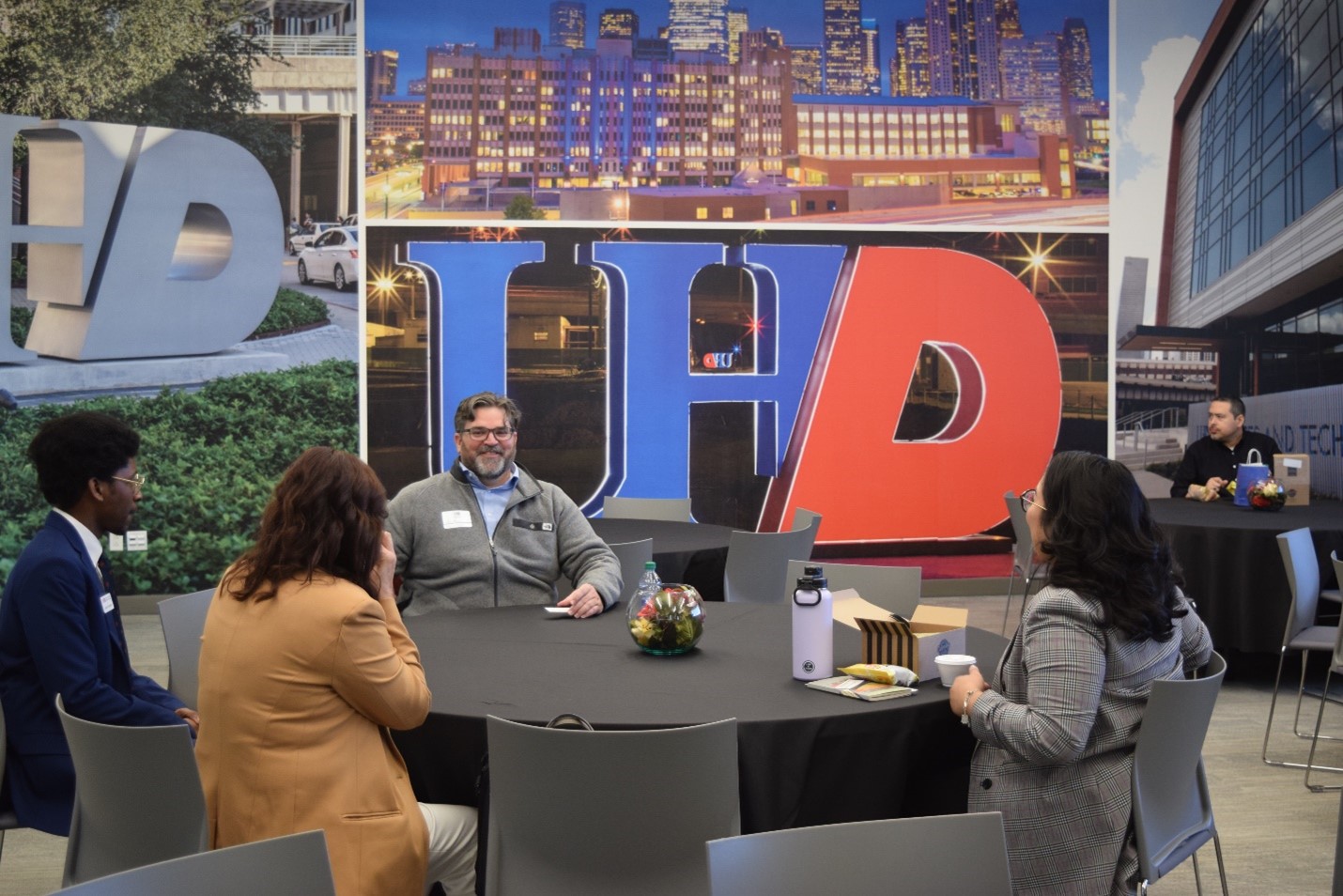 The MDCOB Career Center is in the business of elevating future industry professionals. This past month, the MDCOB Career Center presented three events to our business students; The Davies Internship Symposium powered by Amica Mutual Insurance, the Davies Meet the Industry "Eat & Greet" powered by Enbridge and the Davies Speed Networking event.
These events allow students to meet with potential future employers, practice their communications and interview-related skills, and give them the opportunity to secure internships and full-time positions upon graduating from their business programs.
The Davies Internship Symposium powered by Amica Mutual Insurance focused on helping students learn more about internships. The event covered preparing for an internship, how to find an internship and the Davies iProgram which allows UHD MDCOB students to pursue an internship while having the option to gain course credit. Many employers seek out graduates who have completed at least one internship while in school. Internships help students gain valuable skills such as communication, leadership, and critical thinking needed to succeed in a dynamic work environment.
The Davies Meet the Industry "Eat & Greet" powered by Enbridge allowed students to connect with industry professionals within their major. Industry professionals and alumni from companies included, Enbridge, Zeus Companies, Talen Energy, World Affairs Council Houston, Chevron, Discovery Green, Lyondell Basell, SAP, Frost Bank, Accenture, Liberty Mutual, Wartsila N.A., Deloitte, Motiva, USI, DISA Global Solutions and Proactive Change. The event featured industry specific table discussions that focused on career paths and growth trends within specific industry along with the type of special skills that companies are looking from future UHD MDCOB graduates.
The Davies Speed Networking event focused on networking development and helping students practice their elevator pitch skills. The event consisted of two sessions where students quickly visit employers at their table to ask provided questions to develop and master the art of networking. The event featured employers such as Amica Mutual Insurance, CenterPoint Energy, Chevon, The City of Houston, Geico and Sherwin-Williams.
When asked about the Davies Speed Networking event, Brett Hobby Director of the MDCOB career center said "The event is a great way for our students to learn and "test out" their skill at networking in a non-threatening environment with employers who are participating to assist our students." He further added that "These events help our students gain the confidence needed to use these skills at future recruiting events such as Career Fair. No one just knows how to network. Networking is a learned skill like so many things in life (especially at the university level)."
We appreciate the hard work of the MDCOB career center team. Their relentless efforts to present business career development events are crucial in preparing our future business graduates to enter the professional world. Students gain confidence in their networking, communication and critical thinking skills through being exposed to business professionals who have been in their shoes as a student.
To learn more about future events or to take advantage of this valuable resource visit the Davies career center on the first floor of the Marilyn Davies College of Business or virtually at uhd.edu/cobcareer.