Houston Business Journal Women Who Mean Business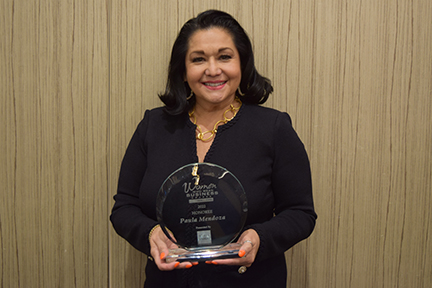 The Houston Business Journal held its 6th Annual Women Who Mean Business awards on October 20th, 2022, at the Houston Marriot Marquis.
As a Silver Sponsor, the UHD Marilyn Davies College of Business was represented by our distinguished female college leadership and emerging female student leaders on campus. Now in its 6th year, the Houston Business Journal's Women Who Mean Business Awards program highlights female decision-makers across the greater Houston area that have established outstanding careers while positively shaping our community. This prestigious award is given to the unstoppable women who go above and beyond in the business and community sectors.
As Houston's largest MBA program, The UHD MBA empowers future female business professionals and entrepreneurs making up over 57% of graduate students. We offer a flexible and affordable MBA program with over 12 different business graduate programs available.


In addition, the college of business offers services such as our dedicated career services center that helps prepare our female students to interview and land that coveted professional role after graduation. We are committed to empowering our future women business professionals to achieve excellence in their careers to help build our community.
As one of the few colleges named after a woman, the Marilyn Davies College of Business fully supports the advancement of women in the business sector. Our namesake, Marilyn Davies embodies this sentiment through her success in the Oil and Gas industry. As an early tech pioneer, she sold enterprise-level computer systems to Oil and Gas companies in Texas during the 1980s. She went on to start her own data brokerage business to market seismic data to energy companies in 1991. As a female, Marilyn Davies broke barriers and challenged conventions to make a name for herself in the Oil & Gas industry. She serves as an example to our business students to go places beyond their imagination to achieve their professional and entrepreneurial goals.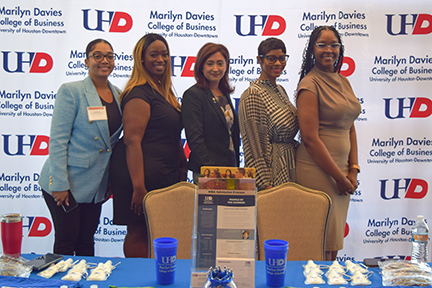 MDCOB Attendees:
Christine Poleski, Dean's Suite
Evangelina Vazquez, MDCOB Alumna/Dean's Suite Staff
Jessie George, Accounting and International Business Faculty
Esther Castro, Finance Faculty
Ikea Jernigan, MBA Staff
Amanda Trevizo, MBA Staff
Toye Simmons, Marketing Adjunct Faculty/University Marketing
Alejandra Perez, Senior Marketing Major/MDCOB Digital Communications Intern
Neomi Danzie, Career Services/MBA Finance and Investment Management Student
Maxine Todd, Career Services