MDCOB Hosts Greater Houston Black Chamber of Commerce Pitch Day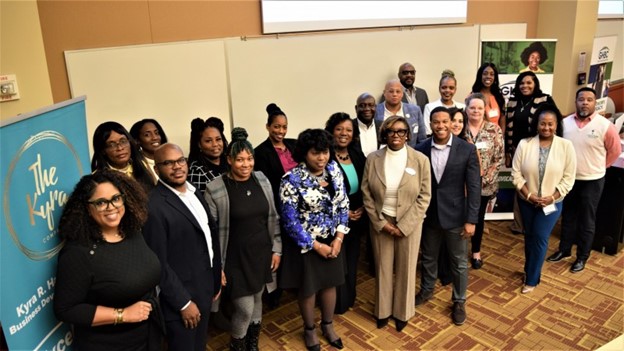 "Tell us your story and let your passion for the business shine through." Such were the words of Robert Herjavec, Shark Tank investor and judge, when asked his advice on making successful pitches.
That was also the charge to a group of dedicated Houston entrepreneurs who visited the Marilyn Davies College of Business (MDCOB) last December for Pitch Day, a Greater Houston Black Chamber of Commerce (GHBC) initiative, formally titled SOS Resurgence Demo Day.
A dynamic business pitch experience, the SOS Resurgence program was created during the pandemic to assist supply chain entrepreneurs in successfully entering the supplier field and, ultimately, securing contracts by presenting supply chain management pitches to industry leaders. "The Resurgence Program is leading the way for small business owners with a focus on defining and perfecting growth-stage business models," noted Kyra Hardwick, Founder of consulting firm The Kyra Company and creator of Resurgence, in her opening remarks at the event.
"The Marilyn Davies College of Business is thrilled to host this event and strengthen our partnership with the Greater Houston Black Chamber of Commerce," said Dr. Carlos Gooden, Executive Director, Graduate Business Programs at MDCOB, and host of the event. "Our goal is to become a lightening rod for economic opportunity, community engagement, and networking for small businesses. We are proud to collaborate and serve as partners with the added benefit of exposing our MBA students to strategic planning, scaling businesses, and effective ways to establish viable relationships for entry into the corporate supply chain."
How the Competition Works
Anyone who has watched Shark Tank is familiar with the structure of a pitch: a verbal presentation that outlines the outstanding customer need (problem), the product you're proposing to solve the problem (solution), and a high-level business plan that has been thought through deeply enough to withstand intense questioning about costs, profitability, customer base, competition, and so on. To prepare for Pitch Day, the Fall 2022 entrepreneur cohort first attended a series of forums through the GHBC with support from corporate sponsors United, Verizon, Chase, H-E-B, and others. Topics covered included strategic planning for customer service, business operations, human resources, training and development, operational finance, and sales and business development.
Participants created seven-minute pitches designed to demonstrate their ability to achieve certain goals: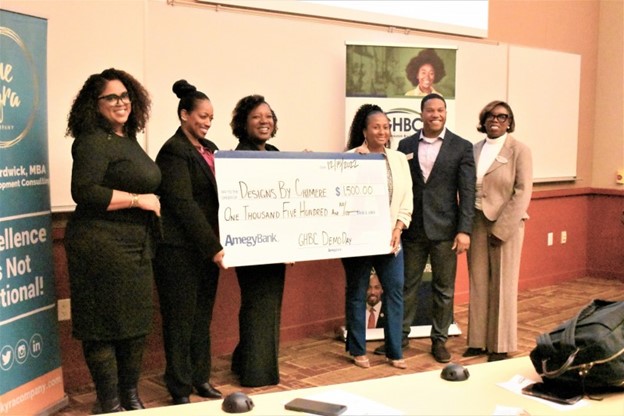 Establish eligibility for banking programs and products,
Successfully enter the supply chain as a "ready" supplier with the capacity to compete for corporate contracts,
Illustrate the business owner's ability to engage collaborative partnerships that support overall capacity building, knowledge sharing, improved performance, and earnings potential.
Each presentation was followed by a three-minute Q&A session, where judges asked tough questions.
MDCOB students as well as faculty were invited to watch the pitches at the day-long event, which was emceed by Carol Guess, GHBC Interim President. GHBC Board members and participants' family members were also invited.
"Hosting events like this on campus can provide our students with a networking opportunity, obviously, but also a much-needed window into the realities of becoming an entrepreneur. It's not enough to have a great idea or product, you have to have a broad understanding of all aspects of business – taxes, regulations, customer service, HR – all the nuts and bolts of day-to-day operations, not just product development," said Gooden. "Watching these entrepreneurs try to make convincing cases for their dream businesses really hammers home how critical a compelling pitch is for securing financial support." The event ended with an awards ceremony at which the top three pitches won cash prizes provided by corporate partner Amegy Bank.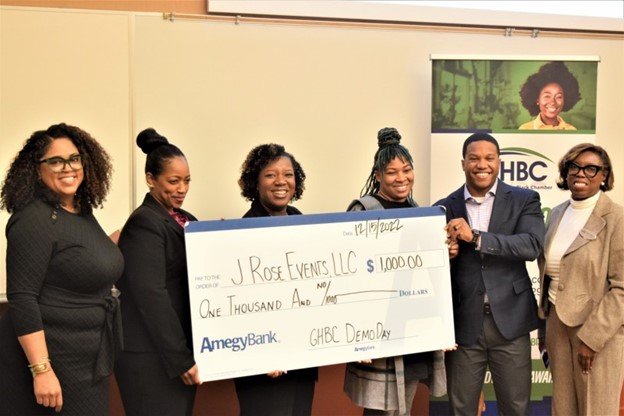 Winners included:
Heart to Heart – $2,500
Designs by Chimere – $1,500
J Rose Events LLC – $1,000
By Laura Wagner