Graduate Success Story Liboria Chavez
​​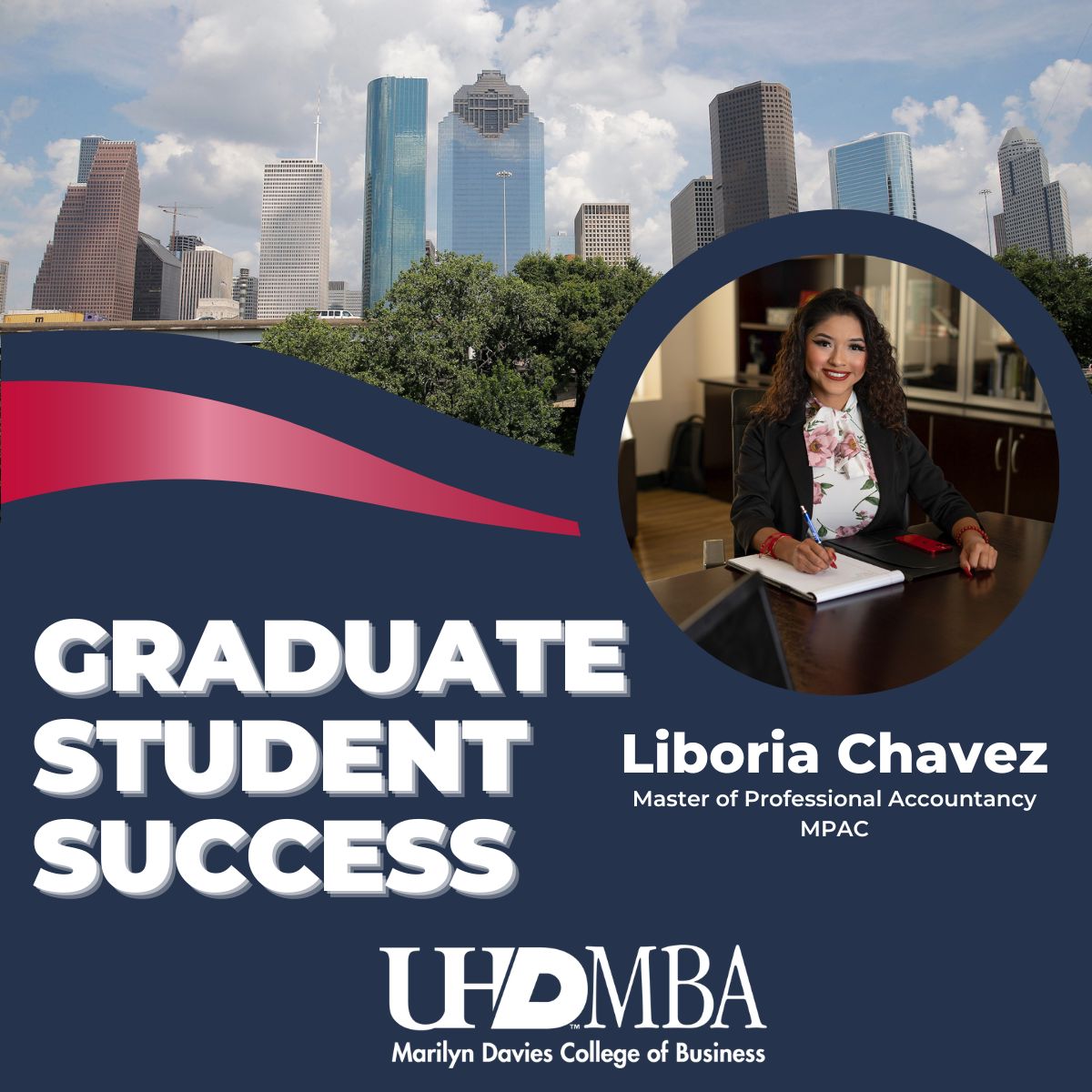 In this edition of our graduate student success stories, today we profile Liboria Chav​ez who is an accomplished Latina professional and alumni from the Marilyn Davies College of Business with a master's degree in professional accountancy (MPAC). With her exceptional financial acumen, attention to detail, and commitment to excellence, she has made a significant impact in the corporate world. Liboria's expertise in accounting and her ability to navigate complex financial systems have propelled her career at Deloitte and now most recently as an entrepreneur.

Liboria completed her undergraduate studies in Accounting at the University of Houston-Downtown, where she gained a solid foundation in financial management and taxation. When asked why she chose to return to UHD for her master's degree in professional accountancy (MPAC) she stated "this is like home to me, there are countless opportunities to make connections and to network, it feels like anything is possible here at UHD."


Liboria's academic achievements reflect her dedication to academic excellence, and her coursework provided her with an in-depth understanding of advanced accounting principles, auditing practices, and financial reporting standards. Upon completing her masters, Liboria joined Deloitte, one of the world's leading professional services firms. As a Tax Consultant, she quickly established herself as a reliable and diligent team member. Liboria's keen analytical skills and ability to interpret complex financial data allowed her to provide valuable insights to clients. She excelled in performing financial statement audits, internal control assessments, and tax compliance reviews for clients from diverse industries.

Driven by her pursuit of new challenges and growth opportunities, Liboria transitioned as an entrepreneur blazing her own path, Liboria possesses a wide range of skills that contribute to her success in the accounting profession. When asked what her goals are she stated, "I am determined to continue my professional growth and make a lasting impact in the business world." She aspires to attain a leadership role where she can leverage her expertise to drive financial success and strategic decision-making within organizations. Liboria also has a keen interest in harnessing emerging technologies such as artificial intelligence and data analytics to enhance financial processes and provide valuable insights for informed business decisions.

Liboria's commitment to excellence is the true embodiment of what it means to be a UHD Gator. Her passion for accounting and business acumen makes her a valuable asset in any organization. With her strong leadership qualities and her drive for innovation, Liboria is poised to make significant contributions in the accounting field and shape the future of finance and set the example for future gators.