Professors aim to increase online learning success through OCDI grant courses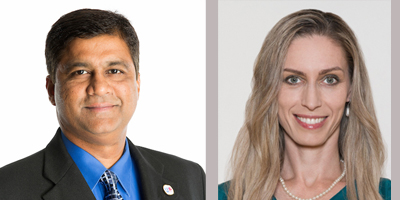 Two Marilyn Davies College of Business professors received the Online Course Development Initiative grant, an effort that encourages educators to adapt new courses or revise existing courses to an online format and use low cost or no cost materials. Instead of using one or more textbooks to present topics, these courses will offer learnings from multiple sources, including web articles, videos and research, among others.
Beyond cost saving, these courses aim to present materials to students in an organized timeline to increase their success in a digital learning environment.
Rahul Verma, professor of Finance and Dinah Cohen, assistant professor of Marketing, will offer their online courses in the upcoming fall semester.
Dr. Verma's class is Commercial Bank Management, a course that did not have an online component previously and was redesigned. His research focuses on behavioral finance which tests econometric models that combine risk factors and investors' irrationality to forecast financial market movements. Dr. Verma's accolades include: 36 peer reviewed articles in scholarly/practitioner journals, being cited almost 600 times, recipient of the UHD Scholarly and Creativity Award, and the Counselors of Real Estate's William Ballard Award. He earned a Ph.D. in International Business with a concentration in Finance from the University of Texas Rio Grande Valley.
He says students will learn the impact of changing, competitive environments in commercial banks, banking services and the financial services industry. "There's not a specific textbook that banks use as training materials. They use in-house training based on experiences and the environment they are in," Verma says. "This is an opportunity to use real-world examples using different materials from multiple sources and projects."
For Dr. Cohen, the challenge of learning formally about best practices and techniques for online course development prompted her to apply for the grant. Her course is Web, Email and Mobile marketing, redesigned to offer a uniform online learning experience for students and cover topics in-depth. Dr. Cohen received a master's degree in Applied Mathematics, and a master's degree in Linguistics and International Communication from Ulyanovsk State University. She also earned a Ph.D. in Business Administration with a concentration in Marketing from Duke University. Cohen says through an organized course schedule, her hope is that students won't lose interest. "The ability of learning greatly depends on how the material is presented and how the course is structured. If there's no clarity when students already are busy, it can be overwhelming," Cohen says. "I feel like having a well-structured course can help them finish on time, and graduate. The focus is to get to the end and help them learn in the process."