Definition
A cost center defines whose money it is (department id - responsible party), what type of money it is (fund code - fund source), and what type of activity it is being spent to support, (program code - function of entity).
Speed Type : A Speed Type allows the user to enter "shorthand" keys to trigger a system expansion into the associated cost center values. Each speed type corresponds to only one cost center.
Composition of PeopleSoft Cost Center is a series of components used to create a Chartfield Value.
Business Unit - Fund Code - Department ID -Program Code - Project / Grant ID - Chartfield 1 (If Any)
Budget Reference
The Chartfield Values are explained in the Charfield Vales page
Review Cost Center in Peoplesoft
Navigate to UHS Finance module
Business Processes >GL > Cost Center Definition



Type in the department number (Ex. D0031)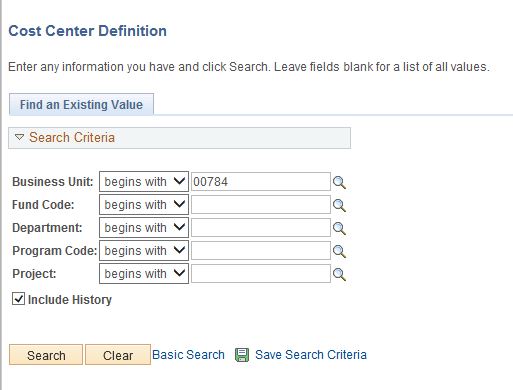 Click Search for a list of all cost centers in your department.
Tip : Utilize the Query feature in PS Finance to get a list of cost centers and their descriptions.
UHS_CC_LOOKUP