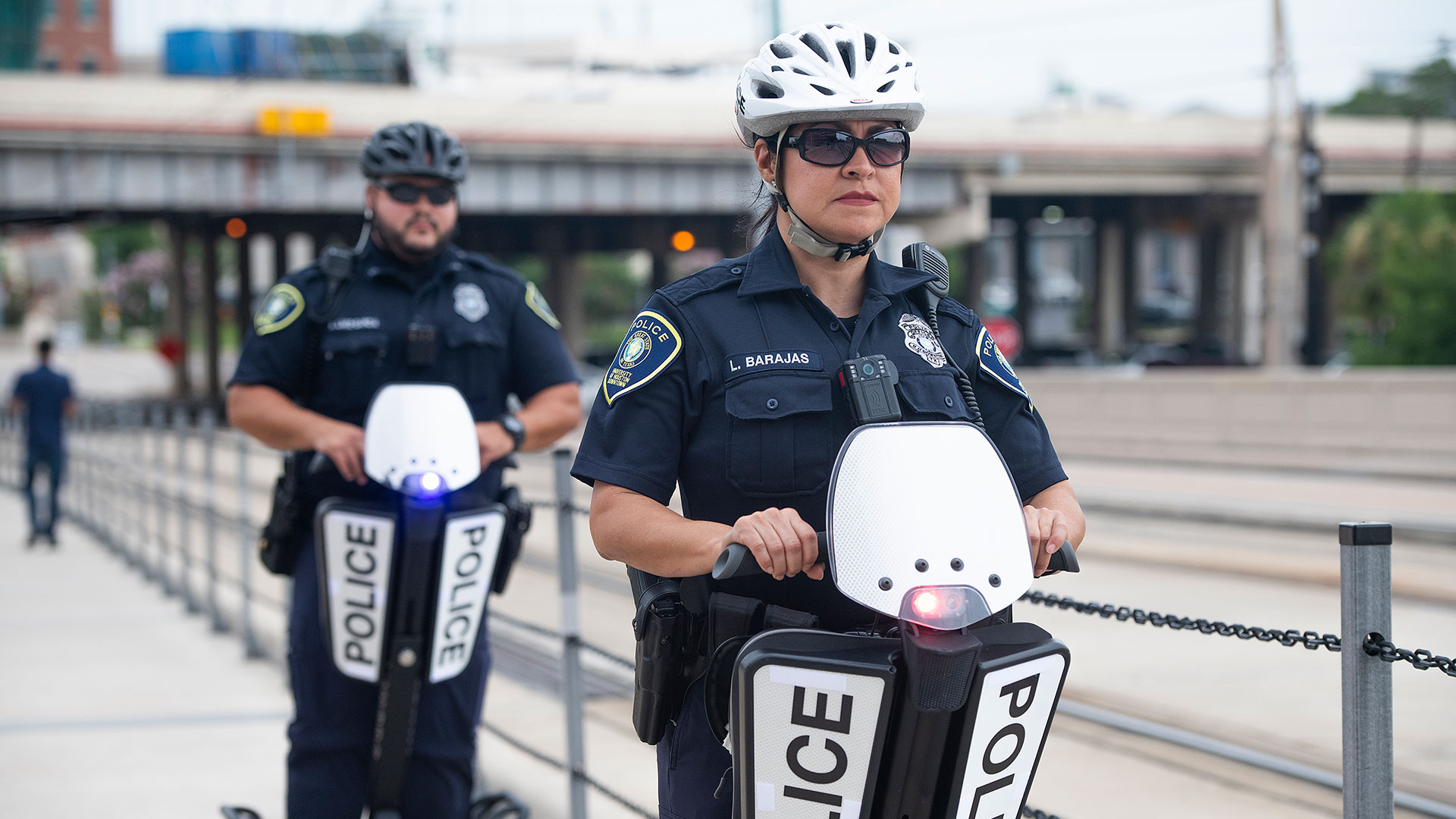 All University of Houston-Downtown students, faculty and staff are encouraged to report all criminal and suspicious activity to the UHD Police Department in a timely manner. When you report a crime, you assist us in possibly apprehending suspects or removing dangerous offenders from campus.
Trust your instincts. If something doesn't feel right, then it probably isn't. Please do not delay in calling. If you see it, report it! To reach the UHD Police Department in an emergency, call 713-221-8911.
What is Suspicious Activity?
Signs of criminal and suspicious behavior include:
A person trying to enter a room or office without the proper access card
A person secretly running and looking about, as if he or she were being watched or followed
A person going door-to-door in an office building
A person entering a locked building or vehicle by force
Transactions conducted from vehicles on or near campus; you may be witnessing a sale of stolen property or an illegal drug sale
One or more persons furtively sitting in a parked car closely scanning the area
A person being forced into a vehicle against their will
A person exhibiting unusual mental or physical symptoms
Strange noises, including loud screams, gunshots, sounds of fighting or anything indicating foul play, danger or illegal activity
It's imperative to remember that people aren't suspicious, behavior is. When in doubt, report it! Do not ignore it or keep it to yourself. To report an emergency or crime in progress (on-campus), call the UHD Police Department at 713-221-8911.
For non-emergency situations, please call 713-221-8065. To report an emergency or crime in progress off-campus, please call 911.
Note: All 911 calls involving university property are routed through the Greater Harris County 911 District to the UHD Police Department. UHD police officers now have the ability to listen to the actual 911 call thereby offering a quicker response.
Anonymous Crime Reporting
If you would rather remain anonymous while reporting a crime, or any other violation of campus compliance or ethics, the University of Houston-Downtown has made available the Fraud & Non-Compliance Hotline anonymous incident reporting system.
In order to make a report, simply visit the Fraud & Non-Compliance Hotline, and enter "University of Houston-Downtown" into the organization Search Engine. From there, follow the prompts to make your report. If you prefer using the telephone, you may call the Fraud & Non-Compliance hotline at 1-800-461-9330 to make your report. For those outside the United States, place a collect call to +1-720-514-4400 to report the issue with the help of a call center representative and language interpreter. Again, you may submit these reports confidentially if you do not want to pursue legal action. If you wish charges to be filed, you must call UHD Police Department to make a report.