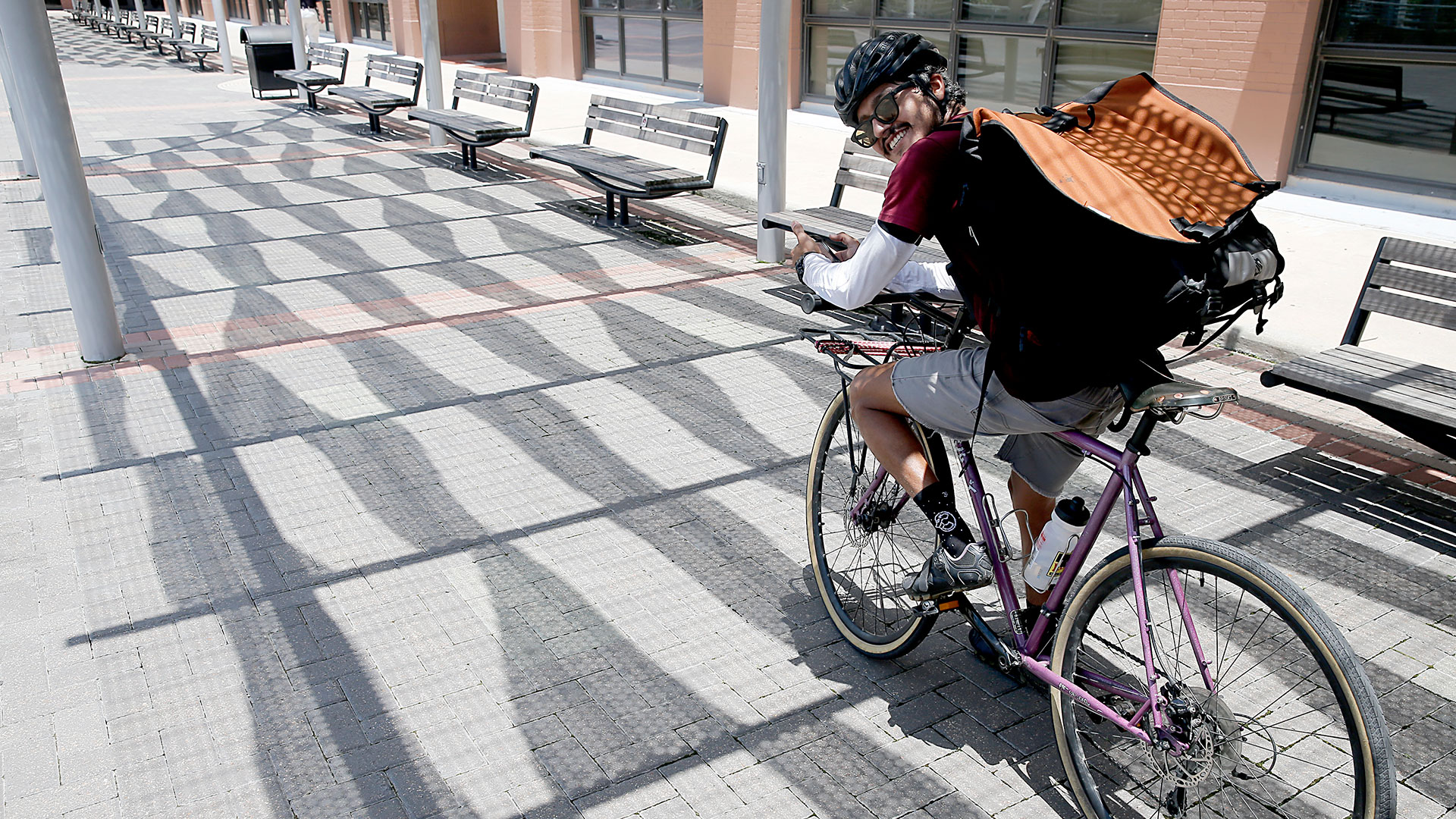 Register Your Bicycle Today!

Bike Safety and Registration
Register your Bicycle
Register your bicycle with the University of Houston-Downtown Police Department. To register, you will need to submit the serial number for your bicycle. If your bicycle does not have a serial number, contact your local bike shop and request information on how to obtain an identifying number for your bicycle. Registration helps UHDPD return stolen bikes to their owners and prosecute bike thieves. Registration is FREE and can be done anytime online.
Ride Responsibly
Bicycles provide a convenient, environmentally friendly way to move around the campus. With the increasing number of bicycles and pedestrians, it is important that each rider act responsibly to avoid injury.
Watch for Pedestrians
Please yield to pedestrians at all times. Pedestrians generally have the right of way. No one wants to see an injury occur, and you may be liable if you hit someone. It's a good idea to check your homeowner, automobile or personal liability insurance policies to make sure you are protected.
Use your Bell or Yell
It is important to notify pedestrians that you're approaching on your bicycle. Within a reasonable distance, alert pedestrians that you are approaching by saying: "Excuse me", "On your left", or "Behind you", or use a bicycle bell. Pass slowly, treating pedestrians as having the right of way.

Be Courteous
As you ride through campus, please be aware of your surroundings and be courteous to others using the walkways and streets. University of Houston-Downtown has many visitors on campus, some of whom may not be aware of our campus culture. To avoid accidents, please be aware that some pedestrians and riders may be using headphones or distracted by other factors. If you use earphones while biking, please use only one earphone in order to remain alert to pedestrians and vehicles.

Park Responsibly
Park your bicycle only in designated bicycle racks provided throughout the campus. Do not block sidewalks or walkways. Secure your bicycle by following these tips:

Use a case-hardened "U" lock; cable locks are easily cut

Lock your bicycle in racks provided by UHD

Remember to also lock parts attached with quick-release mechanisms

If a bicycle is left unattended on campus for an extended period of time, it can be subject to impoundment.



Safety Guidelines
Bicycles are considered vehicles. Please observe the same traffic guidelines:
Stop at all stop signs
Watch for pedestrians, especially at crosswalks
Ride with the flow of traffic, never against it. It is illegal and unsafe.
Obey all traffic signals and signs.
Ride on the ride.
Pass on the left.
Be predictable and make eye contact with motorists; be sure you are seen.
Slow down to pass pedestrians. Know the dangers of riding on the sidewalk.
Use your bell or yell.
Use lights and reflectors (front and back) after dark. IT'S THE LAW.
Helmets are recommended.
Be alert and ride safely.
For Motorists:
Cyclists have a right to the road. Be alert and patient.
Check your mirrors. Watch for pedestrians and cyclists.
Reduce your speed when you approach a cyclist.
Bicycles are vehicles and should be given the appropriate right of way.
Allow at least 3 feet when passing a cyclist.
What to do if your bicycle is stolen:
Contact the University of Houston-Downtown Police Department as soon as possible at 713-221-8065 or stop by the station in N116 to report your bicycle stolen.
Report the theft whether your bike is registered or not. The likelihood of the bicycle being recovered is greater if it is registered. It is important for the UHDPD to be aware of all bicycle thefts to better assist in recovery.
Inform the UHDPD of the make, model, and color of the bicycle, as well as the location of the bicycle before the theft.
Helpful links:

For more information or suggestions about UHDPD's bicycle safety guidelines, please contact 713-221-8065 or email bikeuhd@uhd.edu