Concentration in Leadership
Leadership
Master of Business Administration
Graduate (Masters)
On Campus
Downtown Location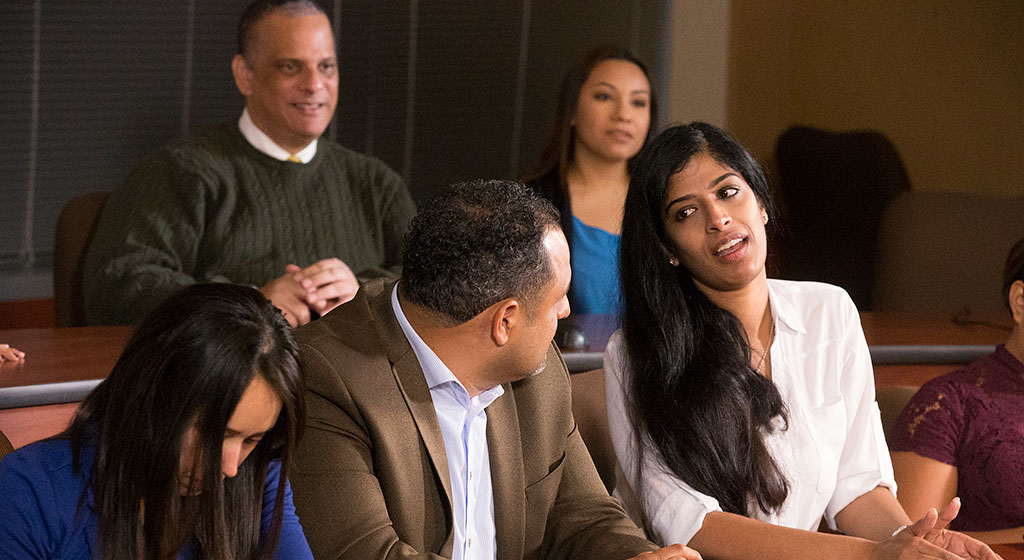 Why Earn an MBA in Leadership at UHD?
The Leadership MBA at UHD is industry driven. High-level corporate executives and leaders from a variety of industries have directly contributed to the development of the program and the topics of the leadership curriculum. The resulting unique and innovative program will equip MBA graduates with the leadership skill set that will propel their careers and give them and their organizations a sustained competitive advantage.
Suitable Candidates for the Leadership MBA Program:
UHD's MBA in leadership will assist leaders in all industries who are in first time or early leadership or managerial positions. It is also suitable for leaders who want to enhance and refresh their knowledge in current leadership methods and research.
The MBA in leadership program investigates the many dimensions of leadership and provides opportunities for students to practice these skills in their daily work routines, transforming the way students perceive their roles within an organization. The goal is to develop well-rounded leaders who are exposed to a wide variety of leadership characteristics, enabling students to refine their personal leadership styles to be the most effective within their organizations, their communities, and their circles of influence.
The Skills and Topics Covered in MBA Leadership Courses Include:
Building stakeholder relationships and networking within and between departments
Effective communication skills and effective communication of business results
Effective interpersonal skills
Measurement and development of employee performance
Developing and leading high-functioning teams
Curriculum:
To obtain an MBA degree with a Leadership specialization, students are required to take 10 separate core courses in addition to the student's chosen concentration courses.
Concentration courses are offered in the evenings, one class every eight weeks, and can be completed over the span of 12 months. Courses are also available in an online format. The courses include the following:
MBA LEADERSHIP CONCENTRATION COURSES
MBA 6344
Interpersonal Leadership Effectiveness in Business
3
MBA 6342
Interpreting and Delivering Business Results
3
MBA 6346
The Business Leader's Role in Talent Development
3
MBA 6348
Leading Teams for Business Results
3
MBA 6340
Supporting the Business Strategy
3
MBA 6102
Graduate Colloquium (required for all concentrations)
1
Total Hours
16
Complete descriptions of the above courses can be found in our MBA Leadership Course descriptions.
The core courses are included in our soft start and traditional MBA programs. The courses include the following:
MBA - CORE COURSES
MBA 6213
Management of Organizational Behavior
2
MBA 6211
Managerial Decision Making
2
MBA 6203
Managerial Accounting and Budgeting
2
MBA 6208
Marketing Management
2
MBA 6204
Managerial Finance
2
MBA 6205
Management of the Supply Chain
2
MBA 6207
Management of Information Systems
2
MBA 6212
Managerial Economics
2
MBA 6202
Strategic Management
2
MBA 6216
Capstone B
2
Total Hours
20
Complete descriptions of the above courses can be found in our MBA Core Course descriptions.
Please note that for some MBA candidates, leveling courses may be required.
Additional MBA Concentration Options
MBA in Accounting
MBA in Finance
MBA in Human Resources Management
MBA in International Business
MBA in Project Management and Process Improvement
MBA in Sales Management and Business Development
MBA in Supply Chain Management