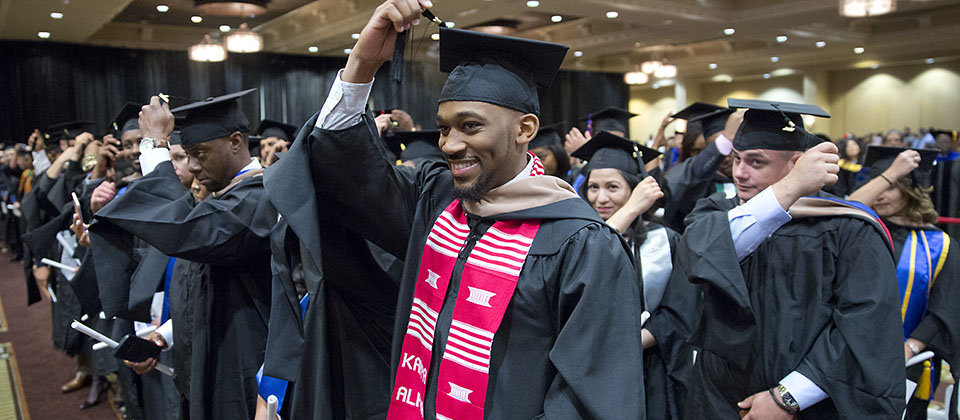 MBA Graduates at Commencement
Everything you need to know about starting and completing your MBA degree at UHD is available here. We are confident this program's curriculum and instructors will exceed your expectations, and provide you with a creative and innovative means for achieving success.

This MBA program teaches highly applicable skills needed in today's evolving business environment to tackle the real world challenges that today's professionals face on a daily basis.

At the University of Houston – Downtown's College of Business, we are Developing Today's Professionals into Tomorrow's Leaders.
The General Management MBA track focuses on a broad study of management and operations applications. The General Management MBA is delivered one course per session and are two credit hours each. This option is only available to those who apply as a traditional applicant. The student has the option to take general management in the traditional format beginning with the MBA core and then finishing up with the concentration courses.
General Management Course Delivery
Courses are 2 credit hrs each
Hybrid format
8 Week Sessions
One Courses per Session
Not available for soft start

GENERAL MANAGEMENT COURSES
MBA 6101
Presentation Skills for Business Success
1
MBA 6102
Graduate Colloquium (for each concentration)
1
MBA 6201
Leadership, Team Building and Team Management
2
MBA 6206
Operations Management
2
MBA 6209
Human Resources Managment
2
MBA 6210
Legal Environment of Management
2
MBA 6214
Management in a Global Context
2
MBA 6290
Current Topics/Independent Study
2
Total Hours
14
The core courses are included in our part-time and full-time MBA programs. The courses include the following:



CORE COURSES

MBA 6202
Strategic Management
2
MBA 6203
Managerial Accounting and Budgeting
2
MBA 6204
Managerial Finance
2
MBA 6205
Management of the Supply Chain
2
MBA 6207
Management of Information Systems
2
MBA 6208
Marketing Management
2
MBA 6211
Managerial Decision Making
2
MBA 6212
Managerial Economics
2
MBA 6213
Management of Organizational Behavior
2
MBA 6216
Capstone
2
Total Hours
20
Please note that for some MBA candidates, leveling courses may be required.