Spotlight on HHL student achievements, awards, and recognitions.
Xavier Saldivar-Osorto Joins MA in History Program
The History Program and the Department of History, Humanities & Languages are proud to celebrate the academic achievements of one of our recent graduates, Mr. Xavier Saldivar-Osorto, who is about to complete his MA in history at the University of Texas at San Antonio. Xavier graduated summa cum laude from UHD with a major in history and two minors in Spanish and in Critical Race Studies in May 2021. While completing his undergraduate degree at UHD, he was recognized for his intellectual gifts and dedication to several disciplines by becoming a member both of Phi Alpha Theta (the history honors society) and Sigma Delta Pi (the Spanish honors society). Xavier's path to success in his undergraduate and post-graduate studies may be non-traditional to some, but for UHD it is very familiar. He had not enjoyed his first college experience, which prompted him to get an associate's degree in Applied Sciences in Automotive Technology from Houston Community College. For about seven years he worked as an automotive technician before he decided to give college another try. He came to UHD planning on pursuing a business degree and then seeking managerial work in the automotive industry. But after taking several inspiring history courses, he realized his passion for the discipline and switched to history. He reports that our history faculty inspired him to pursue further studies, which led him to UTSA. UTSA has given him opportunities to explore various professional areas related to history (such as museum directorships and public history), however, Xavier has decided that he wants to publish and become a university professor of history. After finishing his MA in history with a Latin American Studies Certificate at UTSA in May 2023, Xavier will go on to complete his post-graduate work with the University of Houston's PhD program in history. He is excited about his acceptance into that program and looks forward to specializing in Latin American history post 1877. We wish him all the best as he moves from success to success!
---
History Major, Helen Martinez Awarded Internship at the Holocaust Museum Houston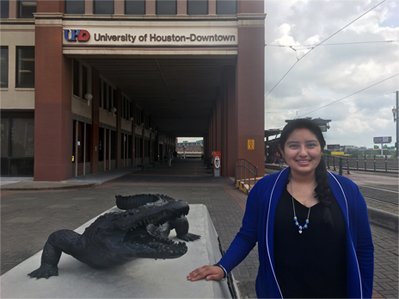 History Major Helen Martinez has been awarded an internship at the Holocaust Museum Houston for Fall, 2021. In Spring 2019, Ms. Martinez was awarded a paid internship with the Summer Curatorial Research Project in Indigenous Arts at the University of Virginia.

These opportunities will certainly open exciting possibilities for her after she graduates in December, 2021, given her interest in pursuing a Ph.D. in History and seeking employment as a historian in a museum. The History program and HHL extend her a hearty congratulations on her achievements.
---
UHD Honors Student Awarded East Texas Historical Association's McDonald Scholarship at Fall 2017 Meeting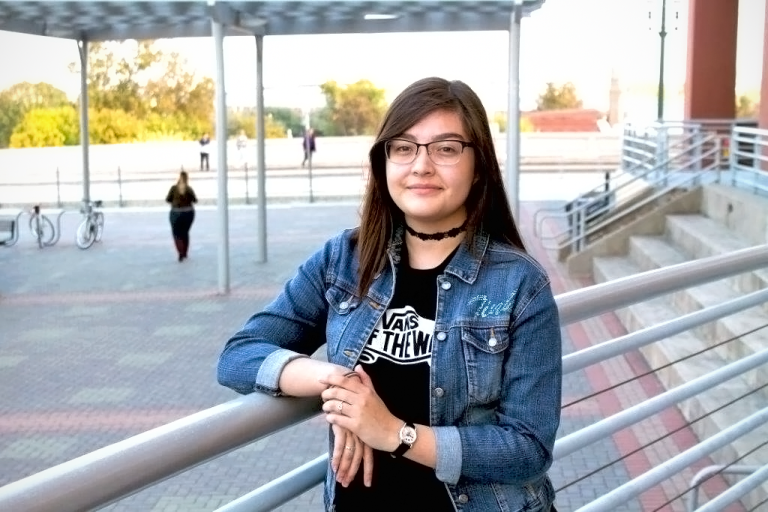 University of Houston-Downtown History major Alondra Julie Morillon received the 2017 East Texas Historical Association's Dr. Archie P. McDonald Scholarship in History during the Saturday Awards and Business Luncheon. ETHA Executive Director, Dr. M. Scott Sosebee, made the presentation at the Association's annual Fall meeting, which was held this year from October 12 - 14 at Galveston's Moody Gardens hotel.
The McDonald Scholarship recognizes outstanding graduate and undergraduate History majors enrolled full-time at East Texas colleges and universities, with an interest in Texas – especially East Texas – studies. Sosebee stated the scholarship is awarded annually since 2010 to honor the memory and work of Archie P. McDonald, who taught Texas history at Stephen F. Austin State University for nearly 50 years, was president of the Texas State Historical Association, and Executive Director of the Association and editor of its Journal for 37 years. "It was a spirited competition amongst the applications," Sosebee said. "But," he continued, Julie "did stand out as someone with true potential and who we felt would relish this award and go forward with her education."
Morillon is an UHD sophomore in the Honors Program and is vice-president of the Garna Christian Chapter of the Walter Prescott Webb Historical Society at the university. She also presented her research paper, "The Tragedy of Railroad Laura: Mental Health and Old Age at the Turn of the Century" at the Association's session "Dementia, Drag, and Death: Twentieth Century Texas Social History" Friday morning. In addition to UHD's Webb Society advisors, Drs. Mari Nicholson and Gene Preuss, eleven Honors students attended the ETHA meeting. The students presented six papers in two sessions, visited with historians from across the state, and attended the awards luncheon. Dr. Nicholson received a grant from UHD's High Impact Practices to fund the Honors students conference travel.
The ETHA, headquartered at Stephen F. Austin State University in Nacogdoches, was originally organized in 1927, but suspended meetings during the Great Depression. It was reformed in 1962. It publishes the East Texas Historical Journal biannually, and in addition to two annual meetings, it sponsors the New Deal Symposium, and other lecture series. It presents numerous awards for local historic preservation, publications, and other contributions to the history of East Texas.