Five-Year Fixed Tuition Rate Plan
Five-Year Fixed Tuition Rate Plan
Beginning with the Fall 2016 semester, the University of Houston-Downtown is excited to offer first-time-in-college freshman and transfer students with less than 30 hours of transferable college credit the new Five-Year Fixed Tuition Rate Program.
What is a Fixed Tuition Rate?
The fixed tuition rate is a guaranteed tuition rate per credit hour for all mandatory tuition and fees associated with enrollment. The fixed tuition rate does not cover any other charges associated with attendance at the University such as, but not limited to: College differential tuition rates, textbooks, supplies, fines, transcript fee, late registration fee, examination/testing fee, new student orientation fee, ID card fee, parking permits, and other voluntary fees.
The Five -Year Fixed Tuition Rate Plan will be set for a maximum of up to fifteen (15) consecutive semesters that occur after the date of the student's initial enrollment. The plan applies to Board Designated Tuition only. Other assessed designated tuition and fees are not included in the Fixed Tuition Rate Plan and are subject to change at any time.
What are College Differential Tuition Rates?
Differential tuition is an additional tuition charge, imposed per college, over and above what the university charges. These funds are utilized for enhancements to the learning experience of specific majors.
Benefits of Fixed Tuition Plan:
The new five-year fixed plan will accommodate students who balance work and home obligations, enabling them to lock in higher-education costs for a longer period. In addition to having cost certainty, students on the five-year fixed plan will save themselves some money. Current projections show that students choosing and remaining eligible for the fixed-rate plan will save approximately $1,200 over the five years. In addition, the program requirement of completing 24 hours each academic year ensures that participants will graduate in five years, saving the expense and lost salary of extra college semesters.
Eligibility Requirements:
Incoming, first-time-in-college student or

Incoming transfer student with 30 or less transferable credit hours enrolling in the Fall semester.

Students must also enroll as a full-time, degree-seeking student their first semester of attendance.
How do I sign up?
Log into your myUHD 2.0
C

lick on the Student Financials tile

Click UHD Fixed Rate Tuition Plan
Select "Yes, I elect to participate in the Fixed Rate Tuition Plan".
Click submit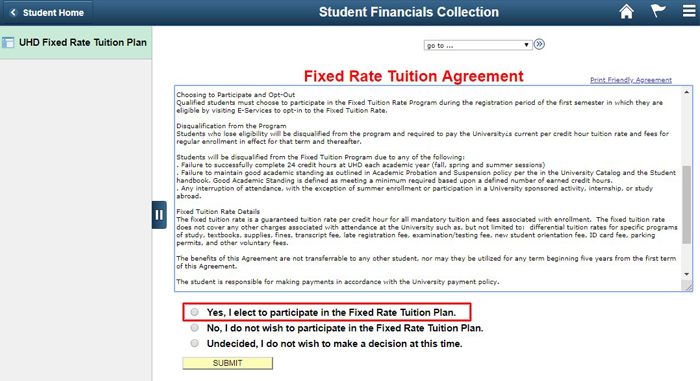 Disqualification:
Students will be disqualified from the Five-Year Fixed Tuition Program due to any of the following:
Failure to successfully complete 24 credit hours each academic year (fall, spring and summer sessions).

Failure to maintain good academic standing as outlined in the Academic Probation and Suspension policy per the in the University Catalog and the Student handbook. Good Academic Standing is defined as meeting a minimum required GPA based upon a defined number of earned credit hours.

Any interruption of attendance, with the exception of summer enrollment or participation in a University sponsored activity, internship, or study abroad.
Students who lose eligibility will be disqualified from the program and required to pay the University's current per credit hour tuition rate and fees for regular enrollment in effect for that term and thereafter. Once the student is disqualified, the student will be not be eligible to re-enroll in the Fixed Tuition Rate Plan at a later date.
What if I choose not to participate in the plan?
No problem, simply opt-out of the program when the option is presented to you before registering for classes through your myUHD 2.0 account.
For additional information regarding the Fixed Tuition Rate Plan, please contact Student Accounting at studentacct@uhd.edu.