UHD Study Abroad Travel Award Scholarship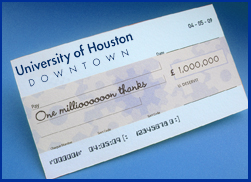 The UHD Study Abroad Travel Awards support academic studies that include a travel abroad component. The purpose of the University Study Abroad Award is to help increase the participation of UHDstudents in study abroad programs. Recipients are expected to be ambassadors of international understanding abroad and within the community upon their return. Funding for these awards is provided through the university's international education fee. This is a competitive scholarship and not all students will receive the award. Students are encouraged to apply as early as possible.
INSTRUCTIONS FOR TRAVEL AWARD APPLICATION:
PROGRAMS

DEADLINE

For UHD Faculty-led Programs:

January Programs: October 1

May Programs: March 15

June and July Programs: April 15

Provider and Exchange Programs:


December/January: October 1

Fall: June 1

Spring: Nov 1

Summer: April 1
All application materials must be submitted by the dates above for consideration. Students will be notified of their award status within two weeks of the application deadline.
Students must meet all of the following minimum requirements:
Student must have a minimum GPA of:
2.5 for individual exchange
2.0 for faculty-led programs
3.0 for graduate students
Students must have completed 12 hours at UHD at the time of application (9 hours for graduate students).
Students must be enrolled at UHD for a minimum of three hours for the term abroad.
Students must receive academic credit for the study abroad course or program.
Students who are traveling to a country where there is a US State Department travel warning are not eligible to receive the award. Regions within travel warning countries that are specifically noted as not being subject to the warning will be considered.
Students who require a visa for travel must show proof of timely visa application prior to the award disbursement.
Students must clear any holds on their student accounts prior to award disbursement.
International students may not use the travel award to travel to their home country.
Students must participate in a UHD-approved program.
Travel award applications will be scored and the amount received will be determined by the following guidelines:
1. UHD GPA
2.5-2.99 — 10 points
3.0-3.49 — 20 points
3.5-4. — 30 points
2. Financial need
Not Pell-eligible — 10 points
Partial Pell — 20 points
Full Pell — 30 points
3. Program length
3+ months — 10 points
6-12 weeks — 5 points
Less than 3 months — 0 points
4. Prior UHD Travel Award recipient
Yes — 0 points
No - first time recipient — 10 points
5. Required for student's UHD degree/program
Yes — 10 points
No — 0 points
6. Application essay
Rated on a scale from 0 to 10 points
Travel award amounts will depend on the number of applications and fund availability.
Travel award recipients agree to contribute to UHD's Office of Study Abroad Programs with a portfolio of experience upon completion of their study abroad program. These personal programs consist of ONE of the following: a media presentation, blog, personal testimony, or at least two hours of service to promote international education to UHD students. Students will consult with Elizabeth Huskin in the Office of Study Abroad prior to departing and prepare these projects within one month of the program end date.




Obligation to Repay Funds if Trip Not Taken:
Students must reimburse UHDfor all scholarship funds awarded for a study abroad program within 30 days if they do not complete the program for any reason. This includes those scholarship funds that are directly applied as payment for the non-refundable portion of a trip's cost.