What Is Zoom
Zoom is a cloud video conferencing software that offers secure, simple, and high quality online meetings, video webinars, group chats and more.
Real-time HD video/audio conferencing using your computer or mobile device
Online Meetings
Group Collaboration
Phone Bridge(phone conference)
White Boarding
Annotation and co-annotation
Virtual Classrooms
Interviews
Webinars
Instant messaging
Zoom FAQs
Zoom is available to all faculty, staff, and currently enrolled students to initiate or schedule meetings, conferences, etc. Participants invited to those meetings/conferences can be anyone anywhere in the world (they do not have to be UHD students, faculty, or staff).
You can go to the
UHD Zoom portal
where you can download and install the Zoom client on your PC, tablet or phone.
Once installed launch the program and log in with the SSO option to use your UHD credentials.
Visit
Getting Started with Zoom
for more in-depth instructions.
No, you can access and use Zoom anytime from anywhere with Internet access. You do not have to be connected to UHD's network, nor do you have to connect via VPN.
Training sessions will be offered through our Technology Teaching and Learning Center (TTLC). Consult the TTLC for Zoom training dates and times.
There are also short video materials available on the
IT Training page
.
As COVID-19 has necessitated increased use of telecommuting solutions, there have been instances of public Zoom meetings getting hijacked, or "Zoombombed," by malicious actors.
Zoom has
posted a blog with many helpful tips
to prevent unintended access to your meeting and/or meeting controls. You can also check out
our article on securing your Zoom classes
.
The most important tip is to prohibit open access to the screen sharing feature during your meeting. You can disable this setting in your account profile:
Log into your Zoom account
Click the "Settings" tab on the left side of the screen
Search for "Screen Sharing"
Under "Who can share?" change the setting from "Participants" to "Host Only" (see screenshot below)
Save your changes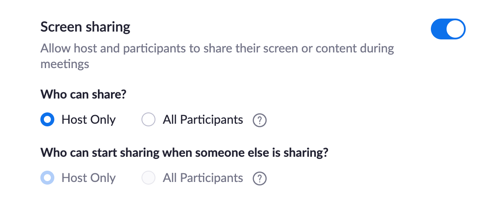 When hosting a public meeting, do not use your personal Zoom Meeting ID. Create a separate meeting event for any link you share publicly.
Zoom comes pre-stocked with numerous security features designed to control online classrooms, prevent disruption, and help educators effectively teach remotely.
See our tips and best practices for
securing your virtual classroom using Zoom.
We're excited to share that Zoom 5.0 is now available! This release delivers one of the most advanced security enhancements to date with support for AES 256-bit GCM encryption, which provides added protection for meeting data and greater resistance to tampering.
Please make sure to update your Zoom client.
See the
Zoom blog
for more information about Zoom 5.x.
Launch Zoom Client.
Log in.
Click on the wheel icon (settings). This is located on the upper right of the client pane.
Select VIRTUAL BACKGROUND.
Select CHOOSE VIRTUAL BACKGROUND by clicking on the plus icon to the right.
Choose your desired background image, select and it will install.
When installed, select the background and you are good to go.
For more details, see the official
Zoom Virtual Background Instructions