MA in Nonprofit Management News
Master of Nonprofit Management Celebrates 10 Years
"Celebrating its 10th anniversary this year, the MANPM program has been a tremendous success. The program consistently ranks among the top five nonprofit graduate programs in the country. Current rankings include No. 3 "Best Online Nonprofit Management Programs", No. 3 in the nation for "Most Affordable Online Nonprofit Management Programs" , and No. 7 for "Best Value Among Online Nonprofit Management Programs".
When asked what makes this program so relevant today, Branham offered, "Relevance is usually related to the success of your graduates. Our graduates, as a group, have been extremely successful. However, when you remember that nonprofit success is measured in positive impact instead of net profits, you understand that the program is doing a service, not only to its students, but to the entire community. From that perspective the relevance is massive. Being part of the team connected to that is very satisfying.
---
President Biden Visits the Houston Food Bank
After the ice storm that swept through Texas in February 2021, the Houston Book was visited by President Biden. Brain Greene - CEO of Houston Food Bank, and Adjunct Professor of the Masters of Art in Nonprofit Management met with President Biden. Read more about President Biden's visit.
---
Past News
UHD Receives Nearly $300,000 to Help Students Return to Classroom Following Harvey
Master's of Non-Profit Management Program, CenterPoint Partner for Power Tools for Nonprofits Conference
UHD's Non-Profit Management Degree Ranked Second as "Most Affordable Online MANPM Degree"
UHD's Non-Profit Management Online Program Ranked 5th in the nation
---
MNPM Grad Named CEO of West Houston Assistance Ministries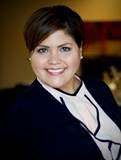 UHD Master of Nonprofit Management Graduate Elisabet Iparrea has been named Interim CEO of West Houston Assistance Ministries. WHAM is a Christian based organization that provides an array of services to the residents of west Houston area including financial assistance, education assistance, senior services, and a food pantry. The organization, which is represented by several area churches from an array of Christian denominations, has an annual budget of approximately $2,000,000.
Iparrea, a 2016 graduate of the UHD MNPM program is excited about her new endeavor. "Along with perseverance, commitment, passion and dedication, the nonprofit graduate program from UHD allowed me to obtain the knowledge that I needed to be given this amazing opportunity." To learn more about WHAM visit the organization's website.
---