​​​​
Dr. Azar Rejaie
Associate Professor,
Art History
713-222-5300 rejaiea@uhd.edu
Dr. Christina Hughes Assistant Professor,
Social Sciences
713-221-5063 hughesc@uhd.edu
Dr. Katharine Jager
Associate Professor, English 713-222-5347 jagerk@uhd.edu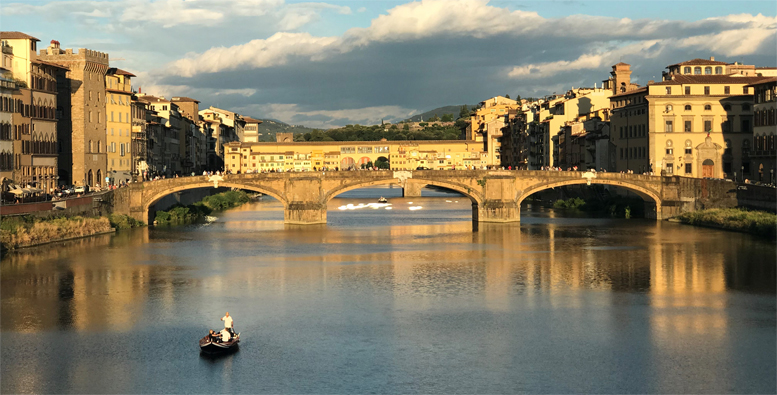 The University of Houston-Downtown is sponsoring an exciting learning opportunity to see la dolce vita in Bella Italia by combining in-class learning in the US with on-site learning in Rome and Florence. Choose up to three exciting classes, each of which focuses on aspects of Italian art, literature, political theory, and culture. The classes meet for once per week during spring semester, with the kinds of reading, tests, essays, and other assignments that are found in a regular course.
In May, after final exams but before the summer sessions, the classes travel to Italy. On the trip, students conduct and present research, visit locations that they have studied, and incorporate travel experiences into the context of the class. In 2019, the classes will split the travel time between Florence and Rome and their environs, and will include shorts trips to Assisi and Orvieto.
---
TRIP PACKAGE COST
The price of your trip package is determined by the class in which you enroll (or for non-student travelers, by the class whose itinerary you can follow). The varying costs are determined by each class's specific itinerary.
ART 3303/HUM 3308 History of Renaissance Art: $3,369.90

ENG 3340/HUM 3310 Cultural Criticism: Pilgrimage and Poetry: Writing, Travel,
and What it Means to Be Human: $3309.71

POLS 4390 Special Topic: Machiavelli and Modern Political Thought: $3,359.71
Each trip price includes airfare, all hotel stays, transportation between and in cities, all required class venues and excursions (i.e. museums, churches, and cultural sites including The Vatican), half-day guided tours of Orvieto and Assisi, full breakfast each day, and three group dinners. Please note: the cost of the trip is based on double-occupancy. Roommates will be assigned in the event you do not specify a roommate. Students and Non-Student Travelers may pay a supplement of $750 for a single room, but you must indicate to Dr. Rejaie that you want to exercise this option. UHD faculty and staff, as well as non-student participants associated with a trip participant (i.e. spouses), are welcome to participate if space is available.
---
PAYMENT DATES
January 14, 2019 and January 21, 2019:
UHD Students who enroll in a participating course must make a $350 deposit by January 14th, or contact Dr. Azar Rejaie at rejaiea@uhd.edu to confirm that you intend to participate in the trip and will pay your deposit by January 21, 2019. All other trip participants must make an initial deposit of $350 no later than January 21, 2019.
March 18, 2019:
Full payment must be made no later than March 18, 2019 by all trip participants.
CANCELLATION POLICY
Cancelation by March 1, 2019 will result in a non-refundable penalty of the initial $350 deposit,
Cancellation by March 29, 2019 will lose 50% of the money you have paid toward the trip
Cancellation after March 30 will result in a 100% loss of all money paid toward the trip
NOTE: If you receive scholarship funding or financial aid, money above the cost of your trip will be refunded to you.
---
TO REGISTER
Create a profile in the Study Abroad Portal


Make payments, including your deposit, using the Pay Portal (see menu to the left). For instructions on how to register for and use online payment portal Once you have signed up for your trip package and made your $350 deposit, you will continue to use the Pay Portal for making payments until you have completely purchased your course trip package.
---
Trip Itinerary
Each class will follow a distinct itinerary according to its curriculum; each course's final itinerary will be determined during the spring semester. The basic trip schedule is below. See each course description for a list of the venues planned, but the itinerary is subject to change. Until the itinerary is confirmed in the spring, we encourage you to explore information on the sites listed below and Rome and Florence more generally. Each class will have a scheduled "free day" in Rome.
May 13, 2019 - Leave for Rome
May 14 - Arrive in Rome
May 14 – 18 - Rome, activities include:

River cruise on the Tiber
Barberini Gallery
Borghese Villa and Museum
Ancient churches include Sta. Maria Maggiore, Church of the Holy Apostles, San Clemente and more Colosseum
The Pantheon
The Roman Forum and Palatine Hill
The Vatican: The Basilica of St. Peter, the Vatican Museums, and the Sistine Chapel Villa Medici
And walking tours!

May 19 – Coach to Florence with an intermediate stop in the Umbrian hill town of Orvieto. Upon arrival in Florence, we'll stop at the Piazzale Michelangelo, site of some of the best views of Florence. Group dinner at our hotel.
May 20 – 23 - Florence, activities include:

Accademia (home of Michelangelo's David)
Bargello Museum
Orsanmichele
Palazzo Medici Riccardi
Palazzo Pitti and Boboli Gardens
The Florentine Duomo (cathedral): Santa Maria del fiore
The Palazzo Vecchio and Loggia dei Lanzi
The Uffizi Gallery
Important churches including Santa Croce, San Lorenzo, Santa Maria del Carmine, San Marco, and Santa Maria Novella
Villa Machiavelli
Walking tours of the Arno and Ponte Vecchio
And other walking tours!

May 24 – Coach to Rome with an intermediary stop in Assisi, Italy, where students will be able to see the famous upper and lower churches of San Francesco da Assisi.
May 25 – Depart Rome and arrive in Houston
---
Courses:
ART 3303/HUM 3308 History of Renaissance Art
Monday, 1:00 – 2:15 pm; Dr. Azar Rejaie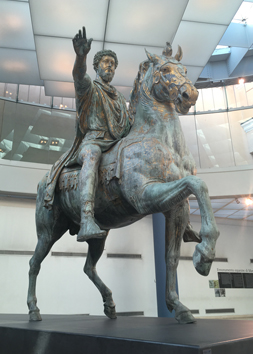 The Renaissance – or the "rebirth" of the classical cultures of ancient Greece and Rome in Europe between approximately 1400 and 1600 AD – began in the cities of Italy and soon spread across the face of Europe. Artists such as Michelangelo, Titian, Leonardo da Vinci, Raphael and many more are famous far and wide for their paintings and sculptures held in important museums across the world. Yet the term "the Renaissance" was not one known to most people of the era and many would have been deeply suspicious of its meaning. The Renaissance is a period of fascinating contrasts – it was a deeply religious age and yet several of its popes supported the discovery of ancient Roman sites and sanctioned "pagan" art in the holiest of sites. It was an age of faith and the belief of miracles, yet it produced important scientific thinkers such as Leonardo da Vinci and Galileo Galilei. It was a period of religious conservatism in the face of a changing world, and yet produced adventurous explorers who opened links between the Old World and the New.
This course will explore works of art made by Renaissance artists in their social, historical, political and artistic contexts in order to grasp better the meaning of the "Renaissance" in Italy and see how much of a "rebirth" of classical culture can be found of art made between 1400 and 1600. We will visit sites of Ancient Rome such as the Colosseum and the ancient Forum, and the Pantheon, in order to understand better the form and majesty of ancient Roman (pagan) sites – and see how they inform our understanding of Christian Renaissance works of art to be found in the Borghese Gallery, the Vatican and its museums, and other churches and sites across Rome. In Florence, we will see the birthplace of the Renaissance, visiting important museums such as the Uffizi and Bargello as well as the churches of Florence in which some of the first Renaissance works of art were made and can be still found in their original positions. Seeing works of art in their intended locations within the cities where they were created will allow us to develop an understanding of art objects as part of the fabric of their Renaissance cities, and give us a better understanding of the role art played in the religious, social, and political life of Renaissance audiences.
ROME:
Barberini Gallery
Basilica of St. Peter's and Vatican Museums
Church of San Clemente
Corsini Nazionale
Galleria Borghese
Pantheon
San Pietro in Vincoli
FLORENCE:
Accademia
Duomo & Brunelleschi's Dome
Orsanmichele exterior
Palazzo Medici-Riccardi
Palazzo Vecchio
Piazza Signoria and Loggia dei Lanzi
Sta Croce
Sta Maria del Carmine
Sta Maria Novella
Sto Spirito
Uffizi
---
ENG 3340/HUM 3310 Cultural Criticism: Pilgrimage and Poetry: Writing Travel, and What it Means to Be Human
Wednesday, 1:00 – 2:15 pm; Dr. Katharine Jager
This course asks: what does it mean to be a writer and a person, and how might that concept change over time and across geography? Towards that end, we will consider the influence of late medieval Italian humanism on English writers. We will read a variety of late medieval sources (most in translation), ranging from poetry to travel narratives to accounts of pilgrimage and then visit sites in Rome, Florence and Fiesole relevant to those readings. These readings will ground our central question about writing and identity. We will ask how the identity of "writer" may, for medieval people, be quite different—and surprisingly quite like—our own. We will read, write and analyze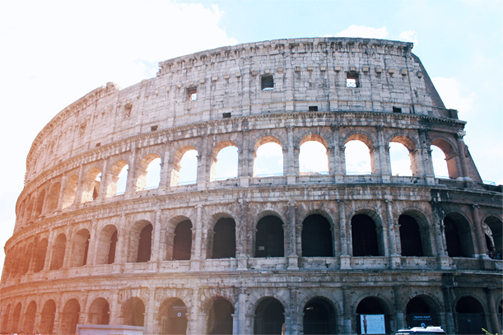 literature, historical documents, images, sculpture, urban spaces, and criticism. And we will produce essays and analyses of these texts and of our experiences, considering the following questions: what is the role of writing in producing self-knowledge?; do writers ever really depict the world, or merely approximate it?; how is death written of, and does death make us more aware of our humanity?; why do people travel?; how are travel and exile different? alike?; how does history influence our conceptions of ourselves as humans?; how does travel influence how we perceive ourselves? And, most importantly, how do these considerations influence how we think of ourselves as post-modern, 21st century travelers to Italy?
ROME:
Basilica of St. Peter's and Vatican Museums
Hospice of St. Thomas
St. Marcellus
St. Thomas of Canterbury
Sta. Caterina in Ruota
Sta. Maria Maggiore
Sta. Maria Rotunda
The Church of the Holy Apostles
FLORENCE:
Bargello
Dante's House
Day trip to Pisa: Campo Santo and Pisa Duomo and Baptistery
Duomo
Palazzo Medici Riccardi
Ponte Vecchio & Arno River
Sta Croce
Sta Maria Novella
Uffizi
---
POLS 4390 Special Topic: Machiavelli and Modern Political Thought
Thursday, 1:00 - 2:15 pm; Dr. Christina Hughes
Niccolò Machiavelli (1469-1527) is one of the most controversial political thinkers in the tradition of European political theory. Though often considered a teacher of evil, hence the term Machiavellian, his writings have no doubt had a tremendous impact on modern political thought. Some would argue his writings gave birth to political modernity and he could be considered the first political scientist. He is known as both a theorist of the absolutist state and an advocate of republican freedom and participatory government.
How can he be both and advocate of tyrants and democracy? This course will address this question by participating an in-depth study of Machiavelli's major political works, as well as, studying his life and the times in which he lived. Following Machiavelli's concept of "discussion with the ancients" the course will conclude in Italy where we will visit important historical sites in Rome and Florence connected to Machiavelli's life and work.
ROME:
Basilica of St. Peter's and Vatican Museums
Colosseum & Palatine Hill/Forum
Galleria Borghese
Pantheon
FLORENCE
Bargello
Duomo
Palazzo Medici Riccardi
Palazzo Signoria and Loggia dei Lanzi
Palazzo Vecchio
San Lorenzo
San Marco
Sta Croce
Tabernacle of the Stinche
Uffizi
Villa Macchiavelli
---
Getting a Passport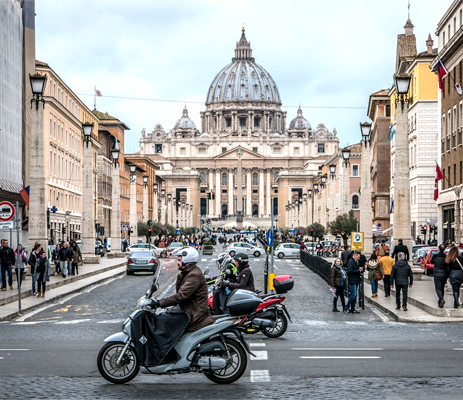 All travelers must have a valid passport as of February 1, 2019. It is required in order for us to finalize airline tickets and other travel package elements. [We will require that you provide a copy of your passport to us as part of your travel documents.] The passport should expire no earlier than December, 2019.
Passport applications can take up to 2 months to process. You MUST start NOW! Do NOT wait!
If you are applying for the first time, you will need to gather your documents (including a certified birth certificate) and go to an authorized passport office. They are most often found in post offices.
For application and nearest passport office visit the U.S. Postal Service website.
Contact Dr. Rejaie for more information.