Summer III 2018 Study Abroad in Ghana
July 22 - August 4, 2018​
The Unive​rsity of Houston-Downtown is sponsoring a study abroad trip to Ghana in West Africa. Ghana is the oldest of Africa's democratic societies and the home of some of its richest cultures, colonial structures, natural habitat and wildlife sanctuaries.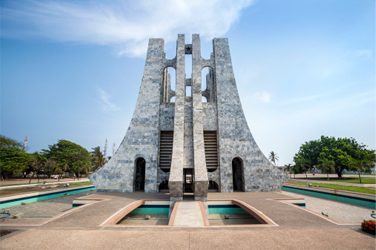 As a student, you will visit slave castes on the Cape Coast, wade into the frigid waters of Slave River, participate in traditional cultural rituals performed by Shaman priests, experience the Kakum National Rainforest and the Boabeng Rierne Monkey Sanctuary. Ghana offers the distinct opportunity of visiting the final sites of Pan-African luminaries Kwame Nkrumah and W.E.B. DuBois. For these reasons, Ghana and Ghanaian culture are directly connected to Africa-American culture, leadership and pursuit for social justice.
Come experience the history, culture, beauty and splendor of Ghana in West Africa.
Earn course credit in one of three classes leaving for West Africa:
ENG 3340: Cultural Criticism/HUM 3310 - Cultural Criticism
COMM 3340: Communication and Leadership
Financial Aid and Scholarships Are Available.
Contact:
Dr. Vida Robertson
History, Humanities & Languages Department
​