IT Scholarship Dedication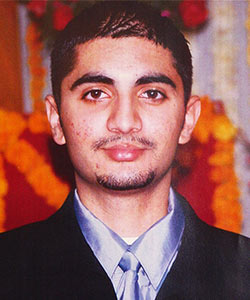 Anup Patel
November 18, 1983 – December 18, 2004
Rest In Peace
Anup was remembered and acknowledged on a couple of occasions during the time shortly after his passing, by, among others at UHD, the Student Life Center and our very own Information Technology. Anup's infectious smile, and engaging personality endeared him to many of whom he developed a close relationship with at the Student Life Center and colleagues in Information Technology. Anup was known and respected by the UHD family, staff and students alike, for his cheerful and enthusiastic availability to help when they visited the Academic Computing Lab.
Consequently, we remember clearly the passion with which his friends mourned his passing.
My parents were happy to learn that our dear Anup was being considered for such an honor, and being considered with other past honorees such as Joey Longoria and Chaney Anderson, people who exemplified courtesy, loyalty, and friendliness. They were heartened and humbled that such an honor might be afforded their son.
Anup, during his time in our Academic Computing Lab, never passed up an opportunity to be of service to fellow students. He made sure that user's needs were being met, often going the extra mile ensuring that students left with a great experience in using our Academic Computing Labs. Anup was diligent in his work, to the degree that he was promoted, earlier than was usual, to shift supervisor in the Academic Computing Lab. We are profoundly proud of Anup and his accomplishments. My parents are enthusiastic about anything that would afford an opportunity to an ambitious student who wants to be a productive citizen.
Anup had a truly great personality that many wish could have. He worked hard at school and at his job in the Academic Computing Lab. Anup also found time to be a part of the Student Life Center culture where he made many friends, and along the way improved his basketball skills. Anup enjoyed showing everyone his latest moves and his automatic 3-point shot, I might add, with the exclamation "gotcha," each time he demonstrated his basketball skills.
Even though God called Anup to be with Him, He made sure to instill in Anup's nephew, my son Shyam, the same spirit and enthusiasm for basketball that Anup had. In our son, we see many of the same traits, courtesy, loyalty, and friendliness that endeared Anup to others. These attributes exemplify perfectly Joey and Mr. Anderson. We are always thankful to God that even though Anup is no longer with us, in a way he still is in spirt and through our family and Shyam.
Thank you kindly,
Hitesh Patel & Family


Hitesh' Ten Year Tribute
10 years…
Can't believe time has passed so quickly.
It seems just yesterday we were competing on the basketball court, trying to prove who had the better 3-Point shot and post-game. Over the years so much has happened in our lives. Wish you could have been here to experience the joy and happiness that God has blessed our family with and to be around the lives of your niece and nephew, whom resemble and have similar qualities of you.
Your nephew, Shyam is about to turn 8. ...
It's hard to cope with you not being here, but brings inner peace within us, knowing that you are in a better place. On this day, I pray to God that he continues to bless you and all the souls that you have touched during the time you were here with us and to give us the strength and courage to relive all the wonderful memories that you have left us to cherish and to hold on forever.
In Loving Memory of Anup K. Patel


May you continue to rest in peace
With lots of love,
Your Family & Friends
---
2015 IT Scholarship in memory of Chaney Anderson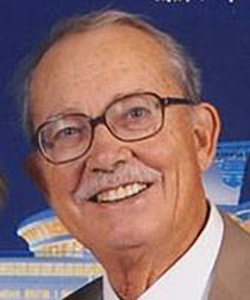 Chaney Anderson
December 25, 1937 – September 30, 2011
Rest In Peace
Mr. Chaney Anderson, worked at UHD from its inception in 1974 until his retirement in 2005. He passed away in September 2011 after a brief and courageous battle with cancer. Although he served with distinction as a member of the Math faculty for a number of years, Chaney will best be remembered for the last 20 years of his career, when he served as UHD's VP for Administration & Finance/Chief Financial Officer, and Information Technology directly reported to him.
Mr. Anderson was the VPAF/CFO during a period of great challenge for UHD. The University was growing rapidly, and that growth had to be accommodated while UHD faced serious resource challenges. Despite the financial challenges, he remained a strong supporter of Information Technology and under his Leadership, IT grew to become an important and integral part of the University.
Chaney Anderson was widely respected and admired at UHD and across UHS for his many fine personal qualities. In describing him people tended to use adjectives like honest, fair, considerate, hard-working, trustworthy and sincere; values we promote and aspire to live by in IT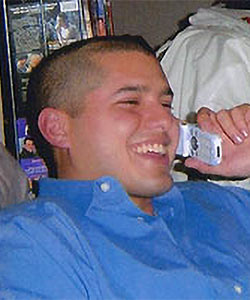 Jose (Joey) Luis Longoria
September 17, 1979 – May 28, 2005
Rest In Peace
This is with hope that Joey's story of medical struggles with leukemia will help someone else that might be going through a bone marrow and/or a liver transplant process. This also goes to a wonderful community of Stafford, Texas and the University of Houston-Downtown, for prayers and support, kindness and understanding.
Joey Luis Longoria chose this message to be placed on his graduation card when he graduated with a Bachelor of Science degree in Kinesiology from the University of Texas-San Antonio in May of 2003. He has lived by this message since August of 2002 when he was diagnosed with leukemia (CML) on through May 28th of 2005. His faith in our God, the prayers of many relatives and friends and the support of our community pulled Joey through some very extremely difficult times throughout these years.
Joey graduated Magna Cum Laude from Stafford High School in 1998 and was the recipient of numerous academic and athletic awards, the highlight of which, was winning district, bi-district, area, regional and then making it to the State of Texas Final Four in Basketball. This was one of the last times Stafford MSD has gone to state in Basketball. This was a dream come true. Little did we think that back when he and his brother started playing basketball in the 1st and 3rd grades with the TYBA and then later with SYBA, that he and 6 other teammates would take Stafford High School to State competition in the final 4 in the 3-A division. Joey always needed to be close to basketball so while attending college and since he was not tall enough to participate; he served as manager of UTSA's Men's Basketball Program for four years. In 2003 when he graduated, they made a position for him as Student Assistant Coach and Video Coordinator.
Though he was diagnosed with leukemia, he began his graduate studies to pursue a Master's degree and continued to work in the Men's Basketball Program until he became ill. He underwent a bone marrow transplant on January 7, 2005 and was declared leukemia free shortly thereafter. But as a result of the previous intensive chemotherapy treatments, he developed a rare liver disease called vino occlusive (VOE). Asa result of this, On March 8, 2005, he had a liver transplant. Through many complications he developed an infection that damaged the liver and was scheduled to have yet another liver transplant as soon as one could be found. Joey's fiancée Michelle and his Dad and brother never left Joey's side and remained with him at the Methodist Specialty and Transplant Hospital in San Antonio. Olga, his mother, traveled every few days to work and to tend to household matters in Stafford.
ESPN contacted Joey for an interview and story once he got over these medical battles and challenges. His was such a unique situation that local churches and schools also invited him for speaking engagements. They knew that this remarkable and courageous young man could and would help make a difference by inspiring not just troubled kids but those afflicted with leukemia and liver disease and others as well. All invitations remained under discussion and consideration throughout his medical struggles.
The Joe L. Longoria family remained eternally grateful for your prayers, thoughts and kindness while we were called to help our son carry his cross to success! On May 28th, 2005, we lost the liver complications battle but Joey won his way to Heaven to be with our Lord God. He accomplished his mission here on earth by being a big inspiration to many people that crossed his path in the short 25 years he lived. To add testimony to his legacy, UTSA is renaming its Inspiration Award to Joey's name. This is being done to keep his memory alive and to continue inspiring people to do our best and be thankful for what we have and how we are blessed! The fight to conquer leukemia must prevail until we have found a cure for this dreadful disease. Joey was able to beat leukemia but it was all the chemotherapy treatments that damaged his liver that took him away but not before he made it possible for many doctors, friends and relatives to witness his courage learn and join him in fighting to the very end of his earthly life. This is my Son of whom I am very proud; good job my Son, very good job!
A message from Joey's father:
Dear UHD IT Family,
I thank you for calling on me to relay a little history on my Son and just why Mr. Shahrokhi, Mrs. Mayer and other UHD-IT folks chose to select him to honor the first I.T. Scholarship. There were many friends and what I now call my working family at UHD, that helped Joey and my family carry our very heavy cross back in 2005. So it is a great honor to be able to express our gratitude and at the same time to hopefully inspire students, faculty and staff with this story of courage and inspiration. The message that I still deliver to anyone that will hear me is that this young man of 25 years inspired many people in his short life. I, as his father, was amazed at the stories that people told me when they came to visit us at the hospital. He touched the old, middle age and the young in such a profound way that they felt the need to come to the hospital and tell me. This is what has helped me continue on in life, spreading the message of education, inspiration, hope and courage. I tell of one specific night that I will never forget. When he was assisting the Head Coach at UTSA, he would always call me after a basketball game just to go over the game with me. In this particular night, they were on the bus traveling from McNeese University in Louisiana and he sounded very disappointed this time. When I asked him why, he said we lost a game that we should have won.
He told me "Dad, I just don't understand why some of these guys that are tall, big, can jump and have so much ability, they have so much going for them, why can't they just study so they can play?" He said we lost the game because two of our star players were ineligible because of grades. He said, Dad, If only I had the God given abilities these guys have, I would be awesome. After some careful contemplation about the situation, these words came to my mind and I told him, "Son, this is why God placed you there as a coach, you have something they don't have, you have the heart for the game and it is up to you to make them see that education is the first and foremost task we have that can open doors". This made a lot of sense to him and decided to tell this to the head coach. After this the team never lost a game again until they went to the chosen 64 during that year's March Madness. My son accomplished our Lord and God's plan for him in this earth and is now looking over us continuing to inspire and encourage us all.
My hope is that the recipient of the scholarship will also be encouraged and inspired. One does not have to be big, tall and athletic to make a difference in this world, all it takes is the heart and will to succeed!
Thanks again and my prayer is that this scholarship program remains successful,
Joe L. Longoria