New Sciences & Technology Building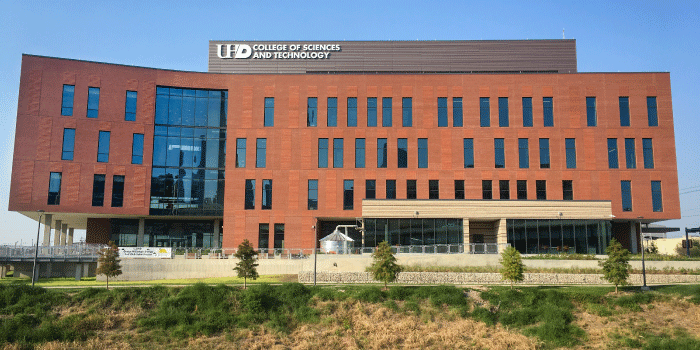 The University of Houston-Downtown (UHD) and the College of Sciences & Technology are proud to announce the opening of the new 105,000 square foot UHD Sciences & Technology Building (STB) for classes in Fall 2019. Designed by Kirksey Architecture, in collaboration with faculty and students, and built by Vaughn Construction, this laboratory building features science on display and is the first LEED Gold building in the University of Houston System. Sitting along White Oak Bayou off of I-10, and at the intersection of downtown Houston, the East End, the Second and Fifth Wards of Houston, the STB highlights UHD's mission to provide accessible and inclusive science education to all Houstonians.

Building Address:
315 N. Main St.
Houston, TX 77002

BY THE NUMBERS:


Cost: $73,000,000
Gross square feet: 105,696 gross square feet
Assignable square feet: 71,573 assignable square feet
14 Laboratory classrooms & support: 32,000 square feet
14 Research labs: 13,098 square feet
Meeting rooms and public areas: 21,094 square feet
Offices: 5,537 square feet
Donations: over $1.61M

Donors: The Brown Foundation, Inc., The Cullen Foundation, The Fondren Foundation, Green Mountain Energy Sun Club, Mark & Tami Mallet, M.D. Anderson Foundation, George and Mary Josephine Hamman Foundation, the Uzman-Sater Family, the Whelan Family, The Elkins Foundation.
| | |
| --- | --- |
| | |
---
Science on Display seeks to communicate to students and all who walk through the halls of the UHD Sciences & Technology Building that science is a human endeavor engaged by people from all walks of life. Architecturally, this manifests itself through extensive visibility into all labs; availability of wall writing surfaces in all common meeting spaces as wells as meeting rooms; and displays of scientific activity throughout the building in murals and scientific presentation posters of students and faculty. This visibility creates an energetic atmosphere that enhances creative potential of all who work and study in the building. The Brown Foundation Research Suite and the Cullen Foundation Research Suite provide state of the art research facilities for faculty & student research in the life sciences and physical sciences.

Complementing the LEED Gold Certification for Building Design and Construction is the Center for Urban Agriculture & Sustainability. The Center utilizes key features of LEED sustainable construction features and highlights them to the students and the community. For instance, the flow of air conditioning condensation is collected and fills a 6,000-gallon cistern, which then provides water for the Center's urban gardens that are managed by students. In addition, solar panels, funded by the Green Mountain Energy Sun Club, will provide electrical power to the Green Mountain Sun Club Environmental Lab and the first floor biology lab.

The Center also provides an academic focus to classes and research on the first floor, visible to visitors as they walk through the first floor between the Mark & Tami Mallet Grand Lobby and to the Fondren Foundation Commons. This public hallway features a 60-foot mural highlighting the development and history of Texas agriculture.





---