Bachelor of Science in Social Work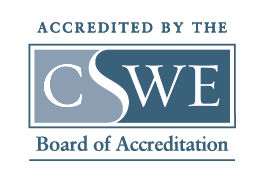 Social Work

Bachelor of Science in Social Work

In today's world, Social Workers have never been more important and needed. A Bachelor of Social Work degree will lead you to a value based, meaningful and rewarding career that helps to change our world for the better. Social Workers are on the front lines everywhere you look including health care, immigration, aging, homelessness, education, addiction, juvenile justice, and much more.
You will benefit from our Program's high-level of support and solidarity with students to include a completely no cost textbook program.


You will learn to engage in cultural humility with people from diverse backgrounds.


You will become a Social Worker who works to create equality and justice for all persons.

The Profession of Social Work is grounded in the six core values of Service, Social Justice, Dignity and Worth of the Person, Importance of Human Relationships, Integrity, and Competence.

About the Program
This is a 120-hour-credit program. Through field education and field placement, you will demonstrate mastery of the nine competencies that comprise the accreditation standards of the Council on Social Work Education.

Goals

Model a caring and collaborative educational environment where students, faculty, and staff are valued for their strengths, background, and life experiences.


Provide opportunities for students to gain awareness of their thoughts and feelings and critically reflect on their alignment with social work values.


Equip future social workers for anti-oppressive practice and leadership in diverse communities through innovative classroom practice and learning.


Nurture intellectual curiosity, demystify graduate education, and promote community through professional organizations for life-long learning and service.

VISION

To create a community that heals, nurtures, and enhances wellbeing for all people.

MISSION

The UHD BSW Program prepares future Social Workers as change agents committed to inclusion, equity, and justice through innovation, collaboration, and service.
Affiliated Student Organizations

Community Advocacy Network (SWS-CAN)
is an organization that is founded on the principles of service to the community, and abides by the National Association of Social Workers code of ethics. Please email SWS-CAN at UHDSWSCAN@yahoo.com for membership information.

Phi Alpha National Honor Society-Tau Delta Chapter
fosters high standards of education for social workers and invites into membership those who have attained excellence in scholarship and achievement in social work. Our goal is to provide a closer bond among students of social work and promote humanitarian goals and ideals.

Career In Criminal Justice
A Bachelor of Science in Social Work prepares graduates for a variety of careers:
Emotional and Behavioral Health

Immigrant Advocacy

Medical Social Work

School Social Work
Policy
Getting Started
Earning Potential

According to the U.S. Bureau of Labor Statistics (BLS), the annual average wage of a social worker in Houston - The Woodlands - Sugarland, Texas is:

Earn Your Degree
Delivery Options

Contact

Dr. Dawn McCarty
713-222-5333
uhd.edu/bsw