About
The Harry W. O'Kane Gallery, established in 1970, was made possible by gifts from Harry W. O'Kane, Mary W. Bingman, and the Humphreys Foundation. The O'Kane Gallery presents five to six exhibitions that meet the diverse interests of students, faculty, and staff of the University of Houston-Downtown. Exhibitions in all media provide educational support to various university courses and to nearby schools. The gallery also functions as a site for university forums, meetings and receptions. Exhibitions are free and open to the public.
Our Exhibitions
The O'Kane Gallery annually offers about six exhibitions representing a diversity of artists, themes, and mediums. UHD faculty carefully curates each exhibition to ensure it is engaging, inspiring, and informative.
---
Gallery Talks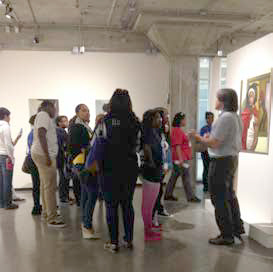 The O'Kane Gallery offers customizable gallery information sessions for school groups and other interested organizations. Experienced O'Kane staff members and UHD faculty deliver informative gallery talks in 5 - to - 30 minute sessions covering a range of topics, such as:
Gallery etiquette
Featured artist background
Materials and techniques
Exhibit theme
Specific works
Other (please contact gallery with specific requests)
To schedule an O'Kane Gallery Talk, please submit a request to cervenkam@uhd.edu or call 713-221-8042.
Visiting the Gallery
The O'Kane Gallery is located on the third floor of the Girard Street Building, GSB322.
---
Hours
Monday - Friday
10:00 a.m. - 5:00 p.m.
Saturday
12:00 - 5-00 p.m.
Address:
University of Houston-Downtown
One Main Street
Houston, TX 77002
Phone: 713-221-8042
e-mail: gallery@uhd.edu