"Lydia Bodnar-Balahutrak"
A discussion with O'Kane Gallery Director Mark Cervenka
View the Lydia Bodnar-Balahutrak's presentationPDF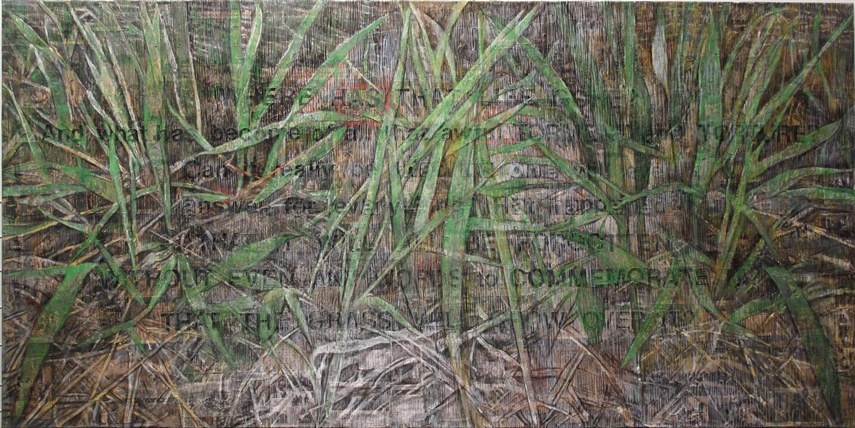 Lydia Bodnar-Balahutrak, Will the Grass Grows Over It, mixed-media on canvas, 48 x 96 inches, 2013
The O'Kane Gallery invites you to join a conversation with Houston-based artist, Lydia Bodnar-Balahutrak. Bodnar-Balahutrak's assemblages are influenced by her Ukraine heritage, her family having immigrated from Ukraine after WWII. Her predominantly two-dimensional works, both large and small, reflect on the complex socio-political nature of nations with special emphasis on her Ukrainian ancestral home and the effects of its history as a Soviet occupied country. In her recent work, images of nature obscure printed information gleaned from a variety of newspapers/magazine articles, cultural artifacts and treasured mementos. Experience of the art is comparable to one's uneasy attempt to secure truth, sometimes offered with facts missing, its significance lost in translation or through the passage of time. Nature acts to quiet the screams risen from catastrophic events such as the Chornobyl nuclear disaster of 1986, or now, U.S. political and economic divides and COVID-19. But nature also, often as not, rejuvenates. Bodnar-Balahutrak's more intimate works of individual animals form parables whose titles are clues to their meanings. Each acts out very human or political dramas.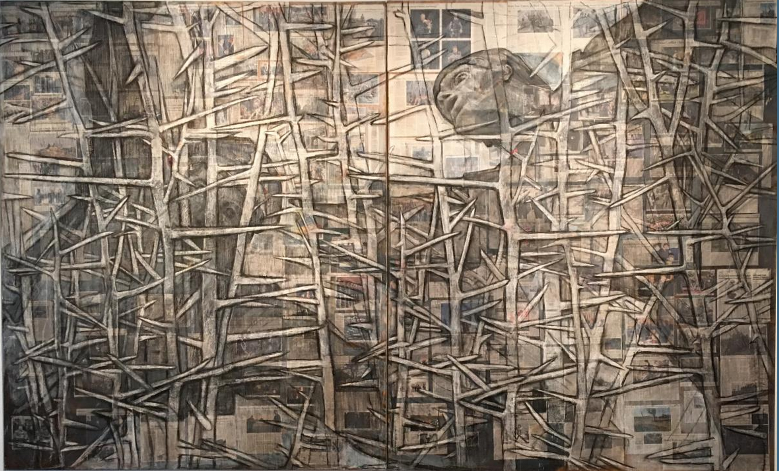 Lydia Bodnar-Balahutrak, Thorns & Falling Idols, charcoal, collage, on canvas, 97x152 inch diptych


Bodnar-Balahutrak was born in Cleveland, Ohio, and received her B.S in 1973 at Kent State. She earned her MFA from George Washington University, Corcoran School of Art in 1977. She has had one-person shows throughout Texas and in New York City. Her work has been part of group shows in Texas, Ohio, Arkansas, Chicago, Washington, D.C., and Ukraine. Bodnar-Balahutrak is the recipient of the International Research and Exchanges Board Grant (1991), and an Artist Residency at the Ukrainian Academy of Art, Kyiv (1996). Her art is the subject of a bilingual monograph entitled, Lydia Bodnar-Balahutrak (2005). Examples of her art are included in the collections of the Ukrainian Museum in New York City, Oxford University, The Hoyt Institute of Fine Arts in Pennsylvania, as well as in numerous Texas institutions.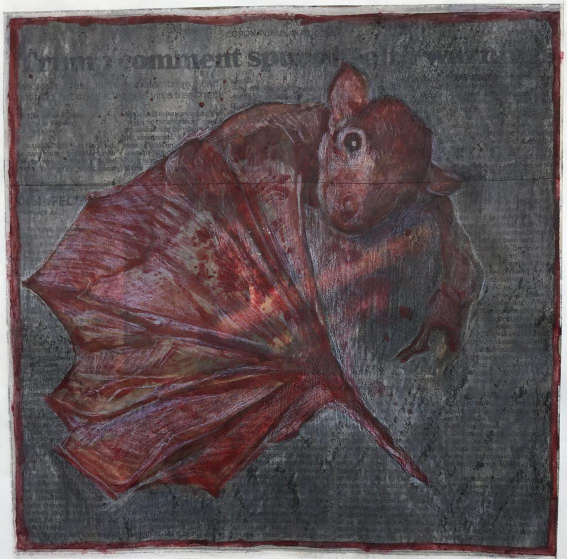 ;
Lydia Bodnar-Balahutrak, Crimson Stain, charcoal, gouache, collage on paper,
One or more documents on this site are in PDF format. In order to view and print these document(s), you will need the Adobe Acrobat Reader software. It can be downloaded from the Adobe website.