Michael Menchaca
The O'Kane Gallery's Mark Cervenka interviews San Antonio-based artist, Michael Menchaca (video). Menchaca's images blend ancient Meso-American codices, European Bestiaries, and Japanese Video games with the seductive digital designs and attention-seeking ploys of advertising and social media. His personalized animal archetypes call out social and economic inequality, racial prejudice, and target-marketing algorithms and biases. Narrative pattern designs, influenced by cultural conquest patterns, set the stage for Menchaca's compositions while recurring motifs encourage multiple interpretations. Menchaca examines both the personal and global effects of systemic racism. He exhibits his work in immersive installations that apply a combination of printmaking, painting, and digital animation; exploring LatinX identities in America.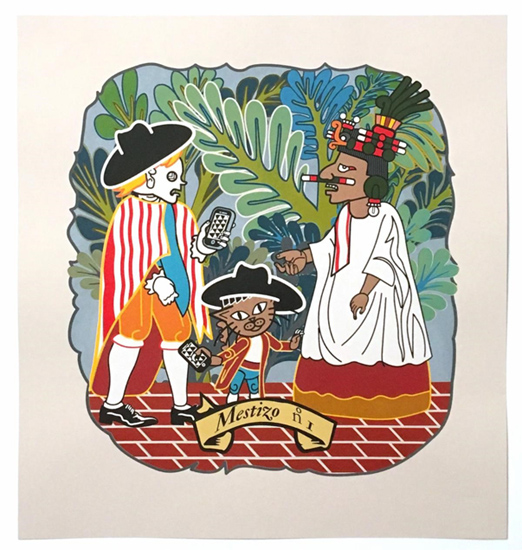 Michael Menchaca, Mestizo no.1, screenprint on stonehenge pearl grey, 21 x 22.5 inch, 2019
Born in 1985 in San Antonio, TX, Menchaca received his BFA from Texas State University in 2011, and his MFA from the Rhode Island School of Design in 2015. He has been an Artist-in-Residence at the Skowhegan School of Painting and Sculpture (ME), Vermont Studio Center (VT), The Wassaic Project (NY), The Segura Arts Studio (IN), and The Studios at MASS MoCA (MA). Exhibitions include The Crystal Bridges Museum of American Art (AR), The McNay Art Museum (TX), The Davis Museum (MA), North Carolina Museum of Art (NC), The Chrysler Museum of Art (VA), The Gilcrease Museum (OK), The Contemporary Austin (TX), and the IPCNY (NY). He was a Visual Arts Fellow at the Fine Arts Work Center from 2015 - 2016 in Provincetown, MA, and is a recipient of the 2018 National Association of Latino Arts and Cultures (NALAC) Fund for the Arts Grant. Menchaca lives and works in San Antonio, TX. Several of his prints were recently acquired by UHD through a generous gift by Drs. Ricardo and Harriett Romo.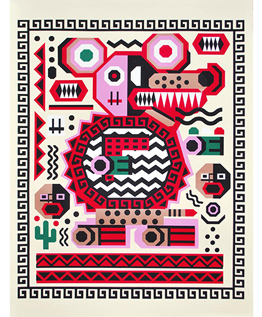 Michael Menchaca,

Rata Avisada No Muerde Carnada (The Informed Rat Doesn't Bite Bait)

, serigraphy, 25 x 19 inches, 2012