Alison Weaver on James Turrell
O'Kane Gallery
Virtual Art Speaker Series Fall 2020: Allison Weaver on Rice University's James Turrell Twilight Epiphany Skyspace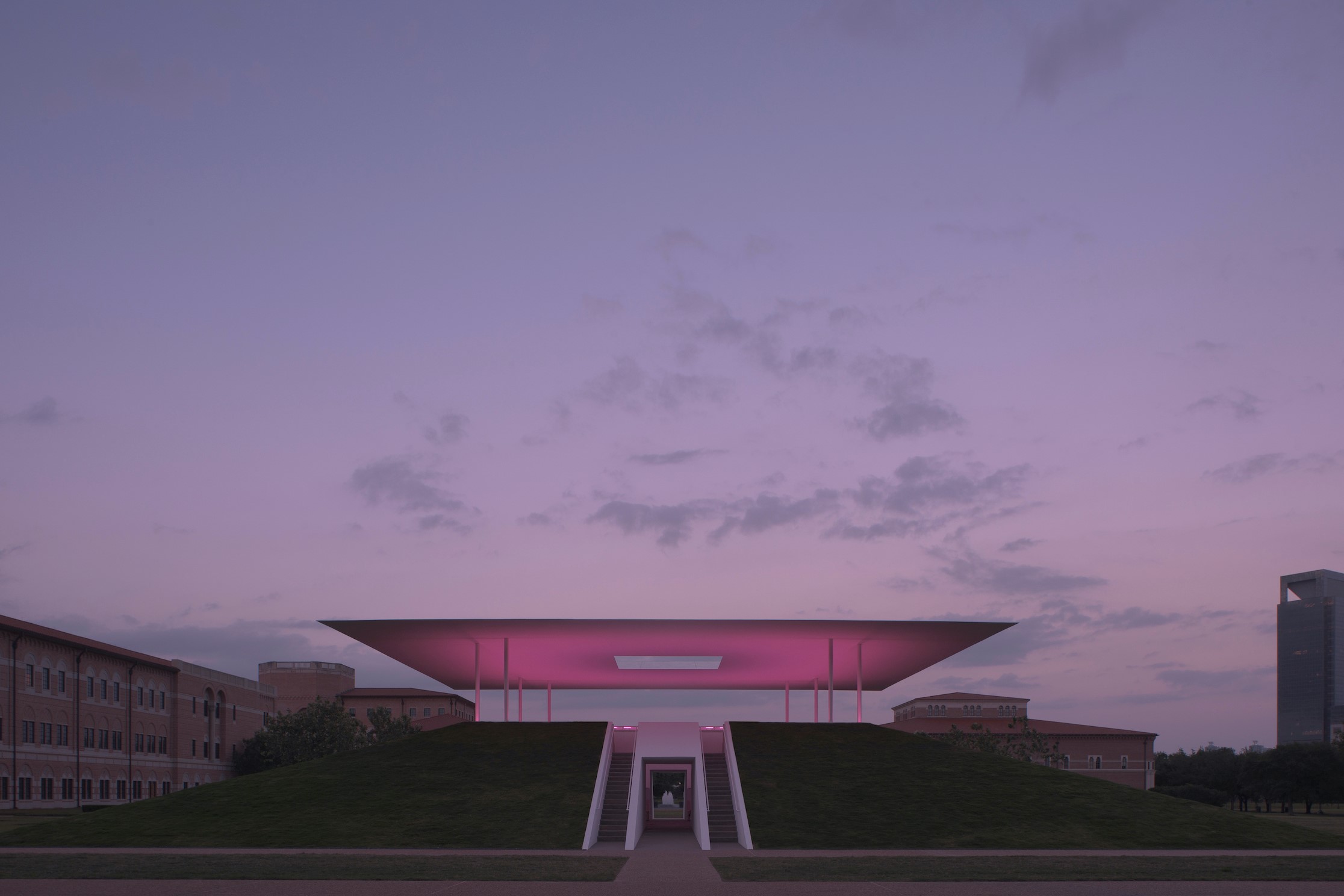 James Turrel Twilight Epiphany Skyspace, 2012 photo by Paul Hester
Allison Weaver, Executive Director for the Moody Center of the Arts at Rice University, joins O'Kane Gallery Director, Mark Cervenka, to discuss James Turrell's installation on the Rice University campus of his piece, Twilight Epiphany Skyspace, 2012. View the artist discussion video. Coordinating the production of large-scale art meant for public viewing challenges both the artist and those who commission such work. Perhaps more than any other art form, site-specific, outdoor sculpture requires a cooperative lineup of creators, manufacturers, builders and financiers. The work produced is also vulnerable to still another player, public opinion. Weaver will discuss the specific challenges related to the installation of Turrell's piece at Rice.
Houston is the home to several works by Turrell, including the The Light Inside at the Museum of Fine Arts, Houston, the Live Oaks Friends Meetinghouse Skyspace, as well as his most recent work, Twilight Epiphany Skyspace at Rice. Holding a BA in Psychology from Pomona College, 1965, and an MA in Art from Claremont Graduate School, 1973, much of Turrell's art combines his interest in visual perception and one's physical experience of an environment in its natural or artificial light. Many of his works require viewing at a specific time of morning or evening, or moving through indoor spaces of ethereal light.
As founding executive director of Rice University's Moody Center for the Arts, Alison Weaver knows well Turrell's Twilight Epiphany Skyspace, and the challenges of art installations. Prior to coming to Rice, Weaver was the director of affiliates for the Solomon R. Guggenheim Museum in New York. At the Guggenheim, Weaver led its programs and operations in Berlin, Bilbao, Venice, and Las Vegas, while managing its departments of Exhibition Management, Registration, Art Services and Library/Archives in New York. Together with her curatorial colleagues, she implemented a wide range of exhibitions from historical loan shows to commissions by leading contemporary artists. Weaver has a Master of Arts degree from Williams College and an MPhil in art history from the City University of New York. She also holds an MBA from the Yale School of Management and a B.A. cum laude from Princeton University.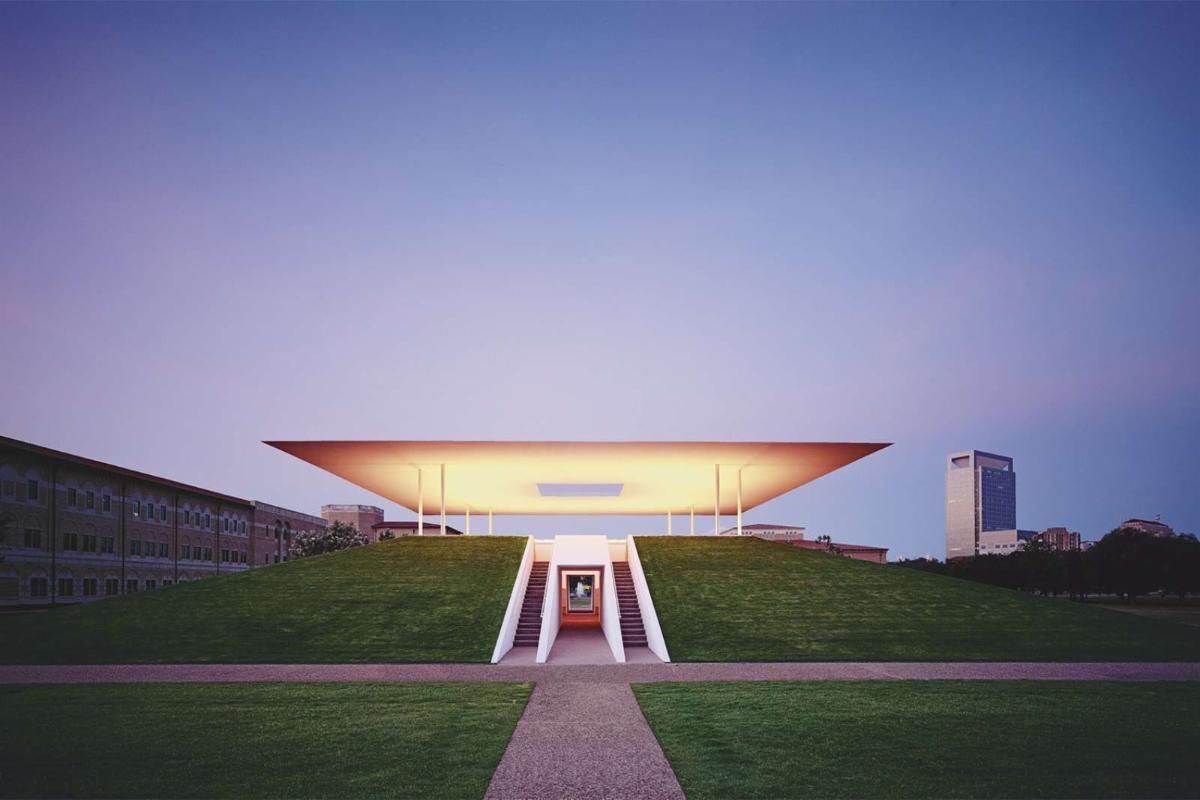 James Turrell
Twilight Epiphany
Skyspace, 2012, photo by Florian Holzher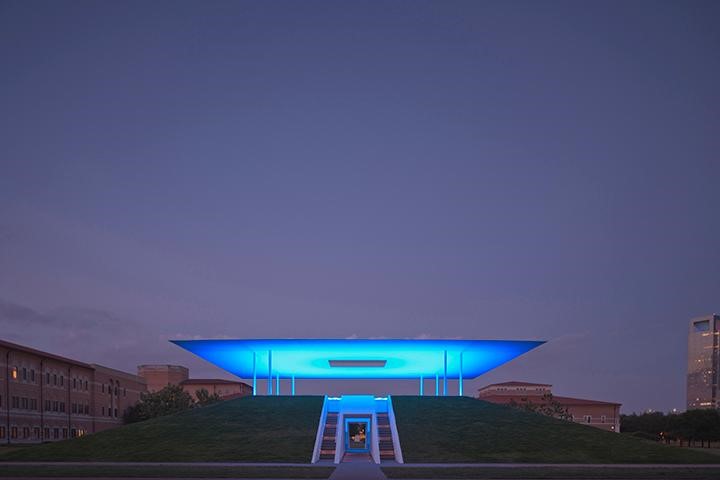 James Turrell Twilight Epiphany Skyspace, 2012, photo by Paul Hester