2022-23-Emerging-Scholars
2022-2023 Emerging Scholars
Joshua Lopez
American Food History and Latinx Food Memory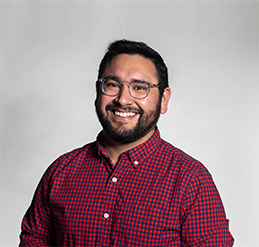 Joshua Lopez is a PhD candidate at the University of North Texas where he is specializing in American food history and Latinx food memory and representation. In his research, he privileges food narratives as epistemic resources that are layered with historical and cultural traces. While many may not leave behind an official historical record of themselves, some do leave behind their stories embedded in written, remembered, and performed food narratives. This idea forms the foundation of Lopez's work. Currently, he is writing his dissertation, "Joteria In and Out of the Kitchen," where he traces food narratives by queer Latinx from 1980 to the present. Lopez is a co-editor and contributor to El Paso Food Voices, an open-source digital archive, and he co-authored the entry on Latinos and the Food Industry for the Oxford Bibliographies in Latino Studies.
---
Evelyn Valdez-Ward, Ph.D.
Marginalized Identities in STEM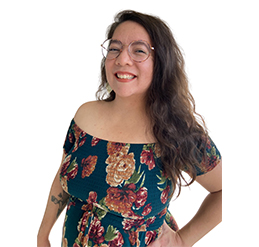 Dra. Evelyn Valdez-Ward (she/ella) is a Mexican, formerly undocumented, Ford Foundation Predoctoral and Switzer Foundation Fellow, who studied the effects of drought on plants and soil microbes for her PhD. Her final dissertation chapters studied marginalized scientists and their use of science communication and policy for social justice. Valdez-Ward received her doctorate from the University of California in 2022 and is continuing her research on marginalized science communicators as a postdoctoral scholar at the University of Rhode Island. She was named one of 2020's Grist 50 Fixers and a 2018 UCS Science Defender; voted best of Story Collider 2018 in LA; awarded UCI's Dynamic Women's Award for Outstanding Social Justice Activist; and is the recipient of the Svetlana Bershadsky Graduate Community Award for her advocacy for undocumented scientists. Valdez-Ward co-founded and co-directs ReclaimingSTEM Institute, the first of its kind to address the need for science communication and policy training spaces for marginalized groups.
---
Cynae Punch Brown
Educational Leadership and Policy Studies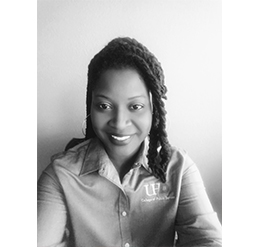 Cynae Punch Brown is a certified educator with more than 22 years of experience working in public, private, and higher education institutions. Brown holds a B.A. in Spanish from Howard University, an M.Ed. in Teaching English as a Second Language from Regent University, and an additional graduate degree in School Leadership and Development from the Harvard University Graduate School of Education. Currently, Brown serves as the Director of the Center for Professional Development of Teachers at the University of Houston-Downtown while pursuing her doctorate in K-12 Professional Leadership at the University of Houston's College of Education. Her current research interests focus on culturally responsive capacity-building practices within family, and community engagement and interrupting systemic practices that marginalize communities of color. She is also a co-founder of the Arts & Enrichment Conservatoire—a start-up organization dedicated to amplifying the creative voices of children from historically marginalized communities—and an author passionate about connecting stories of grief, loss, and triumph.