2020-2021 Emerging Scholars
Center for Latino Studies 2020-21 Emerging Scholars
---
Congratulations to the 2020-2021 Emerging Scholars
Jomaira Salas Pujols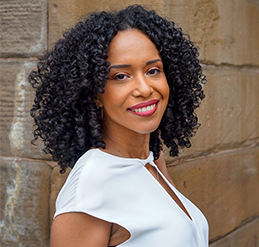 Jomaira Salas Pujols is a doctoral candidate studying race, Black girlhood, and educational spaces. Her dissertation examines Black girls' racialized and gendered experiences through multiple educational spaces, with particular attention to how movement informs their perceptions of self and social (in)justice. Jomaira also writes about the emerging field of Afro-Latina girlhood and community-based educational spaces through a study of how social justice-centered afterschool programs inform the Black identity development of Black Latina girls. She is also a National Science Foundation-GRFP Fellow, a research assistant with the Afro-Latin@ Forum, and a member of the Black Latinas Know Collective. Outside of the academy, Jomaira conducts workshops on race and educational injustice for high school-aged girls and has served as a young alumna trustee at her alma mater, Bryn Mawr College.
Ms. Salas Pujols will give a Teaching Demonstration exploring Colorblind Racism in the Post-Civil Rights Era
Ms. Salas Pujols will present her research, titled "Black Girls' Journeying: Identifying and Challenging (In)justice through Movement"
---
Dr. Jimena Perry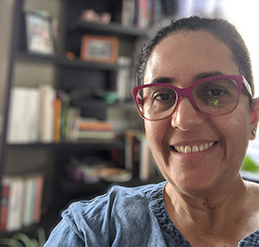 Dr. Jimena Perry specializes in Latin American history, and museums, memory, and violence studies. She brings together these scholarships to understand how different communities remember and represent violent events past. Dr. Perry focuses on Colombia, her home country, and her aim is to create awareness on how Historical Memories are directly influenced by cultural diversity.
Dr. Perry's first book manuscript examines memory and violence in Colombia. She analyzes four museum spaces and the creation of exhibits as political acts with ramifications for transitional justice and Colombian society more broadly. She also contrasts marginalized and official memories and their representations. In her new research, she looks at particular groups, usually right-wing ones, that have denied violence and conflict in the country. Perry also has a background in anthropology, making her research interdisciplinary using both disciplines' techniques to better understand how people endure the atrocities committed against them.
Currently, Dr. Perry is a Teaching Assistant Professor at the Department of History at East Carolina University. She teaches history of Colonial and Modern Latin America, US History, and Oral History. She also taught Spanish and Latin American History while finishing her Ph.D. at the University of Texas at Austin. She graduated in May 2020. Perry also taught anthropology and history courses in some Colombian universities before arriving in the US in 2011.

One of Dr. Perry's long-lasting commitments has been to promote and highlight cultural diversity so underrepresented communities find a place and a voice in contemporary contexts. She wishes to keep advancing her academic career by researching and teaching about memory, violence, and museums in Latin America and mentoring students with other cultures and traditions. She expects to continue to help foreign students to navigate the US educational system.
Dr. Perry will give a Teaching Demonstration, titled "Representations of Violence in Latin America"

Dr. Perry will present her research, titled "Trying to Remember: Museums, Exhibitions, and Memories of Violence in Colombia, 2000-2014"
---
Dr. Alessandra Rosa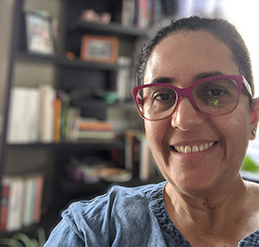 Alessandra Rosa, Ph.D. is a sociocultural anthropologist, professor, researcher, activist, public speaker, and consultant. Currently, Dr. Rosa is a postdoctoral scholar in the Department of Sociology at University of South Florida (USF). Here she is working with Dr. Elizabeth Aranda on a NSF grant about the experiences of Puerto Ricans who migrated to the United States after Hurricanes Irma and Maria impacted the archipelago to understand the challenges and/or opportunities they have faced since they arrived to Central Florida.
Prior to coming to USF, she was an Assistant Professor at Lynn University and a Visiting Instructor at Florida International University. Her areas of expertise include social movements, Internet activism, education, Latin America & Caribbean studies with a focus on Puerto Rican studies, women & gender studies, post-disaster migration studies, emotional well-being, and media discourses. Her work has been published in academic journals, electronic journals, book chapters, as well as non-academic outlets.
She finds herself working on the completion of her first book which examines the use of student activists' resistance performances in constructing local, corporeal, and virtual spaces of resistance and contention during their student movement. One of the future directions of her work includes merging her past work on social movements and Internet activism with her postdoctoral work on migration and emotional well-being.
Dr. Rosa's research, teaching, and service experiences illustrate her commitment to fostering diversity, equity, and justice inside and outside the classroom. As a Puerto Rican woman of Spanish and Irish heritage, who had the privilege of studying in Puerto Rico, the United States, and Spain, she has seen and experienced the patterns of disenfranchisement that lead many BIPOC to lose hope in the possibilities of higher education. As such, she considers her work as both a professor and mentor a foundational aspect of her teaching and research.
Dr. Rosa will give a Teaching Demonstration, which will explore the Intersections of Race, Ethnicity, and Gender Identity

Dr. Rosa will present her research, titled "Contested Spaces in Higher Education: students advocating for accessible and quality public higher education in Puerto Rico"
---
Jorge Ramírez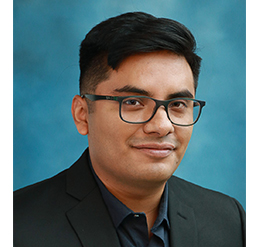 Jorge Ramírez is an Indigenous scholar and doctoral candidate in the Department of History at the University of California, San Diego, with a concentration on Chicanx and Latinx history. As an interdisciplinary historian, Ramírez's research examines the freedom dreams of Indigenous communities from southern Mexico who now form the latest agricultural labor force in the migrant circuit of the U.S.-Mexican Pacific Coast. By emphasizing the experiences of Indigenous migrants in a context of shifting global demands in labor, Ramírez's work demonstrates how they recreated the meaning of Indigeneity for themselves in the face of state violence, and how they struggled for rights and respect alongside mestiza/o Mexicans, Chicanx and Latinx, Native American, and white allies. His work has been supported by the Fulbright-García Robles and UC San Diego's Center for U.S.-Mexican Studies and has been published in Radical History Review, Kalfou: A Journal of Comparative and Relational Ethnic Studies, and The National Review of Black Politics.
In pursuing a career as a university professor, Ramírez recognizes the classroom as a site to build communities of critical thinkers through the collective study and discussion of scholarship. As a foundation for his teaching, he builds on the belief that students are interactive knowledge producing subjects who are able to interpret history with insight from their own experiences, as well as capable to act in the world with the knowledge they acquire in the university. Ramírez is committed to mentoring and working with students from underrepresented and historically marginalized communities. He teaches survey courses on Chicanx and Latinx history, racial capitalism and migration, empire, social movements, Mexican/Latin American history, and the U.S.-Mexico borderlands.
Mr. Ramírez will give a Teaching Demonstration, titled "Reimagining Community Beyond Borders: The Translocal Work of the Indigenous Comité Civico Popular Mixteco (CCPM) in the San Diego Region during the late 1980s"

Mr. Ramírez will present his research, titled "Becoming Indigenous: Race, Violence, and Indigeneity between Southern Mexico and the U.S./Mexican Pacific Coast, 1970-1994"
---
Michael Anthony Turcios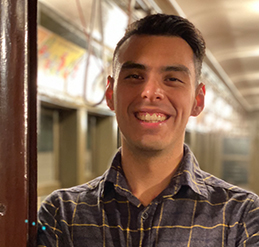 Michael Anthony Turcios is a Doctoral Candidate in the Department of Cinema and Media Studies at the University of Southern California, where he specializes in comparative literature, ethnic studies, and visual culture. Turcios' dissertation, Relational Displacements: Visual and Literary Culture of Resistance in the East Los Angeles Barrios and Banlieues of Paris, France, examines nontheatrical films, murals, and community newspapers of the 1960s and 1970s to study how Chicanas/os and Arabs, in their respective urban contexts, resisted against various forms of displacement. Displacement includes cases of police brutality, evictions, incarcerations, deportations, and deaths of racialized community members at the hands of authorities.

Turcios' publications include the forthcoming chapter "The Chicano Moving Image on Walls and Media Activism" in Rewriting the Chicano Movement: New Histories of Mexican American Activism in the Civil Rights Era (University of Arizona Press) and the "Bearing Witness to Ecocide: Contagious Imperial Infrastructures at the Borderlands of Mexico and Palestine" in the peer-reviewed journal Spectator (Spring 2019).

Currently the Arnold L. Mitchem Fellow at Marquette University, Turcios will teach a course titled "Survival in the Lives that Matter" in Spring 2021 in the Department of Languages, Literatures and Cultures. Guided by a restorative and reparative framework, Turcios is keen on addressing racial and class inequities in academia and working towards making these spaces inclusive.
Mr. Turcios will give a Teaching Demonstration, titled, "Surviving Ephemera: Race and Visual Culture of the 1970s in East Los Angeles,"

Mr. Turcios will present his research, titled "Relational Displacements: Visual and Literary Culture of Resistance in the East Los Angeles Barrios and Banlieues of Paris, France"
---
Jeremy Gallion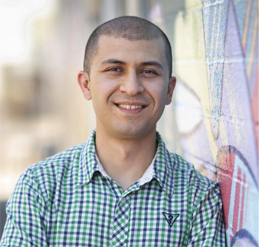 J. Felix Gallion is a PhD candidate and William Fontaine Fellow in the English department and a lecturer in the Cinema and Media Studies program at the University of Pennsylvania. He earned a BA in English and American Studies at Cornell University where he was also a Mellon Mays Undergraduate Fellow. His current doctoral research focuses on the representation of Chicanx and Latinx migrants in documentary and testimonial media, with a focus on Chicanx migrant farmworker testimonios. He is also a founding member and current coordinator of UPenn's interdisciplinary Latinx Studies Graduate Working Group.
Gallion's teaching interests lie broadly in Chicanx/Latinx life and culture, race and media in the U.S., sound studies, and the digital humanities, and he has taught courses on the U.S.-Mexico borderlands and on television and new media. He is committed to pedagogies that are attentive to students' lived experiences and embodied knowledge, especially that of first generation students, and showing how this knowledge is an important aspect of research, writing, and the classroom experience.
Mr. Gallion will give a Teaching Demonstration, featuring testimonies of migrant laborers

Mr. Gallion will present his research on Chicanx migrant labor experience in the Caldwell Labor Camp