Cultural Enrichment Center Events - Fall 2021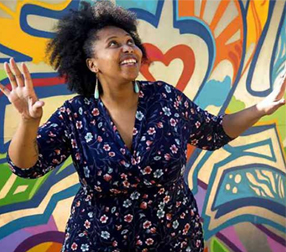 Poetry Performance by Deborah D.E.E.P. Mouton
October 20, 2021
2:30 p.m. to 4:00 p.m.
Milam and Travis Room in the Welcome Center


Sponsored by the Cultural Enrichment Center
---
---
Lyric in Translation
October 29, 2021
2:00 p.m.

A bilingual reading and Q and A with poetry Sergio Perez Torres and translator Stalina Villarreal. Moderated by Marisa Russon, director and cofounder of Nueva York Poetry Press. Interpretation by UHD alum, Chris Flakus. Cosponsored by the Cultural Enrichment Center and the Department of English.
---
Literature, Culture, Careers Speaker Series
The Archivist: A Creative Career
November 4, 2021
2:30 p.m.
A conversation with Mikaela Selley, Independent Archivist, formerly Hispanic Collections Archivist Houston Metropolitan Research Center, Houston Public Library.
---
Spring 2021
Siamak Vossoughi
March 9, 2021
7:00 p.m. - 8:30 p.m.
Mr. Vossoughi will do a reading from his work.
Open to the public
Watch the Reading with Siamak Vossoughi

---
"'Oh happy people of the future': Art, Literature, and Pandemic Death"
Presentation by Dr. Henry Sayre Distinguished Professor of Art History Emeritus at Oregon State University - Cascades Campus in Bend, Oregon.
Mar 29, 2021
01:00 pm to 03:00 pm
About Dr. Sayre: He is producer and creator of the 10-part television series, A World of Art: Works in Progress, first aired on PBS in the fall of 1997, and author of nine books, including The Object of Performance: The American Avant-Garde since 1970 (University of Chicago Press, 1989) and Value in Art: Manet and the Slave Trade, to be published by the University of Chicago Press this coming fall. View the presentation.
This event is sponsored by UHD Cultural Enrichment Center, the Department of Arts & Communication, and the Department of History, Humanities & Languages
For more information contact Dr. Edmund Cueva at cuevae@uhd.edu