Remembering Lorenzo Thomas
Art is human perception of natural beauty. It is also, in its very performance, the unique and miraculous beauty of being humane. The experience of art - its making and its enjoyment - is what makes us both human and humane. --Lorenzo Thomas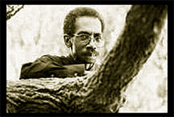 Lorenzo Thomas, widely published poet and critic and beloved Professor of English at the University of Houston -Downtown, was born in the Republic of Panama. He grew up in New York and was educated in the New York City public schools and Queens College (City University). His works appeared in numerous journals, both in the United States and abroad, including African American Review, Arrowsmith, Blues Unlimited (England), Living Blues, Partisan Review, Ploughshares, and Popular Music and Society, among others. A regular book reviewer for the Houston Chronicle, Mr. Thomas contributed scholarly articles to the African American Encyclopedia, American Literary Scholarship, Gulliver (Germany) and the Dictionary of Literary Biography.
His collections of poetry include Chances Are Few (Blue Wind Press, 1979), The Bathers or Es Gibt Zeugen (Reed International Books, 1981), and Dancing on Main Street (Coffee House Press, 2004). His works of literary criticism include Sing the Sun Up: Creative Writing Ideas from African American Literature (Teachers & Writers Collaborative, 1998), Extraordinary Measure: Afrocentric Modernism and Twentieth-Century American Poetry (University of Alabama Press, 2000), and the recently published Don't Deny My Name: Words and Music and the Black Intellectual Tradition, edited by Aldon Lynn Nielson (University of Michigan Press, 2008). Lorenzo served as the University of Houston-Downtown's first Director of the Cultural Enrichment Center.
More information about the life and work of Lorenzo Thomas.