Cultural Enrichment Center 2019 Events
Newsworthy Poets - Deborah D.E.E.P Mouton
Book Launch Event
April 20, 2019
6:30 pm in Robertson Auditorium

Your pre-sales book order is your ticket to the event. This event is free to the UHD community and entrance will be given with a valid UHD ID. The first 10 UHD students will be provided a free paperback copy.
---
Sylvia Legris and Guy Vanderheaghe
April 25, 2019
1:00 pm in A405 - Academic Building
Tickets free and open to the public.
---
March 4-7, 2019
Celebrating Foreign Languages Through Film Festival
All films will be shown in A436 at 4:00 pm to 6:00 pm
March 4: "Amelie" (French)
March 5: "I Dream in Another Language" (Mexico)
March 6: "The Salesman" (Iran)
March 7: "Namiya" (China)
---
Reel Poetry
March 22-24, 2019
Join filmmakers, poets and artists at Houston's first international poetry film festival

March 23, 2019
Cinepoetry screenings + panel discussion
2:30 – 5:30 in University of Houston-Downtown, Welcome Center
See poetry and film combined in exciting new ways with short films from Austria, Australia, Canada, England, Finland, France, Germany, India, Ireland, Scotland, Taiwan, Ukraine & USA.
Screening "BaddDDD Sonia Sanchez + talk by Ayokunle Falomo
7:00-9:00 University of Houston-Downtown, Welcome Center

In the words of Maya Angelou, "Sonia Sanchez is a lion in literature's forest. When she writes, she roars. And, when she sleeps, other creatures walk gingerly." In this gripping documentary, Sanchez reveals how she became "a poet with razor blades between her teeth." Discussion afterwards led by Ayokunle Falomo.
Additional event information and Tickets for Friday and Sunday Festival programs and cinepoetry workshop
Saturday screenings FREE for UH-D students, staff, & faculty. Present ID at the door.
Cosponsored by UHD Cultural Enrichment Center, City of Houston, and Houston Arts Alliance
---
Fall Events
Houston Poetry Fest
Oct. 11, 12, and 13th
UHD Welcome Center, 3rd floor, Girard St. Bldg.


October 11
7:30 p.m. - 10:30 p.m.
Opening Session of Houston Poetry Fest 2019
With Guest Poet Michael D. Snediker
Featured Poet Denise Thompson, and Juried Poets Kendra Leaonard, Sharon Gehbauer, Kristina McDonald, Matthew Riley, Ann Boutté, Vanessa Zimmer-Powell, and Sandi Stromberg


---
October 12
2:00 p.m. - 3:30 p.m.
Panel Discussion, Moderator Chuck Wemple
Panel topic: "Turning Into the Wave"
Panelists: Amir Safi, Ayokunle Falomo, and Stacy Nigliazzo.
Afternoon
Traditional Open Reading
4:00 pm to 6:00 pm. Hosted by Robert Clark
Evening
7:30 p.m. - 10:30 p.m.
Guest Poets Alex Lemon and Gayle Bell, and Juried Poets Courtney O'Banion Smith, Autumn Hayes, Cindy Huyser, Alex Shapiro, Lisa Morano, P.W. Covington, Janet McCann, and Sarah M. Sala
---
October 13
2:00 p.m. - 10:30 p.m.
Guest Poets Kevin Prufer, Nancy Thorleifson, Michael J. Galko, and Sharon Klander, and Juried Poets Lesley Clinton, Cindy Childress, Patricia Nommensen, Fran Abrams, Weasel, and Sean Johnson
For more information visit, Houston Poetry Fest.
---
UHD 9th Annual Outdoor Halloween Film Screening - "Ganja & Hess"
October 24, 2019
7 p.m., North Deck of Main Building
Free and open to the public
Sponsored by UHD Cultural Enrichment Center, the Department of English and Fandom UHD
---
South Korean Novelist Jung Young Moon, Author of Seven Samurai Swept Away
Reading and Talk
Monday, October 28
11:30 a.m. in Milam Room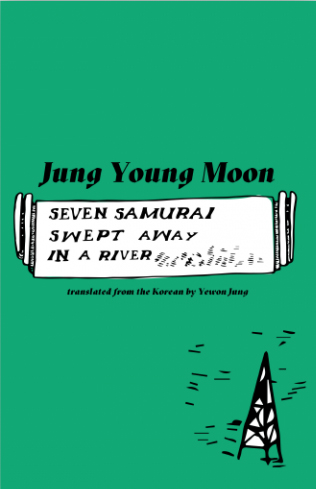 Seven Samurai Swept Away (Deep Vellum Publishing) recounts South Korean writer's Jung Young Moon's time spent at an artist's and writers residency in small-town Texas. In an attempt to understand what a "true Texan should know," the author reflects on his outsider experiences in this most unique of places, learning to two-step, musing on cowboy hats and cowboy churches, blending his observations with a meditative rumination on the history of Texas and the events that shaped the state, from the first settlers to Jacky Ruby and Lee Harvey Oswald, all while accompanied by a fictional cast of seven samurai who the author invents and carries with him.
Jung made his literary début in 1996 with the novel A Man Who Barely Exists. In 1999 he won the 12th Dongseo Literary Award with his collection of short stories, A Chain of Dark Tales. In 2012, he won the Han Moo-suk Literary Award, the Dong-in Literary Award, and the Daesan Literary Award for his novel A Contrived World. His short story collection A Most Ambiguous Sunday and Other Stories was published by Dalkey Archive in 2014. His novel Vaseline Buddha Deep Vellum Publishing) appeared in 2016.
---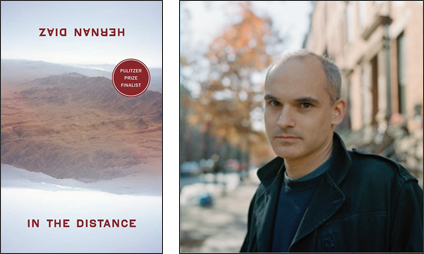 Hernan Diaz Reading
November 14, 2019
2:30 p.m. in UHD Welcome Center
Mr. Diaz will give a reading of his book, In the Distance which was a 2018 Finalist for the Pulitzer Prize in Fiction. This event is free and open to the public, tickets are required to attend.
Sponsored by the Cultural Enrichment Center, and the department of English.
One or more documents on this site are in PDF format. In order to view and print these document(s), you will need the Adobe Acrobat Reader software. It can be downloaded from the Adobe website.