Sales Management and Business Development Graduate Certificate
Business products and services can't be profitable without a successful sales team to lead the effort in communicating value to customers and to generate sales. Cultivating business development skills in sales professionals can have an immediate and measurable impact on the bottom line. The University of Houston-Downtown has developed an innovative and unique program to refine these skills in professionals.


Who should attend?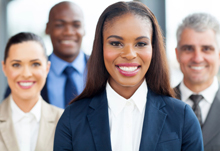 For sales leaders currently working in the field of business development, this program provides new ideas and approaches to customer opportunities, tactics for communicating benefits and strategic sales planning. For professionals wanting to enter the field of business development, it provides a solid foundation of skills required for success, offering the credentials and understanding needed to sharply decrease the learning curve.
Why earn a Graduate Certificate in Sales Management and Business Development?
Increasing the aptitude of a business development manager can have an exponential effect in improving sales and profitability for an organization. You can finish in as fast as 10½ months and you can use the skills you learn today at your office tomorrow. And should you decide to continue onto your MBA, you can enter the MBA program through our Soft Start and not have to take the GMAT.
Curriculum
The curriculum offers five graduate level courses taken in eight-week modules over the span of 10½ months, offered the same evening each week for the program's duration. Beginning in fall 2020, courses are also available in an online format. We offer the flexibility and interaction you need and under your control to choose when you need it. Courses include the following:
The skills and topics covered in these courses include:
Promotional marketing and analysis E-platforms of marketing and sales

Development of sales goals Effective written and presentation skills

Pricing and margins Negotiation and persuasion

Planning and forecasting Understanding the sales process

Understanding sales techniques contracts Financial Management

Ethics Establishing and tracking key performance indicators
Curriculum defined by top leaders in the business development management
Top sales executives from a variety of industries have come together to define the curriculum and best-practices required for effective sales management. UHD has cultivated their knowledge and expertise, creating a unique program that sales professionals will find invaluable in accelerating their sales management success.

Download Sales Management and Business Development Graduate Certificate information.
One or more documents on this site are in PDF format. In order to view and print these document(s), you will need the Adobe Acrobat Reader software. It can be downloaded from the Adobe website.