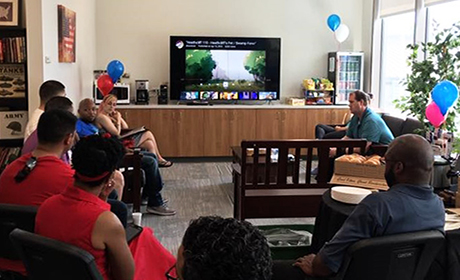 UHD Veteran's Lounge
Thanks to the efforts of the UHD campus administration, the Student Veteran's Association, and the Home Depot Foundation, UHD has a designated space for our student veterans. UHD has been recognized as a "military friendly school" and establishing a dedicated veterans' lounge on campus helps showcase a strong commitment by the university. Veteran Services is strategically located for the student veterans' convenience and features a computer lab, specialized counseling, educational programs, workshops, and seminars to help veterans complete their degrees and reach their goals successfully.
Lounge Description:
The Veterans Center is located on the 3rd floor, near Admissions and the Testing Center. The main office area will be utilized as the "lounge" where student veterans can sit in comfortable furniture, have full access to WiFi, watch television on a 60+ inch screen, enjoy our snack bar, and have a cup of coffee!
Hours:
Monday - Friday
8 a.m. - 5 p.m.