Group Study and Presentation Rooms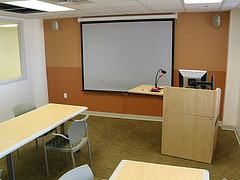 Group Study Rooms (N430, N443, N445, and N447) have a whiteboard and a monitor that can be used to connect a laptop.
Presentation rooms (N449 and N453) have podiums with built-in computers, projectors, video players, whiteboard, tracking cameras and document cameras. They also have recording equipment for Zoom presentations.
There are also unlocked study rooms available without reservations including days and hours when the library is closed (on those days enter the building through the UHD Police Department entrance on Girard Street).
Ask at the Information Desk in North-401 for room keys and multimedia equipment.
---
Library Event Room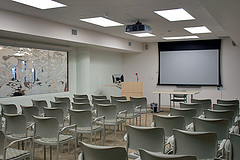 UHD faculty, staff, and registered student groups may reserve the Event Room for events hosting up to 50 people. This room has a podium, computer, projector, video player, and document camera, as well a kitchen and serving tables. It also features original glasswork by artist Bert E. Samples.


Rockwell Room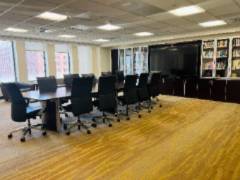 UHD faculty, staff, and student organizations via their faculty/staff advisors may reserve the Rockwell Room located in the Library in S503 for event hosting. This room has a computer, conference phone, TV monitor, as well as a table that can seat up to 12 people. Additional chairs are available upon request.
Please note that all reservation are subject to change if the conference room is needed by the UHD President or Provost. To reserve the Rockwell conference room, email the Library Administration Staff: Savannah Fields, Nakia Oliver, and Michelle Jones.
---
Individual study areas
Individual study carrels are located on 5th Floor North and 5th Floor South, as well as the Main Street Lobby on 4th Floor North. Open study areas are located in the Reading Room on 4th Floor North, and outside the entrance of the 40,000 Windows Cafe on 5th Floor South.