Journalistic Resources
Welcome to the Dateline team. Not only do we want to ensure you enjoy the experience of contributing to our newspaper, but we also want to make sure you have the tools to be successful and to produce quality material while with us. Take a moment to familiarize yourself with the resources below.
The Dateline stories follow the Associated Press Style, the gold standard for news writing. We want you to become equipped, so we have listed on our Write in the Associated Press Stylebook page the AP guidelines that we use the most in Dateline stories with examples. For further guidelines and examples, The Associated Press Stylebook and Briefing in Media Law , or AP Stylebook for short, is the best resource available for students wanting to learn more about news writing. The AP Stylebook is available as a print hard copy (updated biennially) and a searchable online format (updated regularly).
UHD students get free access to an array of local to major newspapers through the UHD Library.
Current Newspapers - News and Newspapers - Research Guides at University of Houston-Downtown (uhd.edu)
To ensure you maintain journalistic integrity, please familiarize yourself with the Society of Professional Journalists Code of Ethics.
Latest Edition
Read Volume 69, Issue 4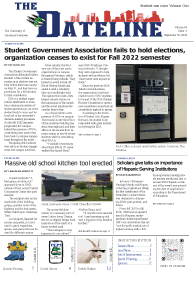 Join The Dateline
Want to contribute to the student-run UHD Newspaper?
Join Us
Submit Your News
Want to share some news? Have a hot news tip? Let us know what's going on!
Submit News