Revised Strategic Plan 2015-2020
President's Address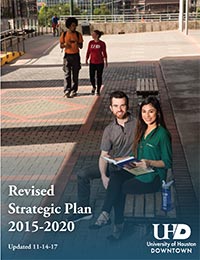 As it overlooks Downtown Houston, the University of Houston-Downtown (UHD) campus has the perfect vantage point. It gives our thriving Gator Community a unique perspective of the city's phenomenal growth and also makes us aware of our symbiotic role in its prosperity.
The primary goal of UHD is the success of our students who ultimately affect a cascade of secondary objectives—secure families, flourishing industry, robust neighborhoods and a strong society—that are all the positive and lasting effects of a well-educated and engaged citizenry.
UHD educates many current and future citizens as well as leaders of Houston and the nation. That's why we're committed to providing an educational experience that is both personally and professionally meaningful.
Since opening its doors in 1974, the University of Houston-Downtown has grown rapidly in the number of students it serves and the number of degrees being offered with even more ambitious plans to come.
UHD's Revised Strategic Plan 2015-2020 is the blueprint for how this institution is setting the stage to become a premiere city university educating graduates with 21st century skills that benefit Houston, Texas, and beyond.
Read the full Revised Strategic Plan 2015-2020 online in Flash or PDF format.
The Strategic Plan 2012-2020 is also available online in Flash or PDF format.