Emerging Voices in STEM Scholars Series

Sponsored by the HHMI-funded UHD SynergIE Program​
Our Diversity in STEM Scholar series highlights BIPOC scholars currently working in STEM research and education. Each scholar will present their story of coming to STEM along with a discussion of challenges faced by the STEM communities around the country in building a vibrant, diverse, equitable, and inclusive STEM community.
​
Friday, March 4th - ​Emerging Voices in STEM Event
Recently, the College of Sciences and Technology's HHMI SynergIE program hosted our ​Emerging Voices in STEM face-to-face event for students. With guest speakers from around the country and also right here in our amazing city, we openly discussed shared experiences of being BIPOC students and STEM professionals. Included in the day's events, were breakout sessions with the guest speakers for discussions about:
Exploring Summer Opportunities – Science Research Experiences for Undergraduates (REUs)
Combating Imposter Syndrome in STEM – How to Overcome Self-doubt
How to be a Successful Professional while Staying True to Who You Are
Creating a Professional Network as the Key to Reaching Your Career Goals
Finding Mentors – What to Look For and How to Get the Most of the Relationship
Click "Video" to watch the inspirational event!​
------
SPEAKER - ​Mr. Christopher Thomas, PMP is currently the Sr. Commissioning Manager within the US Gas Project Department for TC Energy. Mr. Thomas has held varying roles within the oil & gas industry spanning project management, engineering and business process improvements. Mr. Thomas has managed annual portfolios of projects valued over $100 million. Mr. Thomas received his B.S in Mechanical Engineering from Prairie View A&M University. He also received an Executive MBA and MBA in Human Resource Management from Colorado Technical University. Mr. Thomas received his Lean Six Sigma Green Belt certification in addition to his Project Management Professional credential. Mr. Thomas was inducted into the Phi Delta chapter of Pi Tau Sigma Mechanical Engineering Honor Society and is a proud member of Kappa Alpha Psi fraternity, Inc.​
Video
​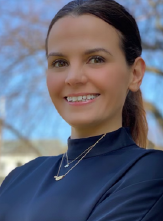 Friday, February 25th at 12:00 - Dr. Caroline Palavicino-Maggio
Dr. Caroline Palavicino-Maggio is a Research Fellow in the Department of Neurobiology at Harvard Medical School in the laboratory of Dr. Ed Kravitz. Caroline seeks to elucidate the neural circuitry that governs female aggression. Caroline earned her Ph.D. with honors from Rutgers University, at the New Jersey Medical School and her BS degree from Rider College. Shortly after she began graduate school, she created her project independently, while performing lab rotations with experts in the field of intestinal nutrient transporters and dopamine receptors, respectively. As a result, she was awarded the NIH Independent Dissertation Research R36 Grant to carry out her thesis project. Caroline has also been selected for many prestigious awards from the Rutgers Society Foundation, New York Academy of Sciences, and the Alfred P. Sloan Research Fellowship. Last year, she was acknowledged by Cell Press in their "100 most Inspiring Hispanic/Latinx scientists in America" list. She is also a strong advocate for social justice and encourages young people from underrepresented backgrounds to pursue STEM careers. Caroline looks forward to eventually beginning an independent research group after completing her postdoctoral training and sharing her passion for investigating female aggression.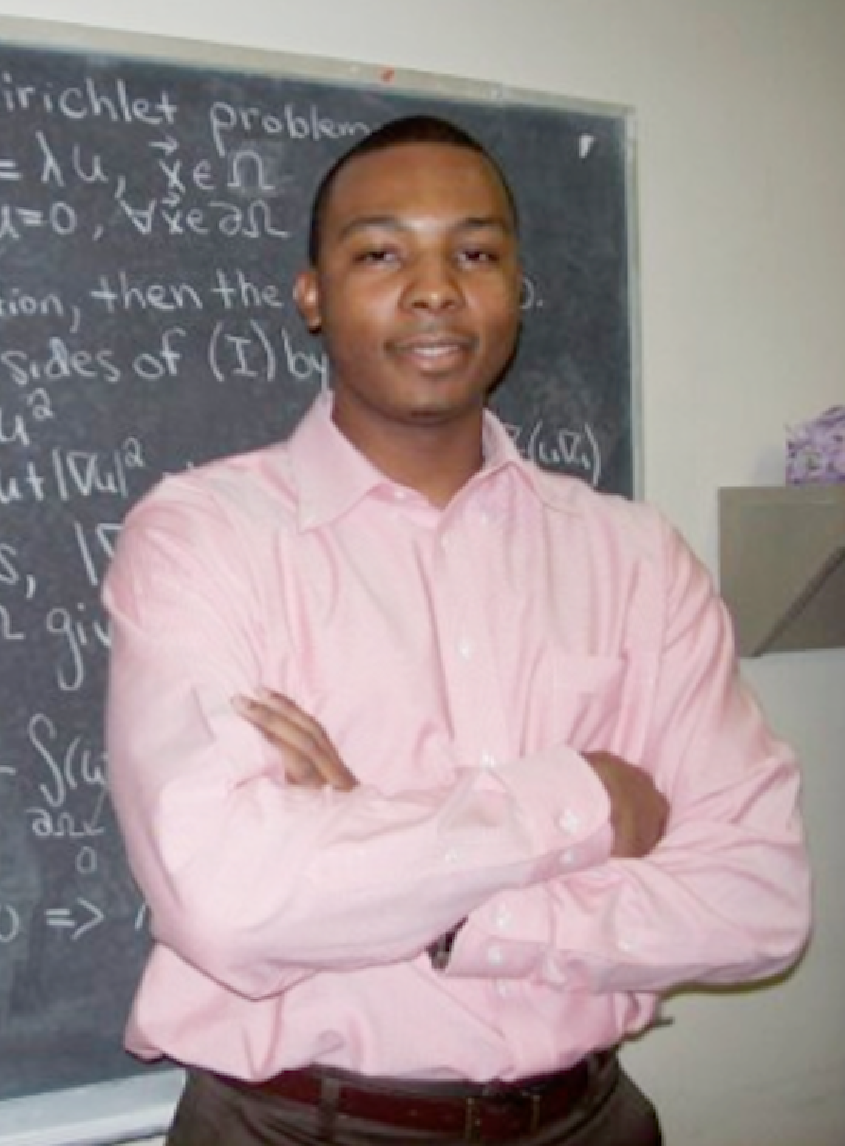 Friday, November 5th from 12:00 – 1:15 - Dr. Jahmario Williams
Jahmario Williams, Ph.D., Partial Differential Equations, Associate Professor, College of Science, Engineering and Technology, Texas Southern University
Dr. Williams is an associate professor of mathematics at Texas Southern University, where he started in fall 2013. Dr. Williams received his Ph.D. in mathematics from Mississippi State University (MSU) in August 2013 and his master's in mathematical sciences from MSU in May 2008. In particular, his research area is in Partial Differential Equations (PDE). In PDE, he mainly studies the existence and nonexistence of elliptic equations and has some experience with a few programming languages such as Matlab and mathematics.
Dr. Williams received his bachelor's degree in mathematics with a minor in Business from the University of Mississippi (Olemiss) in 2006, where he was a member of Pi Mu Epsilon (Honorary math society). While in graduate school, he received "The Outstanding Graduate Student Award", "Master Recipient of AGEM (Alliance for Graduate Education in Mississippi) scholar award", and "Faculty Appreciation Award from the James Worthy Bagley College of Engineering Award". Also, Dr. Williams became an Honors' professor in the Thomas F. Freeman Honors College at TSU and won two teaching awards at the college and university levels. He attended numerous conferences and gave talks on his research. He also published several papers in professional journals and submitted others.
Video for the event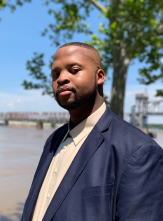 Friday, September 17th from 12:00 – 1:15 - Dr. Christopher Bolden
Dr. Chris Bolden is a NIGMS Trauma Postdoctoral Research Fellow at the University of Texas Health Science at Houston in the Departments of Surgery and Pediatric Surgery. Dr. Bolden received his B.S. in Biological Sciences (Microbiology) and Biochemistry from the University Of Southern Mississippi (USM) where he studied staphylococcal virulence factors and their relationship with atopic dermatitis. He was chosen as 2013 LSMAMP student of the year which awarded him an opportunity to conduct research at the University of Belize. Dr. Bolden went on to receive his PhD in Interdisciplinary Biomedical Science with an emphasis in Clinical & Translational Science at the University of Arkansas for Medical Sciences in the laboratory of Dr. Eric Peterson. While in graduate school, his research focused on evaluating anti-methamphetamine antibody gene therapy against the neurotoxic effects of methamphetamine in a rodent model.
His research now focuses on characterizing a novel platform to investigate traumatic brain injury in vitro. Dr. Bolden is an AAAS Superhero, an initiative aimed at increasing the participation of young scientists in science policy and communication. If he is not traveling with friends, Dr. Bolden enjoys baking, anime, and playing video games.
Video for this event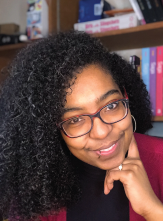 Friday, April 30th, 12PM – Dr. Jaye C. Gardiner
Dr. Jaye Gardiner received her Ph.D. in Cancer Biology in 2017 from the University of Wisconsin - Madison, where she studied how HIV effectively spreads between cells and how that infection changed the cell's​ behaviors. Now, she researches pancreatic cancer's tumor microenvironment, specifically focusing on how the non-tumor cells communicate to support the tumor at the Fox Chase Cancer Center in Philadelphia, PA. As a first-generation American and graduate, Jaye is passionate about and involved in a variety of science communication ("scicomm") efforts to increase access, exposure, and IDEA (inclusivity, diversity equity, and accessibility) in STEM; predominantly through art, organizing spaces/platforms for diverse scientists and science communication, and teaching (check out her comics group JKX Comics, #UniqueScientists on twitter/Instagram, the science communication workshop for graduate students ComSciCon, and the teaching program she teaches in TRIP Initiative). You could say that in lab and out, Jaye is all about communication. When not chasing her dreams, you can find Jaye chasing her two pet bunnies, working out, or playing video games.
Dr. Jaye Gardiner is a proud first-generation American and college graduate who is passionate about and involved in a variety of science communication ("scicomm") efforts to increase access, exposure, and IDEA (inclusivity, diversity equity, and accessibility) in STEM. Though her training is scientific in nature (virology and cancer biology), she communicates her passions through art as a self-taught illustrator and comic artist. When not chasing her dreams, you can find Jaye chasing her two pet bunnies, working out, or playing video games.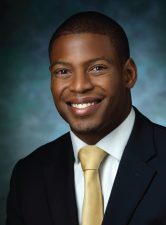 Tuesday, April 13th, 12PM – Dr. Jelani Zarif
Dr. Jelani Zarif is an Assistant Professor of Oncology at the Johns Hopkins School of Medicine - Sidney Kimmel Comprehensive Cancer Center. Dr. Zarif is also a member of the Bloomberg ~ Kimmel Institute for Cancer Immunotherapy. His research focuses principally on prostate cancer immunology and identifying the molecular mechanisms by which host immune cells contribute to prostate cancer metastasis. By exploiting and targeting these immunotherapeutic targets for the treatment of metastatic prostate cancer, specifically bone metastatic prostate cancer, the goal of the lab's research is to improve prostate cancer prognosis and increase patient survival. A Chicago native, Dr. Zarif earned both his B.S. and M.S. degrees from Jackson State University and completed his M.S. thesis in the lab of Dr. Stephen Ekunwe while a part of the NSF-Bridges to the Doctorate program. Dr. Zarif received his Ph.D. in Cell and Molecular Biology from Michigan State University in the lab of Dr. Cindy Miranti in 2014. His dissertation research focused on Androgen Receptor (AR) signaling in prostate cancer and elucidated how AR controls prostate tumor cell adhesion and invasion. He then completed two post-doctoral fellowships: Department of Urology in the lab of Dr. Kenneth Pienta and Oncology-Immunology/Hematopoiesis in the laboratory of Dr. Drew Pardoll at the Johns Hopkins University School of Medicine, which both focused on Prostate cancer immunology and immunotherapy. He has been the recipient of several awards, including the Prostate Cancer Foundation's Young Investigator award, The Patrick C. Walsh Prostate Cancer Research Fund, and the NIH/NCI K22 Career Transition award.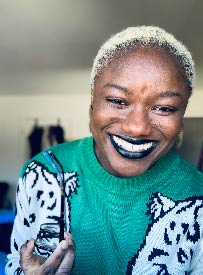 Friday, March 26th, 12 PM – Dr. Danielle Twum
Hailing from Ghana, West Africa, Danielle Twum received her B.A. in Biology from Vassar College where she studied the effects of climate change on coral bleaching. Danielle received her Ph.D. in Cancer Immunology from the University at Buffalo where she studied the immunology of breast cancer metastasis. She currently works as a Molecular Science Liaison at Caris Life Sciences. Dr. Twum is an AAAS IF/THEN Ambassador, an initiative aimed at increasing the visibility of women in STEM as role models for young girls. If she is not reading, you'll find Dr. Twum enjoying Indian and Korean food, having a dance party to some old-school pop music or getting lost in the wormhole that is the BBC Earth YouTube channel.
Video for this event.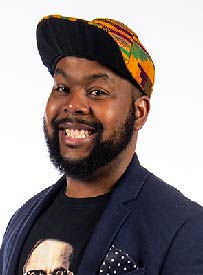 Friday, March 26th, 12 PM – Dr. Terrell Morton
Dr. Terrell R. Morton (@DrTRMorton) is an Assistant Professor of Identity and Justice in STEM Education at the University of Missouri-Columbia, where he works in the Learning, Teaching, and Curriculum Department of the College of Education.
Dr. Morton is an alumnus of North Carolina Agricultural and Technical State University, graduating with a Bachelor of Science in Chemistry. While at NC A&T, Dr. Morton participated in a variety of organizations including the Chemistry Club, the Council of Presidents, was Drum Major of the Blue and Gold Marching Machine, and joined Kappa Kappa Psi National Honorary Band Fraternity, Inc., and Omega Psi Phi Fraternity, Inc. Dr. Morton obtained a Master's of Science in Neuroscience from the University of Miami, and a Ph.D. in Education, concentration Learning Sciences and Psychological Studies from the University of North Carolina at Chapel-Hill.
Dr. Morton identifies as a Scholar-Activist! His research and work focus on identity as it informs the persistence and engagement of racialized and minoritized students in STEM postsecondary education. He draws from critical race theory, phenomenology, and human development to ascertain Black students' consciousness and how it manifests in their various embodiments and actions that facilitate their STEM postsecondary engagements.
As a scholar-activist, Dr. Morton works to transform the positioning and understanding of Blackness in mainstream education, specifically STEM; seeking justice and joy for Black women, Black students, and other minoritized individuals given the social-cultural-political-historical positioning of their identities. He advocates for identity, justice, and joy to be fundamental for education. He also works to transform STEM learning environments, creating spaces that are recognized and understood as extensions of students' identity rather than sites of oppression that perpetuate hostility and exclusion.
He is published in several academic journals including The Journal of Negro Education, Science Education, and The Journal of Diversity in Higher Education, among others; he has also presented at various national and international conferences. Dr. Morton has received $2.1 million dollars in external grant funding from Federal and Foundation agencies such as the National Science Foundation, the Howard Hughes Medical Institute, and the Lumina Foundation, with foci of building inclusion in the natural sciences, using CRT to cultivate the critical consciousness and dialogic action of higher education personnel, training higher education STEM faculty and professionals to embrace asset-based perspectives when teaching and engaging minoritized students, and building a national network comprised of diverse individuals to redress systems of oppression in undergraduate biology education to enhance the educational experiences and outcomes of Black students.
Dr. Morton is the Co-Founder of the Christine Avery Learning Center, Inc. (CWA), an educational nonprofit based in Asheville, NC that serves youth and their families ages 2 – 16 years old. Through every endeavor, he strives to "walk it like I talk it."