Contact Information
Executive Director:
Poonam Gulati Salhotra, PhD
Program Coordinator:
James Bjacek, MPA
713-226-5517
bjacekj@uhd.edu​
Mailing Address:
University of Houston-Downtown (UHD)
One Main Street, OMB-S417
Houston, TX 77002
​Office ​Hours:
Monday - Friday, 8am - 5pm
Closed on holidays. ​​​

Department Email: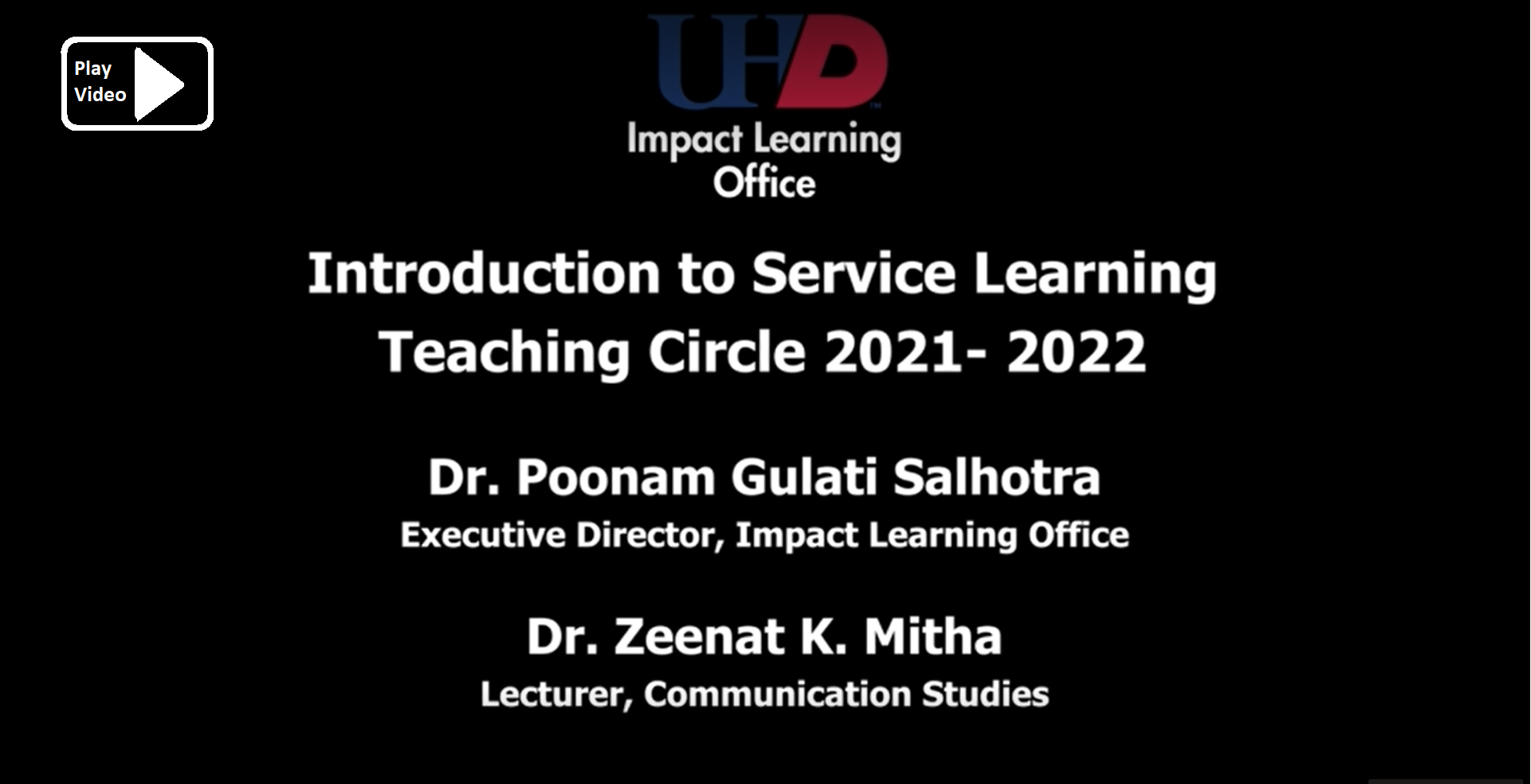 Service Learning is a course-based high impact experience that is managed with the Center for Community Engagement and Service Learning (CCESL). Course instructors select community issues that relate to the course content. Students learn theory in classes and application by serving in communities. A minimum of ten hours of project work is required by the students.

For more information, please visit /community-engagement.
For a list of community partners, please visit our partners list
If you would like to reach out to these partners, please email use at ILO@uhd.edu
Service Learning Data
| Statistics | Fall 2022 | Spring 2023 | Fall 2023 |
| --- | --- | --- | --- |
| Classes | 27 | 27 | 31 |
| Class Sections | 54 | 60 | 68 |
| Enrolled | 1,732 | 825 | TBD |
| Faculty | 30 | 26 | 25* |
*Instructors pending in certain courses
Fall 2023 Service Learning Designated Courses

College
Course
Course Title
Sections
Business
ACC 4301


Individual Income Taxation
21174
Business
MKT 3304
International Marketing
22025
Humanities & Social Sciences
COMM 2311
Principles of Public Relations
21439
Humanities & Social Sciences
COMM 3309
Theory & Practice of Interviewing
21444
25488
Humanities & Social Sciences
ENG 1301
Composition I
21595
21596
Humanities & Social Sciences
POLS 2305
Federal Government
22141
21596
Humanities & Social Sciences
POLS 3314
U.S. Public Policy Process
24048
Humanities & Social Sciences
POLS 6332
Performance Management and Reporting For Nonprofit and Public Organizations
25538
Public Service
CJ 4316
Human Trafficking
23205
Public Service
CJ 4370
Senior Seminar in CJ
21403
Public Service
CJ 6310
Issues in Criminal Justice
21408
Public Service
EDL 5320
School, Family, & Community Engagement
22918
Public Service
PED/SPED 3301
Introduction to Special Populations
PED: 22056
SPED: 22368
Public Service
PED 4380
Field Experience in Urban Public School Classes I
22072 - 22084
23420
Public Service
PED 4381
Field Experience in Urban Public School Classes II
22085 - 22094
22748
22749
23223
Public Service
PED 4382
Field Experience in Urban Public School Secondary Mathematics Classrooms
22095
Public Service
PED 4383
Field Experience in Urban Public Schools for Student Teacher Interns in Gators2Teachers
23154
23155
Public Service
READ 3317
Language Arts Instruction Bilingual/ESL
22662
Public Service
SOCW 4301
Field Practicum I
22331
22332
Public Service
SOCW 4302
Issues in Field Practicum I
22333
22334
Public Service
SOCW 4303
Field Practicum II
22335
Public Service
SOCW 4304
Issues in Field Practicum II
22336
22337
Science & Technology
BIOL 1101
General Biology Laboratory I
23044
Science & Technology
BIOL 1102
General Biology Laboratory II
21290
21291
21293
Science & Technology
BIOL 1301
General Biology I
21301
23348
Science & Technology
BIOL 1310
Human Biology
24469
24470
Science & Technology
CHEM 2101
Organic Chemistry Laboratory I
22495
Science & Technology
CHEM 2102
Organic Chemistry Laboratory II
22497
Science & Technology
NS 2190
Special Topics in Natural Sciences : Scholars Academy Orientation Course
22045
Science & Technology
UHD 2303
University Seminar - Life & Physical Sciences - Learning How Science Advances Through Research
24355