Executive Director:
Poonam Gulati Salhotra, PhD
713-221-8066
Program Coordinator:
James Bjacek, MPA
71​3-226-5517
bjacekj@uhd.edu
​
Mailing Address:
University of Houston-Downtown (UHD)
One Main Street, OMB-S417
Houston, TX 77002
Office Hours:
Monday - Friday, 8am - 5pm
Closed on holidays.​
Department Email:
ILO@uhd.edu
Welcome to the Impact Learning Office (ILO)!
This is the place to learn about high impact practices (HIPs) at UHD. Such practices have been shown to be beneficial for college students from different backgrounds. The UHD community is engaged in several HIPs. We are starting with four, including Service Learning, Study Abroad, Internships/Field Experiences and Undergraduate Research. We hope you will explore this site and contact us soon about participating in your favorite activity!
View more information on high impact practices.
Interesting Facts:
Field Trips
In the Spring 2022 term, the Impact Learning Office took students on field trips to a genetics laboratory, the Menil Collection, and an insurance/risk management firm to learn about opportunities and the impact of these organizations.
In the Fall 2022 term students visited the Houston Astros organization to learn about careers and internships in a sports organization.
Workshops
The Impact Learning Office hosted four (4) workshops over the summer to connect students with faculty and staff who facilitate these experiences, the students who participated, and representatives from partner organizations that help facilitate these.
Grants
The Impact Learning Office supported 79 student interns across diverse fields with stipends aimed at assisting them financially.
Service Learning
Service learning allows students to participate in 10 or more hours dedicated to projects that serve the community.
The number of Service Learning courses offered has doubled compared to last fall.
ILO News!
---
The Adopt a Grandparent Program is an initiative under a community program called the Collaboratory for Aging Resources and Education (CARE) and collaborates with the Service, Teaching, Aging, and Research (STAR) Lab with UHD under the College of Public Service. The STAR Lab promotes initiatives to connect UHD students to service-learning opportunities with older adults in the community along with advancing issues important to older adults in general. This program is one service-learning option for students offered under the STAR Lab and required in two aging courses offered in the UHD Bachelor of Social Work (BSW) program under the College of Public Service. The two courses which offer this service-learning option are Community Navigation with Older Adults (SOCW 3303) and Practice with Aging Populations (SOCW 3331).
---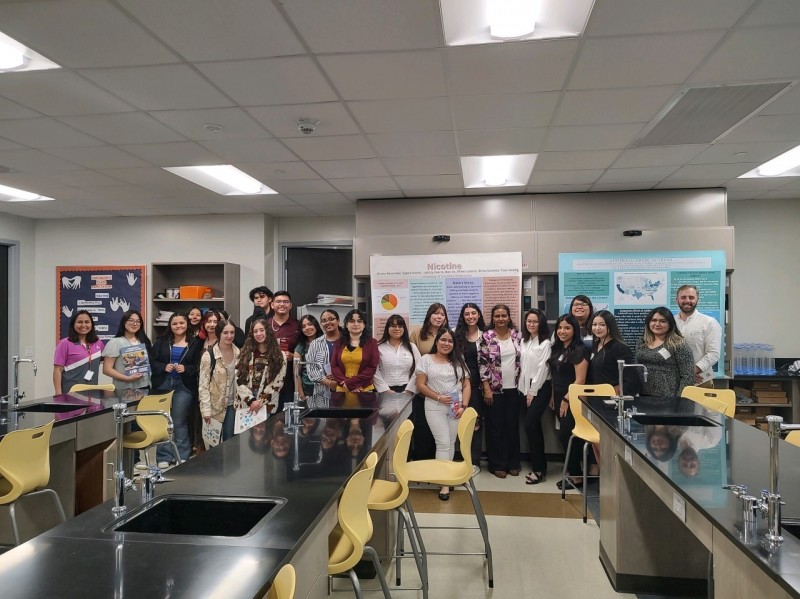 In the Spring 2023 term, the students in Dr. Vishakha Shembekar's chemistry class carried out a service learning project in Aldine ISD that informed high school students about the risks of substance abuse. Students not only presented in classrooms, but also created PowerPoint presentations and custom designed posters and brochures to engage students. Their efforts were very well received by schools, and Dr. Shembekar and her students were asked to continue their classroom presentations to students in the school district.
---
---
Armed with grant funding from the Office of Impact Learning and the support of the Scholars Academy and College of Sciences and Technology (CST) leadership, students presented their research at the Texas Academy of Science annual meeting at San Angelo State University in March.
The Research CURE