Homecoming Pep Rally with Mom & Baby Gator

Homecoming: UHD Police grilling burgers at Pep Rally

Homecoming Tail-Gatoring: Club Sports Team


Homecoming: Club Sports at Pep Rally

Homecoming: Alumni Volleyball Club Team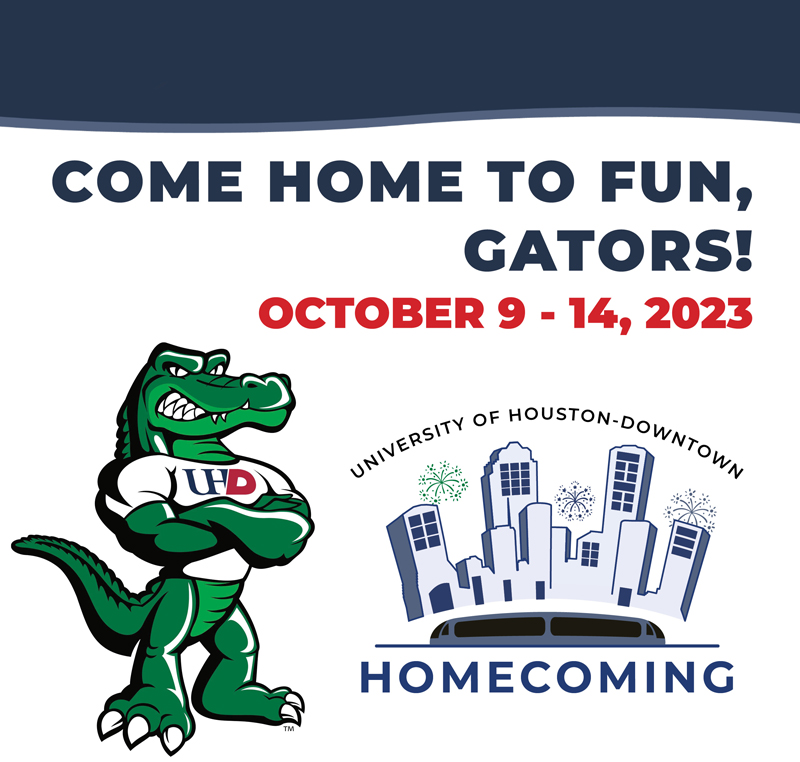 Homecoming is a time for students, alumni, faculty, staff, and the community to come together to celebrate the spirit and pride of UHD. Past, present and future students will unite to celebrate the common thread that binds all Gators. The main features of Homecoming are the UHD Pep Rally, the Homecoming games and of course, Tail-Gatoring. Tail-Gatoring features a festive gathering of student groups, university departments, and alumni. Delicious aroma fills the air as the various groups grill their favorite foods for their friends to enjoy. Many of the groups will participate in the decorating and cook-off contests with prizes going to the winners in the various categories.
Homecoming aims to.
Enhance the UHD student collegiate experience and to promote school spirit and pride.

Create a sense of belonging that fosters loyalty and pride in the institution which will encourage student planning and involvement in the event.

Engage current students in a tradition that will encourage them to stay connected to the university for years to come.

Help in the transformation of the university that will create a perception of UHD as a viable traditional urban university.