Letter From the President
​Office of the President
Sept. 7, 2017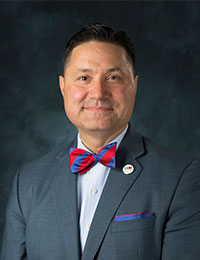 Dear UHD Faculty, Staff and Students,
The University of Houston-Downtown is committed to the principles of diversity and inclusion. As an urban institution of higher learning, UHD is acutely aware of the important contributions of students from diverse backgrounds and experiences. The recent statement regarding the termination of the Deferred Action for Childhood Arrivals program (DACA) leaves students with a sense of uncertainty regarding their future in our community.
The announcement from the White House suggests immediately suspending the general application of new deferred action permits while continuing to renew applications for those whose permits are set to expire in the next six months. The six-month phase-out of DACA provides temporary security for those with permits set to expire prior to March 5, 2018. It also affords those same individuals one month to request a two-year extension.
Over the next six months, the University of Houston System which includes the University of Houston-Downtown, will strongly encourage congressional leaders to work toward a legislative solution that permits DACA students to complete their education.
The University of Houston-Downtown, as a proud member of the University of Houston System, has affirmed its commitment to "support all of its students, including those covered under DACA, through any means afforded under law."
During this time, the University of Houston-Downtown will continue to support its own DACA students with every office, program and resource available. Student success, including that of DACA students, is the highest priority of our institution and we are committed daily to its full and inclusive realization. We will continue to keep the university informed as more is learned.
Sincerely,

Dr. Juan Sánchez Muñoz, UHD President