---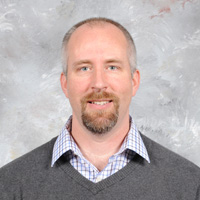 Ryan Pepper, Ph.D.
Chair, Mathematics & Statistics Department
College of Sciences & Technology
One Main Street, Suite S725
Telephone: 713-221-8467
pepperr@uhd.edu
---
Scope of Responsibilities
At UHD, Dr. Pepper is responsible for the operation of the Department of Mathematics and Statistics. His work includes scheduling courses and assigning faculty to teach courses, handling student concerns, managing faculty and staff, promoting new academic programs, recruiting majors to existing programs, encouraging faculty to provide high quality educational experience and serving as a role model in research, teaching and service.
Educational Qualifications
Dr. Pepper earned his Doctor of Mathematics, Master of Science in Applied Mathematics and Bachelor of Science in Mathematics from the University of Houston.
Professional Experience
Dr. Pepper's professional experience includes work as a mathematics professor, President of the Faculty Senate, Chair of the Faculty Senate Executive Committee, Chair of the Mathematics Program Committee and several additional departmental and university committees.