---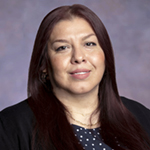 Rocio Beiza
Director, Campus Solutions Services
Enrollment Management
One Main Street, Suite S380
Telephone: (713)-221-8562
beizar@uhd.edu
---
Scope of Responsibilities
In her role at UHD, Ms. Beiza is responsible for supervising all undergraduate degree audit processes and graduation units, including minors and certificates. Ms. Beiza troubleshoots general concerns reported to the Registrar's Office and works directly with application status communication, graduation applications, degree clearance and commencement. She also serves on several University committees.
Educational Qualifications
Ms. Beiza graduated with a Master of Arts in Non-Profit Management and Bachelor of Business Administration in Accounting from the University of Houston-Downtown.
Professional Experience
Prior to working as an Associate Registrar, Ms. Beiza worked collaboratively with UHD's colleges by reviewing transfer student's degree requirements and processing admissions. With 13 years of experience at UHD, Ms. Beiza has worked closely with providing feedback on catalog revisions, supporting institutional research and processing grade changes to the online database grade entry by using the CAPP degree audit system.