---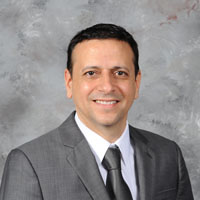 Richard Sebastiani
Director
Sports and Fitness
Student Life Center, 320C
Telephone: 713-221-8229
sebastianir@uhd.edu
---
Scope of Responsibilities
At UHD, Mr. Sebastiani is responsible for the overall administration, direction, leadership and vision of the Sports and Fitness department and its programs. He is intricately involved in the advocacy and development of student life services in a very diverse campus environment. He develops and administers budgetary needs and unit planning for the department and authorizes/monitors expenditures. Mr. Sebastiani designs and implements policies, practices and procedures for programs and ensures compliance with all relevant university policies, procedures, standards and laws. The areas that the director of Sports and Fitness provides overall leadership, support and direction include the 30,000 sq. foot Student Life Center, open recreation times and activities, intramural sports, club sports, fitness classes and programs, personal training and massage therapy, membership management and sales and services.
Educational Qualifications
Mr. Sebastiani earned both his Master of Education and Bachelor of Science from the University of Houston. His certifications include: American Red Cross CPR and First Aid.
Professional Experience
Richard Sebastiani has more than 25 years' experience in higher education in student life and student services, specifically campus recreation, student activities and programming and residence life. He has been consistently promoted to high-visibility positions within higher education requiring strong vision, leadership, teamwork, poise, initiative and the ability to exercise sound judgment. Mr. Sebastiani has an excellent history of working with students, employees and university administration on various university programs, projects and initiatives.